Clashes, protests erupt as Hamas calls for Palestinian intifada over Jerusalem
IDF sends reinforcements to West Bank; Protests spread across Arab world to Iraq, Jordan, Turkey, and Tunisia
The Israel Defense Force (IDF) deployed reinforcements to the West Bank on Thursday as it braced for major Palestinian backlash against a controversial announcement by US President Donald Trump backing Israel's claim over the disputed city of Jerusalem.
Over 20 Palestinians were reported injured in clashes with Israeli soldiers as protests erupted along the Gaza border fence and in several West Bank villages including Bethlehem, Ramallah, Hebron, Qalqilyiah, Tul Qarm, Nabi Saleh, Bili'in, and Azon, as well as in several East Jerusalem neighborhoods including Shuafat.
Trump's backing of Israel's claim over the holy city delivered a major blow to the Palestinians, who claim Arab-majority East Jerusalem as the capital of their desired state. Fury at Trump's announcement spread across the Muslim and Arab world on Thursday, with protests also reported in Iraq, Jordan, Turkey, and Tunisia.
In Gaza, Hamas leader Ismail Haniya called for a new intifada ("uprising" in Arabic) to begin on Friday throughout the Palestinian territories. He condemned Trump's announcement as a "declaration of war" and urged Palestinians to "go out in anger" and defend the holy city.
"This Zionist policy supported by the US cannot be confronted unless we ignite a new intifada," Haniya said, declaring an undivided Jerusalem as "the capital of all Palestine".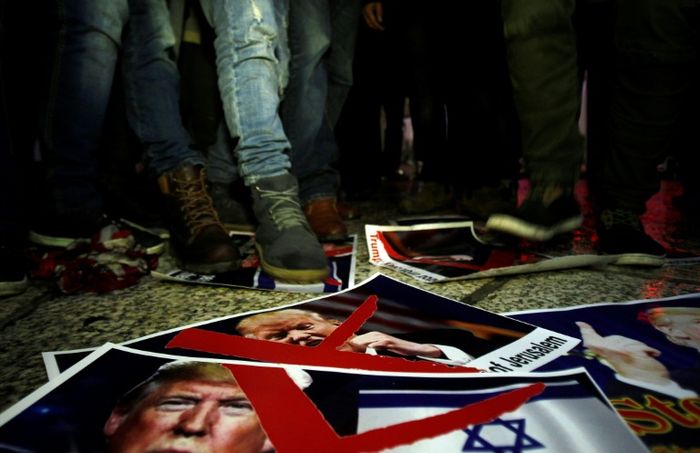 Expecting potentially violent fallout, the Israeli army sent several combat and intelligence battalions to reinforce the West Bank, calling it "part of the IDF's readiness for possible developments."
Shortly after, marches and rallies got underway across the Palestinian territories, with protesters burning Israeli and American flags and images of Trump and Netanyahu while chanting anti-Trump slogans.
Palestinians also held a general strike on Thursday in protest of Trump's move, with schools and shops closed.
Crowds amassed at the Damascus Gate entry to Jerusalem's Old City as well as in the West Bank cities of Jenin and Ramallah, where the Palestinian Authority had called for a mass demonstration to be held Thursday.
Palestinian media outlets reported that at last two people were injured in clashes with Israeli troops along the Gaza border fence near Khan Younis shortly after Haniya's speech.
The Palestinian Red Crescent said that 14 Palestinian protesters were treated for tear gas inhalation and two more after being shot by rubber bullets in the cities of Tul Karm and Qalqilyah. Five were reported injured in Ramallah.
In Bethlehem, Israeli border police in full riot gear used tear gas and water cannons to drive back protesters who were throwing stones and setting tires ablaze.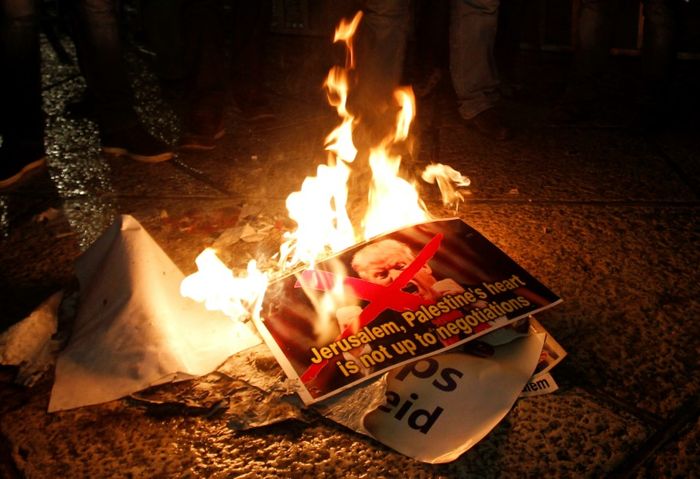 Hundreds of protesters assembled in Baghdad on Thursday, The Associated Press reported, led by Abdul-Latif al-Himaim from Iraq's Sunni Religious Endowments.
"Jerusalem is our identity, Jerusalem is Arab," he was quoted as saying at the rally. "You can uproot a palm tree from a grove, but you will not be able to uproot Jerusalem from our hearts and from Palestine."
Fear of backlash spreading across the Arab and Muslim world prompted the United States to beef up security at its embassies and other diplomatic missions in the region and beyond.
US government officials have also been ordered to avoid Jerusalem's Old City and the West Bank. Security advisories were issued by US missions in Turkey, Portugal, Germany, Italy, and the United Kingdom.
The US embassy in Jordan suspended all services for Thursday in the wake of Trump's speech,warning that protests have the potential to become violent and that diplomats' children should not attend school.
Jordan's security and gendarmerie forces closed off all access roads to and from the embassy as an added precaution on Thursday.
In Turkey, Around 1,500 people gathered outside the US consulate in Istanbul on Wednesday night, chanting slogans such as "down with America!".
Trump's announcement also prompted an almost universal diplomatic backlash that continued on Thursday, with fresh warnings from Turkey, the European Union and Russia.
EU diplomatic chief Federica Mogherini said the decision could take the region "backwards to even darker times."
Russia said it viewed the move with "serious concern" and Saudi Arabia called it "unjustified and irresponsible."
Turkish President Recep Tayyip Erdogan said it would put the region in a "ring of fire."
"Hey Trump! What do you want to do?" he asked. "What kind of approach is this? Political leaders do not stir things up, they seek to make peace."
The status of Jerusalem is a central issue in the Israeli-Palestinian conflict, with both sides claiming the city as their capital, and Trump's announcement is expected to roil the combustible region.
Most of the international community, including the United States, does not formally recognize Jerusalem as Israel's capital and scores of leaders have expressed concern at the move.
Several peace plans have unraveled over the issue of how to divide sovereignty or oversee sites in the city that are holy for Christians, Jews and Muslims.
This is a developing story.