Hezbollah hails 'new strategic era' sparked by downing of Israeli jet
Factions in Gaza also hailed the downing of the Israeli aircraft, celebrating the 'severe blow'
Lebanese Shiite movement Hezbollah hailed Syria's air defenses after they likely downed an Israeli fighter jet on Saturday, saying it marked the start of a "new strategic era".
"This is the beginning of a new strategic era which puts an end to the violation of Syrian airspace and territory," Hezbollah said in a statement published by Lebanon's ANI news agency.
Hezbollah, which is backing Syrian President Bashar al-Assad's in his country's civil war, praised the "vigilance of the Syrian army" and said it had "bravely blocked Israeli warplanes and downed an F16."
Israel is yet to confirm that the warplane was struck by anti-aircraft fire, but have said it is the most likely explanation for the jet's demise.
Israel struck what it said were Iranian and Syrian targets inside Syria on Saturday in "large-scale" raids after the Israeli jet crashed under fire from Syrian air defenses, its military said.
It was returning from a bombing mission in Syria in retaliation for the entry into Israel of an Iranian drone, which was also shot down 90 seconds after crossing the border.
Meanwhile, in a unanimous show of approval, Islamist factions in the Gaza Strip hailed the downing of the Israeli aircraft, taking to the streets to celebrate the "severe blow."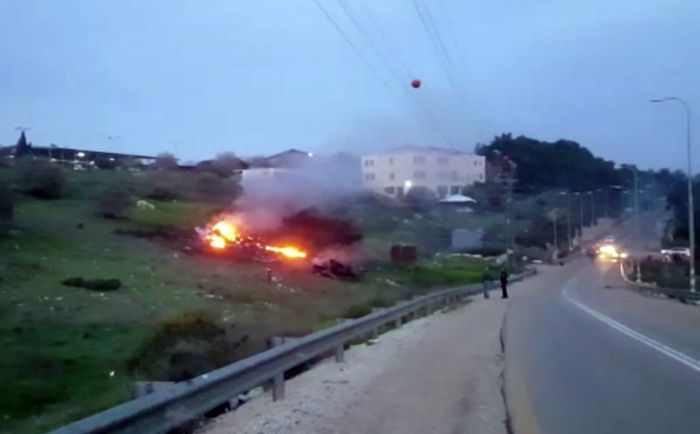 Hamas' military wing said that it was "raising the state of alert" between the coastal enclave and its neighbor in response to the soaring tensions on Israel's northern border.
"Israel's image of deterrence has been dealt a severe blow," said Palestinian Islamic Jihad (PIJ) spokesperson Daoud Sheha, according to the Times of Israel, calling it  "a defeat for Israel" and a "blow to American and Israeli dominance in the region."
 He added that the F-16 downing had a "positive impact on the morale of the Palestinian people and the Palestinian resistance factions." 
The confrontation was the most serious between arch-foes Israel and Iran since the civil war in Syria began in 2011.
Israel said the raids came after it intercepted what it said was an Iranian drone entering its airspace from Syria.
Iran denounced Israeli "lies" and said Syria had the right to self-defense in response to Israeli strikes.
Separately, Iran issued a joint statement with the Syrian regime's other main allies -- Russia and Hezbollah -- denying Israel's account of the drone.
You need to be logged in in order to post comments. Sign up or log in
February 11, 2018 2:41 PM
Under international Law the Golan heights belong to Syria, Israelis continue to disrespect international law and need to be punished.