Six Syrian and 'non-Syrian' fighters killed in Israeli strikes: monitor

Israeli F-16 fighter jets are seen at the Nevatim air base on October 6, 2010
JACK GUEZ (AFP/File)
Netanyahu says Israel set 'clear red lines' and 'acted and will continue to act accordingly'
Six people were reported killed in multiple raids carried out by Israel on Saturday, a monitor said, after an Iranian drone launched from Syria infiltrated Israel's airspace and one of its warplanes crashed after being targeted by Syrian air defenses during retaliatory strikes.
The London-based Syrian Observatory for Human Rights said that the six killed included both Syrian regime fighters as well as allies with "non-Syrian nationalities."
Saturday's conflict on the Israel-Syrian border was the most serious confrontation between arch foes Israel and Iran since Syria's civil war began in 2011.
#SOHR The #Israeli strikes on several areas in #Homs, #Rif Dimashq and its outskirts kill 6 members of the regime and its allies of #Syrian and non-Syrian nationalities https://t.co/W7tf4fZdfo

— #المرصدالسوري #SOHR (@syriahr) February 10, 2018
Speaking at the start of a weekly Cabinet meeting on Sunday, Israeli Prime Minister Benjamin Netanyahu said that the strikes had dealt a "heavy blow" to Iranian and Syrian forces in the country.
"We inflicted on Saturday a heavy blow to Iranian and Syrian forces," Netanyahu said. "We made clear to everyone that our rules of engagement will not change in any way. We will continue to harm anyone who tries to harm us. This was our policy and this will remain our policy."
The escalation erupted when an Iranian drone violated Israeli airspace and was shot down. In response, the IDF unleashed several airstrikes within Syria, including the vehicle where the drone originated.
The air base was said to be bristling with Iranian personnel and weapons and several were reported to have been killed. It was the first time Israel has publicly acknowledged targeting what it identified as Iranian positions in Syria since the conflict started.
The IDF said that the strikes constituted "the biggest and most significant attack the air force has conducted against Syrian air defenses" since the 1982 Lebanon War.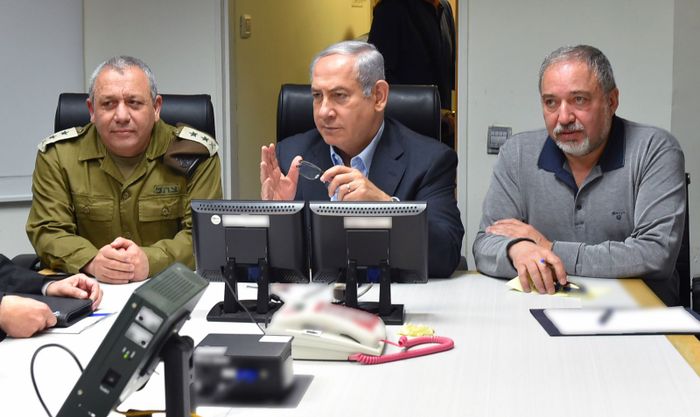 An Israeli F-16 fighter jets which was targeted by Syrian anti-aircraft missiles crashed in Israeli territory, with the IDF saying that the crash was likely due to shrapnel rather than a direct hit.
Netanyahu vowed to prevent Tehran from establishing a threatening military presence in the Arab state.
At a meeting of his Likud political faction on Sunday, Netanyahu said that Israel had "set clear red lines" with regards to Iranian entrenchment in the region.
"We acted and will continue to act accordingly," he said.
This morning Iran brazenly violated Israel's sovereignty. They dispatched an Iranian drone from Syrian territory into Israel. Israel holds Iran and its Syrian hosts responsible for today's aggression pic.twitter.com/UNuz81VQQM

— Benjamin Netanyahu (@netanyahu) February 10, 2018
Washington backed Israel and blamed Iran for the escalation, with the State Department calling "for an end to Iranian behavior that threatens peace and stability."
Iran denounced Israeli "lies" and said Syria had the right to self-defense in response to the strikes.
Separately, Iran issued a statement with Syria's other main allies -- Russia and Lebanese militant group Hezbollah -- denying Israel's allegations that the drone had violated its airspace.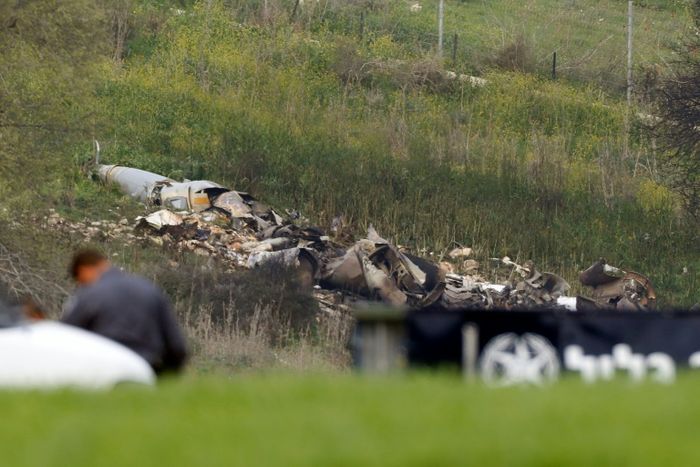 Hezbollah in a separate statement said the downing of the Israeli F-16 marked the start of a "new strategic era".
Russia's foreign ministry urged "restraint" by all parties, adding it was "unacceptable to create threats to the lives and security of Russian soldiers" in Syria.
United Nations Secretary-General Antonio Guterres called for "an immediate and unconditional de-escalation of violence" in Syria, UN spokesman Stephane Dujarric said in a statement.
Israel is technically at war with Syria, and has annexed a swathe of the strategic Golan Heights that it seized in the Six-Day War of 1967 in a move never recognized by the international community.
Israel has sought to avoid direct involvement in the Syria conflict, but acknowledges carrying out dozens of air strikes there to stop what it calls deliveries of advanced weaponry to Hezbollah.
Read more:
As it happened: Israel, Iran and Syria come to blows in dramatic day of conflict
IDF still investigating exact cause of downed fighter jet
Hezbollah hails 'new strategic era' sparked by downing of Israeli jet
UN chief calls for immediate de-escalation in Syria after Israeli airstrikes