Israeli Parliament votes to slash PA funds over terror payments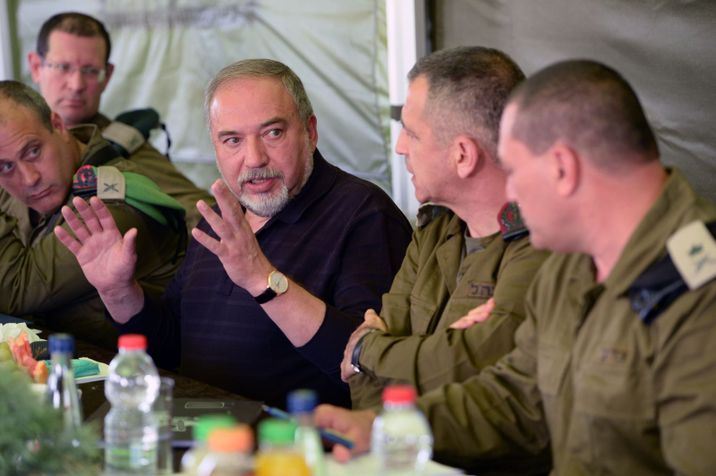 Avigdor Liberman, Israel's Defense Minister, close to Gaza border
Ariel Hermoni, Ministry of Defense
In 2017, payments to terrorists and their families exceeded $347 million, according to the Defense Ministry
The Israeli parliament, the Knesset, voted Monday for a measure that called for cutting funding to the Palestinian Authority by the amount Ramallah pays out to people convicted of terrorism and their relatives.
If the bill passes another two rounds in the Knesset, the total cost to the Palestinian Authority could be substantial. In 2017, payments to terrorists and their families exceeded $347 million, according to the Israeli Defense Ministry, accounting for 7 percent of the PA's budget.
The bill, spearheaded by Yesh Atid member Elazar Stern and Likud member Avi Dichter, picked up fifty-two votes in the Knesset, against 10 who opposed the bill.
"As long as the Palestinian Authority pays for terror, and as long as the money for this payment passes through us, the Knesset and the Foreign Affairs and Defense Committee cannot turn a blind eye," Dichter, a former head the Shin Bet security agency, said. "We will not be a conduit for the transfer of terrorist funds."
Defense Minister Avigdor Liberman recently praised the bill, stating that the money cut from the PA will go to aiding Israeli terror victims. "Soon, this theater of the absurd will come to an end," he said. "And the salaries of the terrorists that we will withhold from Abbas will be used to prevent terrorism and compensate victims."
The Palestinians, represented by groups such as the PLO, currently provide monthly payments to the family of any Palestinian that is incarcerated or 'martyred' in the midst of conducting a terrorist attack.
Currently, a Palestinian prisoner serving 3-5 years gets around $580 monthly, roughly the amount made by the average Palestinian. That figure can more than triple for a 20-30 year sentence, and can include additional payments for Palestinians who are married, have children, are residents of Jerusalem, or are Israeli citizens.
The United States are also looking for ways to legislate payments to the Palestinians. A bill called the Taylor Force Act, named after a US citizen killed in Tel Aviv terror attack, has gotten the attention of several lawmakers, calling for a cut to PA funding if they do not discontinue with their monthly payments.
You need to be logged in in order to post comments. Sign up or log in
cut every last cent until they: end their terrorism! are actually negotiating seriously at a negotiating table with Israel AND the US! change their educational system to no longer teach Jew hated. Holocaust denial and that terrorism is a good way to live!
end all US aid as well until these conditions and now are meet. if the eurotrash or Arabs have issues with this. let those deadbeat leeches come up with the money!