Hezbollah leader blames Syria strike on pressure from 'Zionist lobby'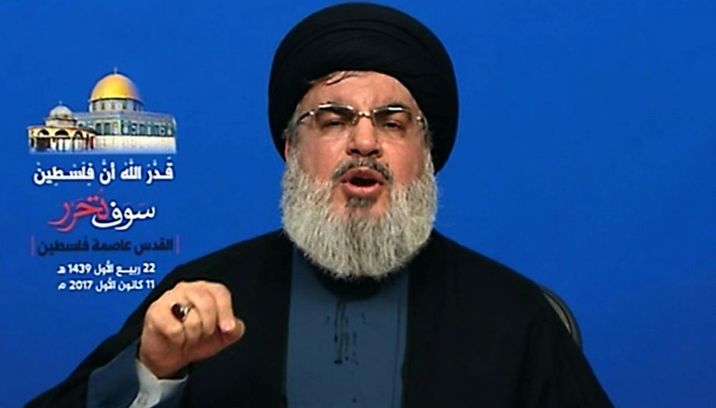 Hezbollah leader Hassan Nasrallah delivers an address on the movement's al-Manar TV on December 11, 2017
Handout (MANAR TV/AFP)
Nasrallah reportedly stated that Israel was 'disappointed by the limited bombing'
Leader of Lebanon-based terror group Hezbollah on Sunday, said that pressure from the "Zionist lobby" in the US was the reason for the West's military strikes in Syria last week, but that Israel was "disappointed" by the limited extent of the bombing.
Speaking in a televised speech at an election rally, Hassan Nasrallah, head of the Tehran-backed group, slammed the military strike, saying it revealed the US' limitations after the US-led missile assault on Syrian chemical weapons facilities that were carried out last week.
The strikes carried out by the US, France, and UK were a punitive response to alleged chemical weapons attacks by the Assad regime that President Donald Trump branded the "crimes of a monster."
According to Hezbollah-linked media Almanar network, Nasrallah stated that the strikes "failed to change the equation in its favor," reported the Times of Israel, and that the Jewish state "was disappointed by the limited bombing."
"What happened on Saturday should increase our confidence in our strength, presence, ability, and the enemy's limited options, despite its capabilities," he continued. "The limitation of the US aggression is a clear American recognition of the strength of the axis of resistance and its ability to emerge victorious as it did before."
In another speech Thursday, Nasrallah warned that Israel's unconfirmed strike on another Syrian airbase several days prior to the US-led operation, put the country in a direct confrontation with its regional foe Iran.
"The Israelis committed a stupid, historic mistake... and put themselves in direct combat with Iran,"  Nasrallah stated in the address.
Seven Iranian personnel were killed in the strike on the T-4 air base in Syria, but Tehran had not specified which units the fighters belonged to.
Israel is believed to have carried out numerous raids inside Syria since 2013 but it rarely admits to them publicly.
You need to be logged in in order to post comments. Sign up or log in
Me to disappointedly with the limited attack. should be more, to teach Iran a big lessons. I thought Putin the strongest man, now I've been disappointed. Trump's is halfway strong not all the way. Trump's talk to much, do Little.