Syria says US-Israel 'cyber operation' triggered missile defenses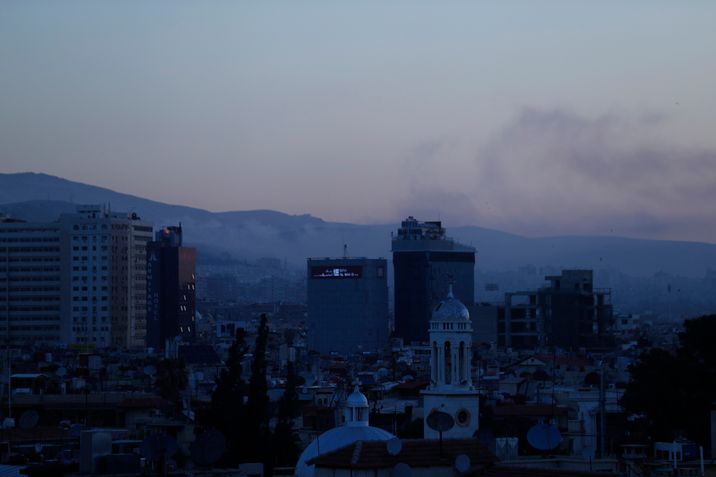 Smoke rises after airstrikes targeting different parts of the Syrian capital Damascus, Syria, early Saturday, April 14, 2018.
AP Photo/Hassan Ammar
A Pentagon spokesperson said 'there is no US military activity in that area at this time'
Syrian state media on Tuesday retracted reports of an overnight missile attack on the central province of Homs, saying its air defenses had been activated after a "false alarm."
"Last night, a false alarm that Syrian air space had been penetrated triggered the blowing of air defense sirens and the firing of several missiles," a military source told state news agency SANA.
"There was no external attack on Syria," the source added.
The false alarm, a Syrian pro-regime officer told the Reuters news agency, was sparked by a "joint electronic operation" carried out by Israel and the US.
The officer, a commander of militia forces supporting the Syrian regime, said that the Syrian radar system had been targeted by the alleged cyberattack and that a Russian expert was brought in to resolve the issue.
SANA had initially reported that a barrage of missiles targeting regime air bases were shot down, branding the incident as an "aggression".
Media outlets associated with the Hezbollah militia group also said initially that six missiles were fired towards the Shayrat airbase and three others towards the Dumair military airport near Damascus.
Various sources claimed the attack was carried out by Israeli aircraft. An Israeli military spokesman responded to the reports saying he was "not aware of such an incident."
In Washington, Pentagon spokeswoman Heather Babb said: "There are no US or coalition operations in that area."
Big explosions were heard near Al Shayrat Air base, southeast of the city of Homs, and in eastern Qalamoun near Damascus where two other air bases are located, the Syrian Observatory for Human rights reported.
Observatory chief Rami Abdel Rahman said missiles did not hit any of the air bases.
Shayrat air base was targeted by US Tomahawk missiles in April last year in a strike ordered by President Donald Trump in retaliation for a suspected chemical attack on the rebel-held town of Khan Sheikhun in Idlib.
According to the Pentagon, US intelligence had established that the base was the launchpad for the alleged chemical attack.
The US, France, and Britain launched a volley of strikes Saturday morning on positions around the capital Damascus and the central city of Homs.
Israel is believed to have carried out numerous raids inside Syria since 2013 but it rarely admits to them publicly.
Last week it declined to comment on accusations by the Syrian government and ally Russia that Israeli forces were behind the strike on the T-4 air base in which seven Iranian personnel were killed.
AFP contributed to this report.
You need to be logged in in order to post comments. Sign up or log in
Must be terrorism activity.