These are the airlines said to be ferrying weapons from Iran to Syria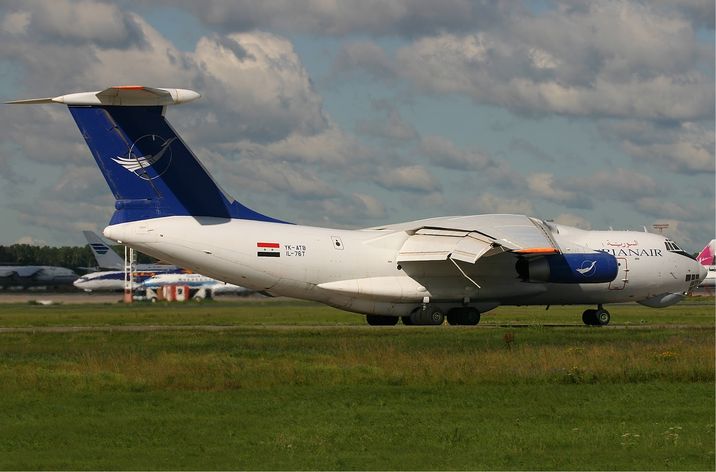 One of Syrian Air's Ilyushin IL-76Ts, YK-ATB, pictured here in 2006.
Sergey Ryabtsev via Wikimedia Commons
The suspected weapons flows from Iran to Syria are years old, but they may now be potential targets for Israel
Companies operating cargo flights between Iran and Syria are increasingly catching the attention of Israeli and US intelligence, officials have said, as Iran's threats to avenge an alleged Israeli strike in Syria earlier this month throw renewed attention on how weapons and other tools flow between the two allies.
Flight tracking data reviewed by i24NEWS shows that the route is dominated by a handful of Iranian and Syrian companies using high-capacity cargo aircraft, and the imposition of US sanctions has had little effect on the flows.
Last week an Israeli security source said that the country was closely monitoring the air bridge between Tehran and Damascus, which was widely interpreted as a warning that such aircraft or their ports of call are potential targets for Israeli attacks.
On Wednesday CNN reported that US intelligence agencies are also worried about what exactly Iran is stuffing into the bellies of the jets. The officials said they were alarmed by an uptick in flights since an alleged Israeli strike on an Iranian air base in Syria on April 8.
Iran has repeatedly vowed to exact revenge for the air attack, which reportedly targeted Iranian military drones.
Flight tracking data shows that several airlines form the pillars of the Iran-Syria airlift, which some analysts say are front companies for Iran's Revolutionary Guard Corps (IRGC), the vanguard of Tehran's deployment in Syria.
One such airline, Fars Air Qeshm, flies almost solely between the Iranian and Syrian capitals. It appears to have only one operational aircraft, a Boeing 747-200 freighter, which boasts a huge cargo hold that Boeing says can transport up to 56 Cadillacs.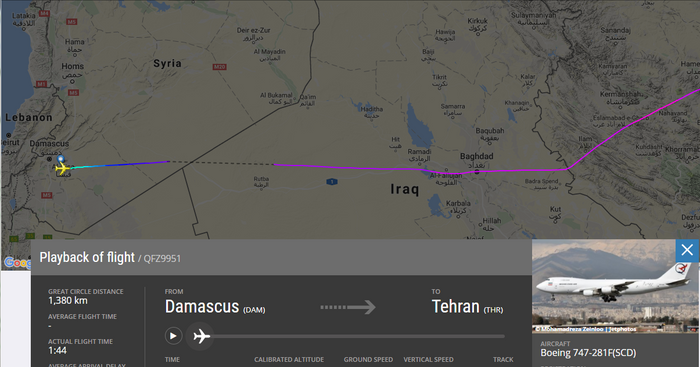 According to flight tracking website Flightradar24, it has made 11 round trips between Tehran and Damascus since January 30, including three since Israel's reported strike on the T4 airbase in Syria.
The jet also flies occasionally to Istanbul and the Kyrgyz capital Bishkek, a hub for cargo flights between Asia and Europe.
Syrian Arab Airlines, commonly known as Syrian Air, is also hyperactive on the route, plying the skies between Iran and Syria 12 times since the end of January.
The last few days have been particularly taxing for its Ilyushin IL-76T cargo aircraft, capable of hauling more than 40 tons.
On Monday the Russian-made aircraft flew from Damascus to Tehran, then returned to Syria and was last tracked descending near the northern city of Hama -- a region home to several military bases, including some used by Russia.
After a short hop down to Damascus, the 37-year-old jet then made another round trip to Tehran on Tuesday.
The same aircraft has also made several flights that were mostly untraceable, but show that it turned northeast after climbing out of Damascus. Similarly hard-to-track flights north are also taken by another Syrian Air Ilyushin cargo aircraft, which has not made any recent visible trips to Iran.
The airport typically used is Mehrabad Airport, the main military and IRGC airport in the capital.
While the flights spike the attention of Western intelligence, it is likely they also carry civilian cargo, given Iran's economic importance to the Syrian government.
Pouya Air, which was mentioned by name by the Israeli security source and is difficult to track, uses its Ukrainian-made cargo aircraft more on routes to Russia, Kyrgyzstan and the United Arab Emirates as it does to Syria.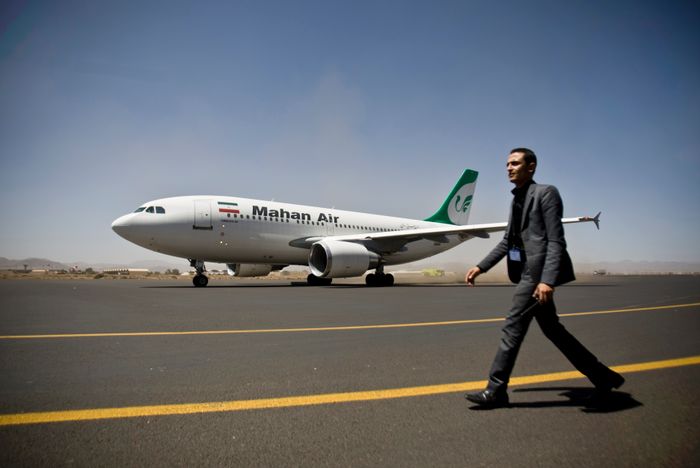 In addition to cargo aircraft, four mainly passenger airlines also fly regularly between Iran and Damascus: Iran Air, Cham Wings Air, Mahan Air and Syrian Air.
With the exception of Iran Air, the country's flag carrier, all are sanctioned by the US.
The Trump administration's willingness to enforce those sanctions was called into question when i24NEWS reported last year that two of the airlines had acquired long haul planes without resistance from the US.
While the sanctions are designed to prevent airlines from flying and doing business outside of Iran, in practice they are only patchily enforced.
"Treasury has imposed sanctions on companies caught fronting for Mahan but so far declined to use its secondary sanctions to punish those companies, in Europe, Asia, and the Middle East, which service airlines like Mahan and Syrian Air when they land at local airports," said Emanuele Ottolenghi, who follows the air lift closely at the hawkish Foundation for the Defense of Democracies.
"It could target ground services providers such general sales agents, cargo sales agents, ticket sales agents, catering, fueling, personnel hospitality, cleaning services, airports, etc. that all sell a service and transact with these airlines," he added.
Although sanctioning an airline such as Fars Air Qeshm, which has scant flights outside of the Iran-Syria corridor, would likely have little effect.
This article was amended on May 3 to remove a sentence on flights by ATA Airlines. According to information provided by Flightradar24, technical reasons prevent the flights from being tracked on certain routes and it cannot therefore be determined where the aircraft travel to.