Egypt authorities arrest atheist blogger at Cairo airport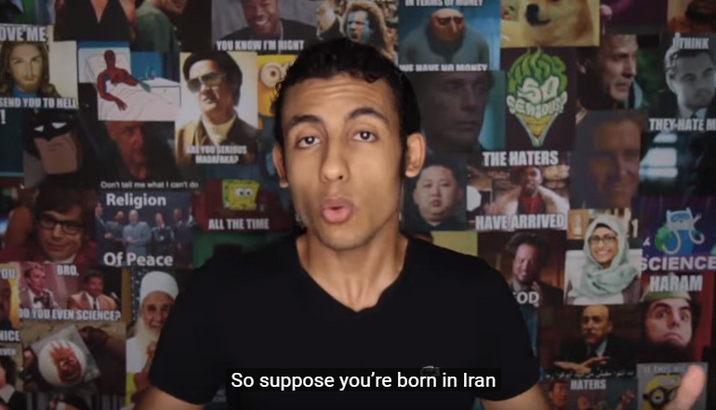 Egyptian athiest blogger Sherif Gaber speaks in a YouTube video
Screenshot from YouTube
Police in Egypt have arrested an atheist blogger who has been detained several times for promoting his views on Islam, minorities' rights and evolution, a rights lawyer said on Saturday.
Sherif Gaber was in police custody on Saturday and set to be questioned by the prosecution on Sunday, Gamal Eid, head of the Arabic Network for Human Rights Information, told AFP.
"He has been arrested and should be questioned tomorrow," Eid said.
The lawyer did not say when exactly Gaber was arrested, however the International Humanist and Ethical Union (IHEU) published on Friday a screenshot it said came from the activist's Patreon account.
"I'm supposed to be travelling to Malaysia on 12:05 Cairo time. An hour from now," Gaber is purported to have written on the online platform. 
"The police took me and made me wait in this room for 2 hours and I'm still waiting. They took my belongings and my passport and I don't know what's going on," he wrote, urging followers to share the message if he is not heard from again after two hours. 
In early April Gaber tweeted that "some Muslim lawyers" filed a complaint against him with the attorney general. 
"I'll probably get arrested in the next few days, but I don't want you to get mad," he wrote. He last tweeted on April 25.
Gaber was detained in 2013 for allegedly promoting atheism, which can be punished in Egypt under a law that bans "insults to religions".
His website includes YouTube videos with titles such as "Criticizing religion is a human right," "Does God exist?" and "Evolution and religion are incompatible."
He also spoken out about sexual minorities, who face rampant government persecution and social violence in Egypt. 
The IHEU, a London-based organization that describes itself as the "global representative body of the humanist movement," called for Gaber's immediate release. 
"The rights of non-religious people to freedom of belief and freedom of expression are just as real and valid as the rights of the religious to their own freedom of belief and expression," the group's president Andrew Copson said in a statement.
"Egypt has been systematically violating those rights and we call on the Egyptian state to respect human rights, desist from its campaign against atheists, and abolish the 'blasphemy' laws which permit this hostile and unnecessary prosecutions, violating the defendants' right to freedom of expression," he said. 
(Staff with AFP)