Iran's media largely mute as Israel blames Tehran for rocket fire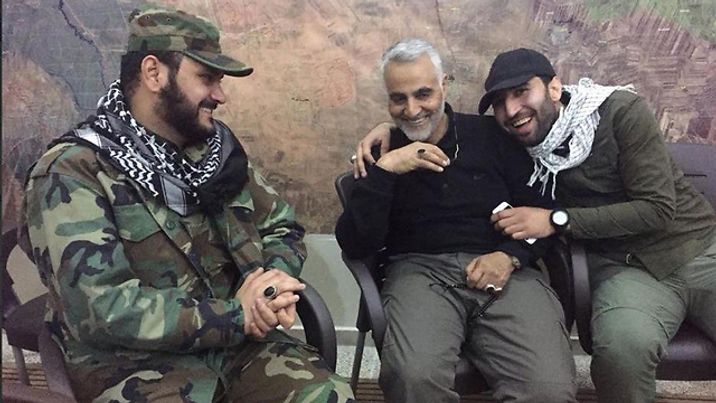 Qassem Soleimani in Syria
Twitter
Media outlets in Iran were downplaying on Thursday Israel's assertion that Tehran's elite Quds Force unit were responsible for a volley of some twenty rockets fired at the Israeli-annexed Golan Heights.
News agencies, which tend to stick close to the government's preferred version of events, published articles that cited Syrian state media and appeared to attribute the rocket barrage to the Syrian army.
"The Syrian army intercepted tens of incoming Israeli missiles and reciprocated the assault with a barrage of rocket attacks on military centers in occupied Golan, the first such response in decades," reads a report in Fars news agency.
The Israeli army confirmed early Thursday that it launched an extensive campaign of retaliatory strikes on Iranian-operated bases in Syria, responding to a barrage of rockets and missiles it said were fired by Iran towards Israeli territory.
Tasnim news agency repeated the Syrian army's claims of intercepting the bulk of "missiles" fired by Israel, a claim the Israeli military said is untrue.
An assessment by the Syrian Observatory for Human Rights that the Israeli retaliatory strike killed several Iranians were not addressed.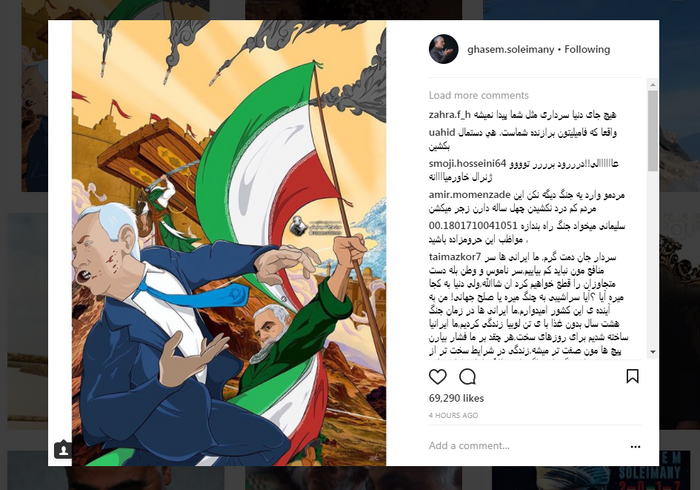 While official media kept a low profile, the commander of the Quds Force Qasem Soleimani seemed to hint at a role in Thursday's dramatic escalation.
An artistic rendering of him punching Israeli Prime Minister Benjamin Netanyahu in the face while clasping an Iranian flag.
Reports citing Lebanon's Al Manar TV quoted a senior Iranian official as denying any Iranian involvement in the rocket volley, although Iranian media did not carry similar denials.
Meanwhile, the deputy chief of Iran's Revolutionary Guard Corps (IRGC) said Iran has a military powerful enough to repel any foreign assault.
"Today, we have acquired a modern arrangement of an immense power in sea, space and on the ground that we have blocked the enemies' path to military option," Brigadier General Hossein Salami was quoted as saying by Tasnim.
Since Israel reportedly launched an air strike on the Iranian-operated T4 air base in Syria last month, Iranian military and political leaders have vowed to respond. Israel promised to respond in kind.
On Wednesday US President Donald Trump added to the simmering tensions, warning "something will happen" if Iran does not agree to negotiate a new nuclear pact with the US after the president pulled out of a 2015 agreement by Iran to curtail its nuclear program.
Read more:
Liberman to Saudi media: 'If Iran attacks Tel Aviv, Israel will attack Tehran'