Tehran's Grand Bazaar strikes in protest at rial collapse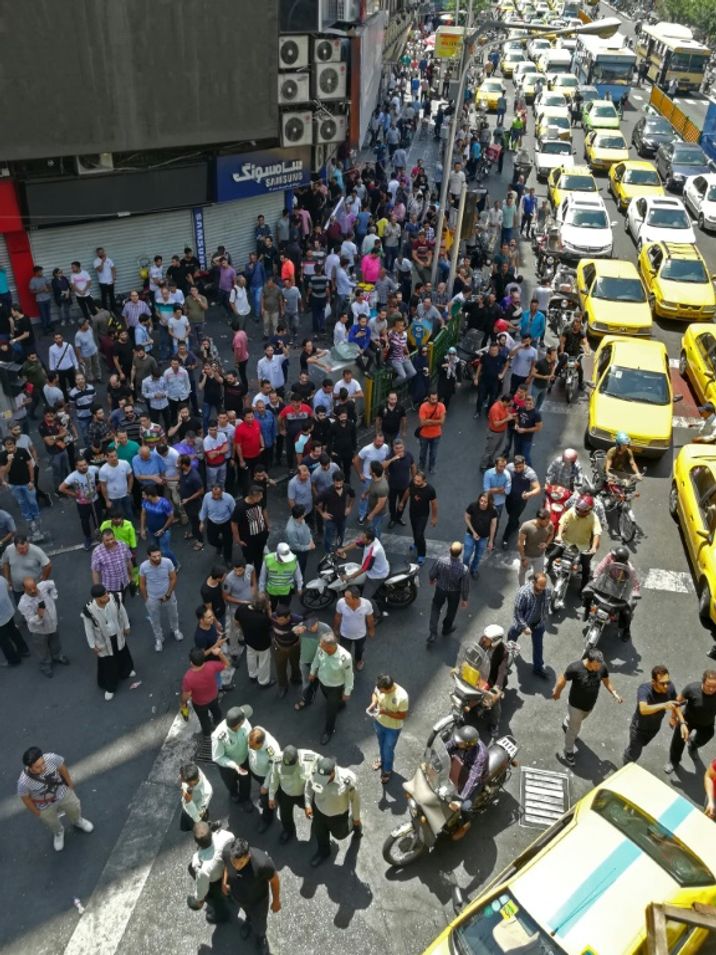 Iranian protesters gather in downtown Tehran
ATTA KENARE (AFP)
Traders in the Iranian capital's Grand Bazaar held a rare protest strike Monday against the collapse of the rial on the foreign exchange market as demonstrators also took to the streets.
At a crossroads in central Tehran, anti-riot police fired tear gas at dozens of youths chanting "Iranians, Iranians, support us" and throwing stones, an AFP photographer said.
Videos posted on social media appeared to show other confrontations in the capital between security forces and demonstrators.
"The demands of bazaar traders are legitimate. They want the situation on the foreign exchange market to be clarified once and for all," Abdollah Esfiandari, head of the historical covered market's administrative board, told ISNA news agency.
He said the protest was against "the high exchange rate, foreign currency fluctuations... goods being blocked at customs, and the lack of clear criteria for duties".
Shops had their metal shutters down throughout the market, said 45-year-old carpet trader who grew up in the area. "It's the first time in my life that I have seen this."
Iran's currency has plunged almost 50 percent in value in the past six months, with the US dollar now buying around 85,000 rials on the open market.
"Anti-riot police intervened" to disperse a protest in the Grand Bazaar, making two arrests, according to another carpet merchant.
Iran has faced mounting economic woes since the United States in May pulled out of a 2015 nuclear accord between Tehran and world powers that lifted international sanctions in exchange for a scaling back of the Islamic republic's atomic program.
Apart from the rial's collapse, the Iranian private sector has long been starved of investment, its banking system is crippled by bad loans and record levels of unemployment mean a third of under-30-year-olds are out of work.
In the face of Monday's show of discontent, Iranian officials tried to reassure the public.
"The people must know that even in the most critical circumstances they will be allocated enough foreign currency at the official rate to provide for essential and vital goods," said Vice President Eshagh Jahangiri, quoted by state news agency IRNA.
The central bank governor, Valiollah Seif, went on state television to announce the creation of a "secondary" foreign exchange market for importers.
Iran's central bank on April 15 forbade "until further notice" all exchange bureaus from dealing in foreign currency, leaving banks as the sole authorized buyers and sellers.
But in practice, banks have often refused to trade.
Intense market pressure on the rial saw Iran earlier in April terminate the rial's free float and peg it to the dollar at an exchange rate of 42,000.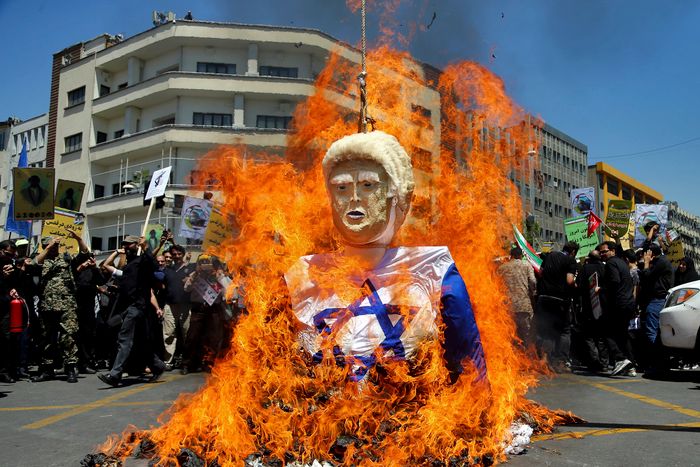 -Economic pressure-
The pressure on Iran's economy since US President Trump withdrew from the 2015 nuclear deal on May 8 has been more severe than originally forecast, Haaretz reported earlier this month.  
Israeli leaders have reportedly been presented with intelligence which shows that the effects of the US withdrawal from the 2015 nuclear deal has also caused a greater rift between Iranian moderates and hardliners.
The Iranian regime's support to Hezbollah, Assad, the Houthi rebels in Yemen, Hamas and Islamic Jihad in Gaza and Shi'ite militias in Syria and Iraq is estimated to cost some $1 billion annually which Iranians have begun protesting in street demonstrations across the country in light of the crippling economy.
According to Haaretz, Israeli intelligence assessed that Iran had hoped its economy would grow stronger after the 2015 nuclear deal but that it's currently experiencing great difficulties. 
However the US sanctions against companies doing business with Iran will go into effect in November and several companies doing business with the Islamic Republic have already reacted to Trump's withdrawal, causing even greater stress to Iran's economy.  
The world's largest aerospace company Boeing announced this month that it will not deliver aircrafts to Iran in light of US sanctions, effectively aborting a pair of large contracts with Iranian carriers. 
Boeing and Airbus were among the companies to receive US Treasury licenses to begin conducting business in Iran under strict oversight after sanctions were eased.
In December 2016 the company announced an agreement to sell 80 aircraft valued at $16.6 billion to Iran Air. Boeing also announced a contract in April 2017 to sell Iran Aseman Airlines 30 Boeing 737 MAX aircraft for $3 billion, with purchase rights for another 30 aircraft.
Nike also announced that it was cancelling a deal with Iran's national soccer team to deliver cleats to the team before the World Cup in Russia.
In Europe, a partnership to deep-sea drill off the Scottish coast between an Iranian oil company and British Petroleum was also cancelled following the US withdrawal from the nuclear deal.
France, Germany, Britain issued a joint official request to the US this month demanding that their firms be exempt from sanctions.
"As allies, we expect that the United States will refrain from taking action to harm Europe's security interests," said the letter to US Treasury Secretary Steven Mnuchin and Secretary of State Mike Pompeo.
Analysts say European firms which have rushed to invest in Iran after the lifting of sanctions over the past three years have the most to lose from the renewed sanctions.
Iran is still hoping to save the nuclear deal with the remaining signatories, but it has also warned that it will start enriching uranium again soon if an agreement is not reached.