Turkey detains controversial Muslim televangelist on fraud charges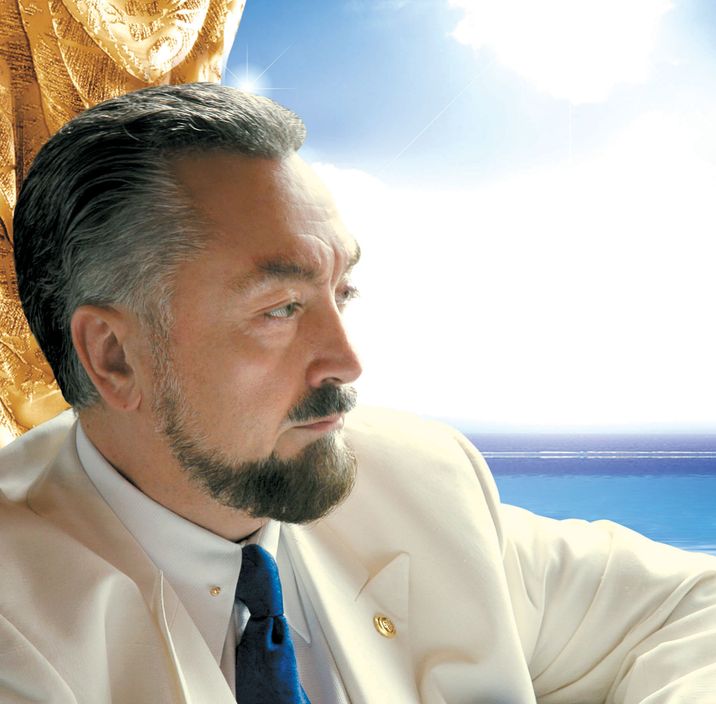 Adnan Oktar
Harun Yahya International/Wikimedia Commons
Turkish police on Wednesday detained on fraud charges a controversial "televangelist" notorious for propagating conservative views while surrounded by scantily-clad women he refers to as his "kittens".
Adnan Oktar, who also denies evolution, has a history of anti-Semitism and Holocaust denial, and is regarded by critics as the leader of a cult, was detained alongside almost 80 alleged supporters on accusations of fraud, bribery and sexual assault, reports said.
Oktar is a controversial figure in Turkey who gained notoriety for his programs on the online A9 television channel and had regularly been denounced by Turkey's religious.
He presented programs surrounded by scantily-clad and heavily made-up women -- who appeared to have had plastic surgery -- who he dubbed "kittens".
Turkish police have arrested Adnan Oktar, a truly bizarre Islamist cult leader and creationist who is best known for being perpetually surrounded by his 'kittens'. https://t.co/aMMfsuKhXr pic.twitter.com/zitGhxZ4AS

— Raf Sanchez (@rafsanchez) July 11, 2018
He was taken into custody in Istanbul as part of a probe by the city's police financial crimes unit, state-run Anadolu news agency said. A total of 235 arrest warrants were issued in a major crackdown on the group.
Oktar was caught as he was trying to run away, the Istanbul public prosecutor said in a statement, quoted by the Hurriyet daily.
In raids supported by helicopter in Istanbul and three other provinces, officers have already detained 79 people, the newspaper reported.
His female companions -- the "kittens" -- are believed to be among those sought by police including 106 women in Istanbul, Ankara as well as the southern cities of Mugla and Antalya.
Oktar is a creationist who rejects the Darwinian theory of evolution and has written a 770-page book "The Atlas of Creation" under the pen name, Harun Yahya.
He has been criticized in the past over his authoring of a number of books propagating anti-Semitic conspiracy theories and Holocaust denial, including a 1986 book titled "Judaism and Freemasonry" in which he claimed the two groups were using their power to "erode the spiritual, religious, and moral values of the Turkish people and make them like animals."
Turkish televangelist Adnan Oktar blames 'British deep state' over detention on several charges including military espionagehttps://t.co/KvMBKEttGd pic.twitter.com/uJvucVR5BH

— Hürriyet Daily News (@HDNER) July 11, 2018
In a later 1996 publication titled "The Holocaust Lie", which he denies writing, he claimed that "what is presented as Holocaust is the death of some Jews due to the typhus plague during the war and the famine towards the end of the war caused by the defeat of the Germans."
In recent years, Oktar has renounced those views and even published a 2006 book affirming the Holocaust. He has been embraced by some high-profile Israelis for his pro-Israel views and support for the rights of Jews and Christians to pray on the flashpoint Temple Mount holy site in Jerusalem.
Oktar first came to media attention in the 1990s when he was the leader of a sect caught up in multiple sex scandals. As a result, he had faced similar criminal charges of setting up a criminal organization.
The head of Turkey's Diyanet religious affairs agency Ali Erbas said earlier this year that Oktar had "likely lost his mental balance", prompting a war of words with the televangelist.
In February, workers from the Turkish Diyanet and Foundation Workers' Union (Diyanet-Sen) launched a legal complaint against Oktar over various allegations including insulting sacred values.
In the same month, Turkey's audiovisual authority RTUK ordered a program presented by Oktar to cease broadcasting five times and handed down a fine because it violated gender equality and belittled women.
(Staff with AFP)