World Bank announces $17 million Gaza youth employment program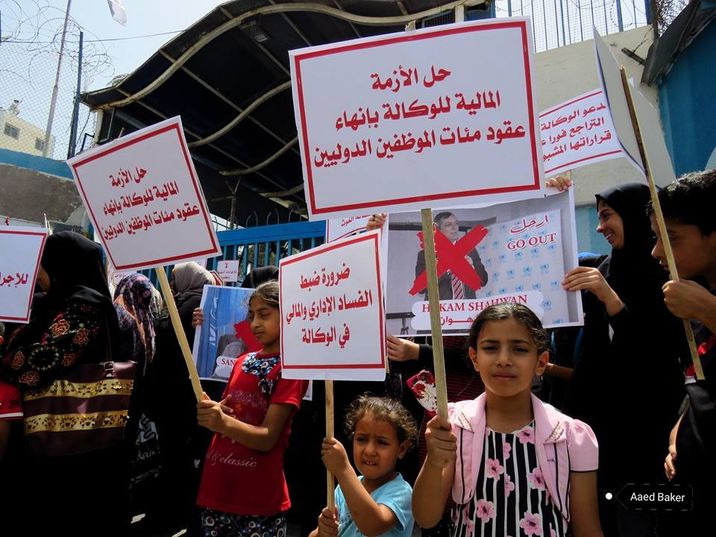 Gazans protest UNRWA job cuts
The World Bank announced Monday it will provide $17 million (USD) in "short term income support" to Gaza's unemployed youth in a project targeting approximately 4,400 young Palestinians, half of whom are women.
The "Gaza Emergency Cash for Work and Self-Employment Support" will employ youth in Gaza at nonprofits and NGOs that "deliver services in severely needed areas such as health, education, and support to the disabled and elderly," according to the World Bank statement.
"As part of the US$17 million grant, the new project will finance skills training and internet-based job support to an additional 750 youth," it adds.
#BREAKING: #WorldBank approves programme for 4,400 new short term jobs in #Gaza at a critical time when urgent interventions are required to prevent renewed conflict and to boost #Palestinian economic opportunities and livelihoods #UN https://t.co/00f7QeEIrw

— Nickolay E. MLADENOV (@nmladenov) August 13, 2018
A survey conducted by the Palestinian Central Bureau of Statistics (PCBS) released last week revealed that the youth unemployment rate in the Gaza Strip increased from 39.8% in 2007 to 61.2% in 2017.
The same survey found that the poverty rate amongst individuals in Gaza ages 15 to 29 years old was 56% in 2017, with 35.4% of Gazan youth living in "extreme poverty."
"Economic instability and the absence of jobs hinders Gaza's educated youth from contributing to economic growth. Half of the labor force is unemployed and basic services like water and electricity are on a steep decline -- conditions that foster social unrest," Marina Wes, the World Bank's Director in Gaza and the West Bank stated.
"Job creation and youth employment are at the core of our strategy. This project is in line with one of the major goals of our assistance, to provide economic opportunities, particularly for youth and women," she added.
The World Bank says the project will work to secure employment for youth in Gaza by providing grants to NGOs that hire youth who have not had work for at least one year.
It will also give NGOs financial support to train new employees and equip them with technological and entrepreneurial skills.
"The project puts great emphasis on young women in Gaza, requiring that they represent at least half of the youth targeted for short-term employment and digital skills."
The project comes in the wake of the US decision to freeze aid to the Palestinian Authority and cut funding to the Palestinian refugee agency.
In January, President Donald Trump announced the US would cut over $300 million in funding to the United Nations Relief and Works Agency (UNRWA). Last month, the agency cut 250 staff in Gaza and the West Bank in response to funding cuts.
UNRWA provides support for more than three million Palestinians across the Middle East, including the majority of Gaza's two million residents.