French-American professor to be deported from Israel for disrupting soldiers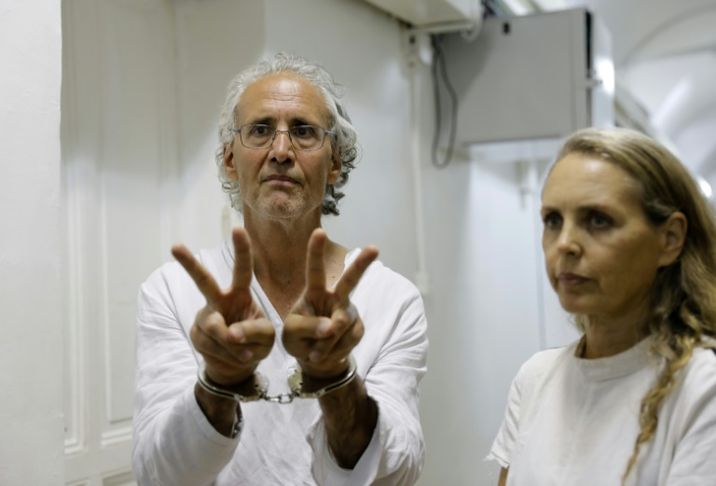 American-French law professor Frank Romano (L) stands next to his lawyer Gaby Lasky on September 16, 2018
Ahmad GHARABLI (AFP)
A French-American university professor, who was arrested for disrupting soldiers near the West Bank Bedouin village of Khan al-Ahmar, is to be expelled from Israel, his lawyer said on Sunday.
US-born Frank Romano, 66, who teaches law at the Paris Nanterre University, was detained on Friday while taking part in a demonstration at the Bedouin village of Khan al-Ahmar, east of Jerusalem.
Anti-demolition activists said Romano was arrested along with two Palestinian protesters when they tried to block bulldozers sent in by Israeli authorities to seal off an access road to the village.
On Saturday, Romano's lawyer Gaby Lasky said military legislation had been applied in his case, thus allowing for Israeli authorities to extend the arrest with 96 hours.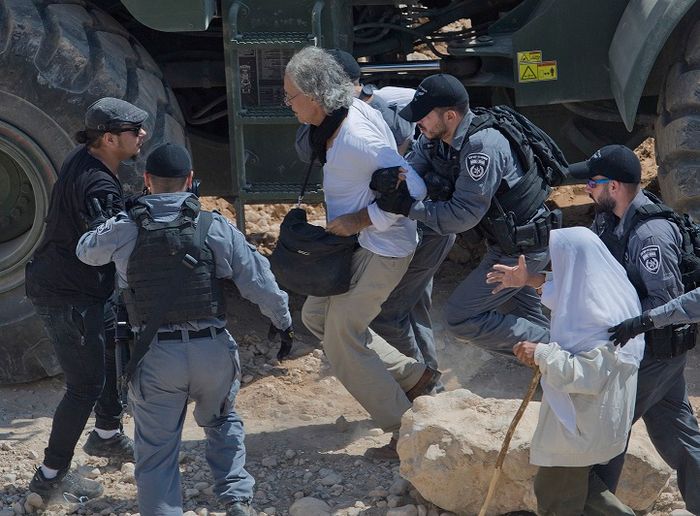 On Sunday, Lasky confirmed that Romano is set to be expelled from Israel instead of appearing before a court as she had requested.
"Like thieves in the night, instead of bringing Frank Romano to a hearing on my request that he be released from detention, which was set for today (Sunday) at the Jerusalem Magistrate's Court, without informing me or the court, at 2 PM (two hours before the scheduled hearing) he was handed over to the immigration police for deportation. Now it is clear why he was arrested according to military law – to give them time to deport him before he sees a judge," Lasky said in a statement on Sunday.
A spokeswoman for the Israeli interior ministry could not immediately confirm such a decision.
In May, after nearly nine years of legal battles, Israel's High Court approved the government's plan to raze the village.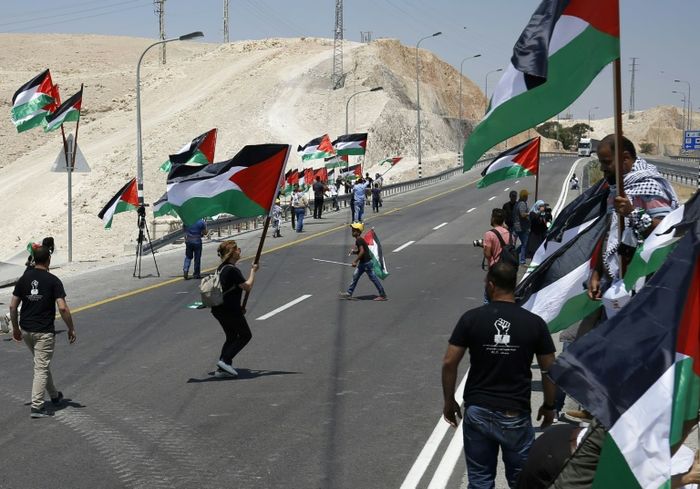 Activists say Khan al-Ahmar was established without permits after the Jahalin Bedouin tribe, originally from the Negev desert, were expelled from the area by the Israeli military in the 1950's and then again from Kfar Adumim, where they leased land.
Israeli authorities say that village was built illegally, without proper permits, and that it is too close the the major roadway.
On Thursday, the European Union parliament passed a resolution declaring Israel's destruction of Khan al-Ahmar and the eviction of residents a violation of international humanitarian law. The resolution also said it may well even be considered a war crime.
The EU Parliament accordingly called on Israel to stop "its policy of threats of demolition and actual eviction against the Bedouin communities."
It also demands "compensation from Israel for the destruction of EU-funded infrastructure," amounting to EUR 315,000 of EU funds invested in the Palestinian village.
A joint statement issued by the EU's chief Federica Mogherini and five major powers -- UK, Germany, France, Spain, and Italy -- warns of the threat posed to the only viable two-state solution to the Israeli-Palestinian conflict, as the village is located in a strategic E1 area that earmarked for Israeli development which forms a buffer east of Jerusalem that would divide the West Bank and badly hurt prospects for a contiguous Palestinian state.