EXCLUSIVE: Hamas prefers Israel over Abbas, top adviser says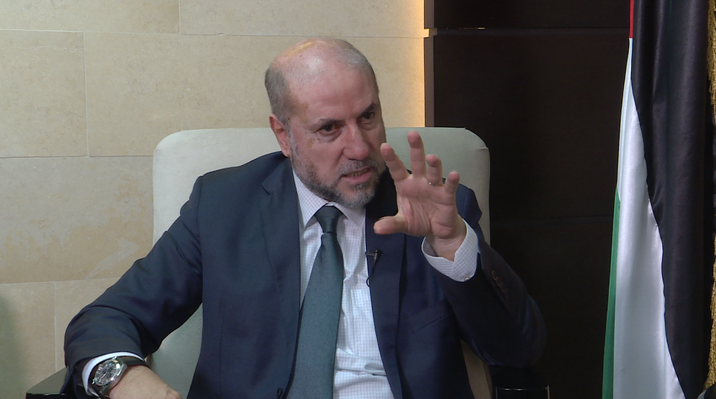 Palestinian Religious Affairs Minister Mohamed al-Habash
i24NEWS
But al-Habash remained hopeful that Egypt understood the priority of Palestinian reconciliation
Hamas prefers to engage in reconciliation talks with Israel than with the Palestinian Authority (PA), a top adviser for PA President Mahmoud Abbas told i24NEWS in an exclusive interview.
"Hamas seems to prefer to go toward reconciliation with Israel rather than toward reconciliation with its own people and with the PLO. This is very important. We are all supposed to arrange the Palestinian house and then look for deals with foreign entities," said the PA's Supreme sharia judge Mahmoud al-Habash.
UN and Egypt-led efforts to reach a long-term ceasefire agreement between Israel and Hamas have been ongoing for months in order to bring an end to the violence along the border and ease tensions in the impoverished Palestinian enclave.
At least 193 Palestinians, including 50 Hamas members, have been killed in clashes with Israel Defense Forces (IDF) on Gaza's border since the weekly March of Return demonstrations began on March 30.
The peace talks first centered around providing a temporary ceasefire following a bout of Palestinian rocket fire and retaliatory Israeli air strikes in July and August, but the two sides began indirect talks through Egypt to explore the possibility of reaching a long-term peace agreement.
In what appeared to be his first-ever interview with an Israeli news publication, Hamas' leader in the Gaza Strip Yahya Sinwar called for a ceasefire with Israel saying that another war is not in the interest of his group nor the people of Gaza.
Yet Al-Habash told i24NEWS that "Hamas' desire to open a channel of negotiation with Israel is an old one, not a new one."
The Egyptian-led initiative has in parallel sought to advance reconciliation between Hamas and the Palestinian Authority, but tensions between the factions remain high, with Abbas' government continuing to impose sanctions on the Gaza Strip.
The PA leader has sought to pressure Hamas in recent months by refusing to pay for his rivals' government salaries and for Israeli-supplied electricity in the Strip, leading to a severe power crisis and a deteriorating humanitarian situation in the enclave.
At the same time, Abbas has felt increasingly sidelined by the ongoing negotiations between Israel and Hamas, offering to end sanctions only if Hamas agrees to cede control over the Gaza Strip.
Al-Habash, who also serves as Abbas' foremost advisor on religious and Islamic affairs, explains that these negotiations play into the hands of Israel in further dividing the Palestinians.
"I think that the Hamas leadership thinks they are sending positive messages to Israel but they are messages of a negative nature to the Palestinian cause. They are disastrous and their goal is an Israeli goal that aims at breaking up the Palestinian cause geographically and politically."
Israel prefers Hamas over Abbas
Former Israeli Minister of Internal Affairs Ofir Pines, who was part of an Israeli delegation that met with Abbas last month, echoed al-Habash's remarks and suggested there was an unwritten agreement between Hamas and Netanyahu that Gaza should stay out of the control of the Palestinian Authority.
"The minute that Mahmoud Abbas will take full control of Hamas and Gaza, Israel won't be able to say that it has no partner for peace," Pines told i24NEWS, explaining that until that time Israel can continue to claim there is no legitimate representative of the Palestinian people.
But al-Habash remained hopeful that Egypt understood the priority of Palestinian reconciliation before the possibility of a long-lasting peace with Israel.
"There is an agreement between us and our brothers in Egypt that the priority is [Palestinian] reconciliation talks and not the truce," he said.
The Supreme sharia judge explained that peace in the Israeli-Palestinian conflict and for the region could only be achievable after the Palestinians unite.
"Peace cannot be reached with any Arab party without a just solution to the Palestinian question. They have to understand this. The address, the beginning and the end, is Palestine. When the Palestinian cause is resolved in a just and comprehensive way on the basis of the Palestinian people's right to self-determination and the establishment of an independent Palestinian state, we can talk about regional peace. Until then, all this is just talk," he said.