US student denied entry at Israeli airport to fight ban with Hebrew U's support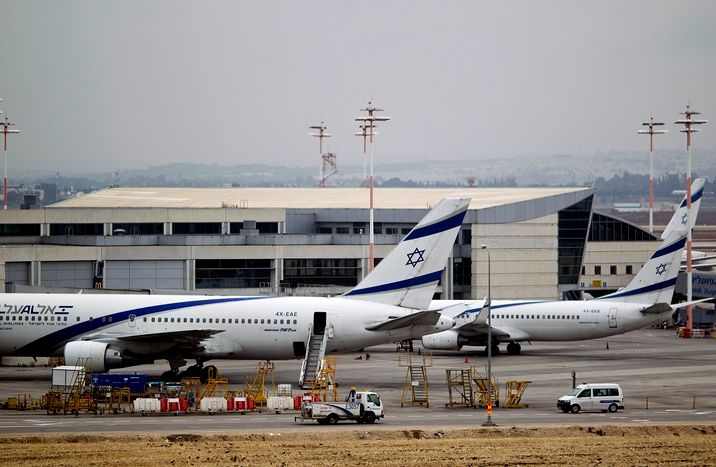 Israeli airliner El Al planes parked at Ben Gurion airport near Tel Aviv, Israel, Sunday, April 21, 2013.
AP Photo/Ariel Schalit
The university has applied to the Tel Aviv court for leave to join her appeal against deportation
A US student refused entry for alleged support of a pro-Palestinian boycott of goods from Israeli has chosen to stay and fight the ban in court with the support of the Hebrew University where she had intended to spend a year studying.
Immigration authority spokeswoman Sabine Haddad told AFP late Tuesday that Lara Alqasem was being held at an immigration facility but was not under arrest.
"She can fly back to the United States whenever she likes," Haddad said.
"She decided to appeal and is being held in the facility for those refused entry," the spokeswoman said in Hebrew. "She is not under arrest, she is refused entry."
Haddad said that the appeal would be heard in the Tel Aviv district court but gave no date for the hearing.
She added that judge Kobi Vardi issued a ruling on Tuesday saying that Alqasem was not obliged to remain in the airport holding facility and was free to return home and have the Tel Aviv hearing held in her absence.
In March 2017, Israel's parliament passed a law banning the entry of supporters of the pro-Palestinian Boycott, Divestment, Sanctions (BDS), a movement inspired by measures against South Africa before the fall of apartheid.
Alqasem, reportedly of Palestinian descent, was stopped at Israel's main international Ben Gurion airport last Tuesday and denied entry under that act.
The Jerusalem Post has reported that during her undergraduate studies at the University of Florida "she was president of a chapter of Students for Justice in Palestine, which often leads boycott campaigns against Israel."
It quoted her mother, Karen Alqasem, as saying that she had enrolled for a one-year master's course in human rights at the Hebrew University of Jerusalem, for which she had an Israeli visa.
The university has applied to the Tel Aviv court for leave to join her appeal against deportation.
"This student wants to come here and study at the Hebrew University for one year," its president, professor Asher Cohen, told Israeli army radio Tuesday.
He argued that her treatment was actually strengthening the BDS campaign to boycott goods from Israeli settlements in the West Bank.
"There is a difference of opinion with the state on the interpretation of the law. In our opinion in this instance the law does not apply to this student," he said.
"It is for the court to decide."
Earlier, Israeli internal security minister Gilad Erdan said that he would consider allowing Alqasem to take up her university place if she publicly denounces BDS.
"If Lara Alqasem states in her own voice, not by all kinds of evasions by lawyers, that she doesn't think now that support for BDS is something legitimate and she regrets what she has done on this subject, we shall certainly reevaluate our petition," he told army radio.
The university's senate released a statement calling on Interior Minister Aryeh Deri and Strategic Affairs Minister Gilad Erdan to allow Lara Alqasem to enter the country, Haaretz reported.
The university also asked to join Alqasem's appeal to the district court protesting the decision to deport her.
In a statement, the university argued that it is "a place for the exchange of ideas and the acquisition and creation of knowledge. It is a place that does not shrink from disagreement and is pleased with a multiplicity of opinions. [Erdan's] decision not to allow the student into the country merely because of her opinions constitutes a threat against what the university represents."
It is an unusual move for an Israeli university to get involved with a decision by the authorities to deny entrance to a person arriving in Israel.Yet, the university noted that the decision to ban Alqasem from entering Israel was an "extreme step" and "could deter foreign scholars and students from coming to Israel."
The statement claimed the "extreme" step of banning entry to the country "should be taken only for the strongest and clearest reasons- preventing violence and lawbreaking. In Alqasem's case no such claims were presented."
Israeli minister Gilad Erdan criticized the university's statement, tweeting that "it is very sad that the Hebrew University has sided with a foreign boycott activist who served in a violent organization that 'silenced' all Israel supporters on US campuses."
"What nerve of the body, which is derived from the public's money, to ignore the law and the campaign of delegitimization against the state and help those who boycott and want to harm Israel," he added.
Erdan has staunchly stood by the decision to detain and deport Alqasem. Defending against what he sees as "an incredible amount of fake news" circulating regarding the case, he took to Twitter Monday to "set the record straight."
You need to be logged in in order to post comments. Sign up or log in
October 10, 2018 10:09 AM
Why doesn't she attend Gaza university to study human rights?