Hezbollah leader warns Netanyahu of response to Israeli aggression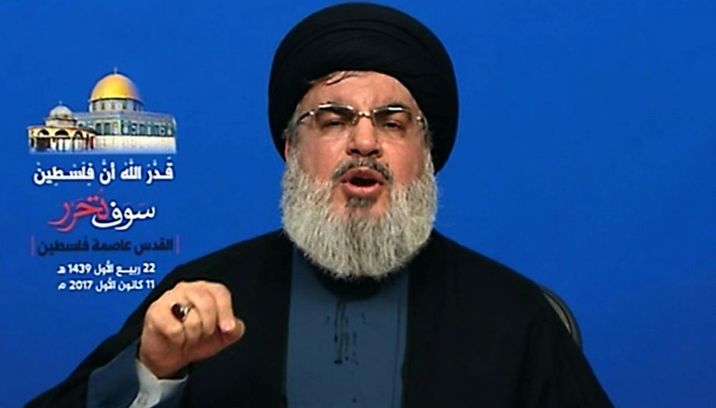 Hezbollah leader Hassan Nasrallah delivers an address on the movement's al-Manar TV on December 11, 2017
Handout (MANAR TV/AFP)
He also condemned recent moves by gulf states that have warmed up ties with the Jewish state
Leader of the Lebanese-based militant Hezbollah group vowed to respond to and condemned Israeli aggression on Saturday, suggesting that Israel's premier would have tried to enter Syria had Assad's regime not prevailed in the civil war.
"If the Syrian leadership had not won the war, we would have expected a visit by Netanyahu and his like in Damascus," Hezbollah leader Hassan Nasrallah proclaimed, referring to Syria's civil war in a speech broadcast from Lebanon's capital.
He qualified his statement, though, saying that Israeli Prime Minister Benjamin Netanyahu has ties with Syria's opposition and therefore would have entered the Syrian capital in an alternative outcome to the brutal onslaught that began in 2011.
Israeli leaders have long declared their opposition to entrenchment by Iran in Syria as well as reinforcement to its ally Hezbollah there, consistently carrying out covert attacks throughout the civil war.
A couple months ago the Israeli army admitted that it carried out more than 200 airstrikes in Syria over the last year, many of which it claimed were targeting Iranian positions and weapons convoys.
Netanyahu has also been forceful in his rhetoric against Hezbollah in Lebanon, telling the UN General Assembly in September that Hezbollah stores in Beirut,, saying "Israel knows what you are doing, Israel knows where you are doing it, and Israel will not let you get away with it."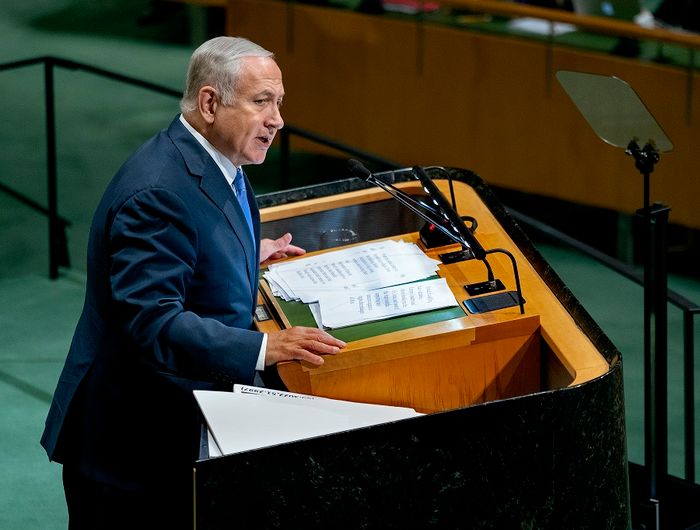 But during his speech Saturday, Nasrallah accused the Israeli premier of hypocrisy and promised to strike back against Israeli aggression.
"Netanyahu wants to conceal our rocket capability while he is trying to achieve more for himself. We will defend our country and respond to every attack and bomb in Lebanon," Hezbollah's leader pledged.
"Israel does not dare attack Lebanon because of the capabilities of our rocket fire, which the Lebanese army was not supposed to have," the Hezbollah leader said, adding that "We will keep arms and missiles resistance, and even threats or sanctions will not deter us. Lebanon must bear diplomatic pressure because if we did not have these missiles, the country would be exposed at any moment to Israeli attacks," he explained.
He also condemned recent moves by gulf states that have warmed up ties with the Jewish state while expressing solidarity with those who refuse to recognize Israel's authority, such as Arab residents in Israel's Golan Heights -- seized from Syria in the 1967 Six-Day War -- who refused to hold local elections this month, declaring themselves Arab-Syrian.
Nasrallah called on the Arab states that have recently formed ties with Israel to act similarly, denouncing "the characteristics of normalization with the Israeli enemy."
Gulf states have held clandestine talks with Israel for decades, going back to at least the early 1980s. Arab leaders have not, however, historically publicized talks over fears of a public backlash over the Palestinian-Israeli conflict.
While Israel's attempt to woo this region has been a long time in the making, analysts say, the tussle between Iran on the one hand and the United States, Israel and Gulf on the other has propelled the talks to new, and public, heights.
Recently, Israeli leaders visited Oman and back in September an unspecified Saudi prince conducted a discreet visit to the Jewish state to discuss regional peace initiatives.
"We condemn any normalization with Israel, and we tell the Palestinian people not to be afraid," Nasrallah said Saturday.