Israeli minister: Abbas should be barred from West Bank for 'instigating violence'
Israeli Public Security Minister Gilad Erdan
(AP Photo/Ariel Schalit, File)
Israel's Public Security Minister Gilad Erdan on Sunday proposed barring Palestinian President Mahmoud Abbas from returning to the West Bank after his next trip abroad.
Erdan, who was interviewed on Army Radio, said Abbas does not contribute anything to the diplomatic peace process, but rather takes the position as "one of the main instigators of violence on the southern border".
"The one really responsible behind the scenes for all that is happening is Abu Mazen (Abbas). He is the one to move inspectors out of the Rafah Crossing, he is the one sanctioning Hamas in order to pressure Hamas — pressure that is bleeding over to us," Erdan said.
The Public Security minister said the Israeli government should take steps against Abbas since his policy is to  "undeniably to foment unrest and incite against Israel, whether directly or through sanctions on Hamas."
"Maybe we should go as far as to consider one of the next times Abu Mazen leaves not to allow him to come back, because today he makes no contribution to the diplomatic process. He's only doing damage with his attitude toward Hamas," he said.
Hamas and Abbas's secular Fatah party have been at loggerheads since the Islamists seized control of Gaza from Abbas's forces in a near civil war in 2007, a year after sweeping parliamentary elections.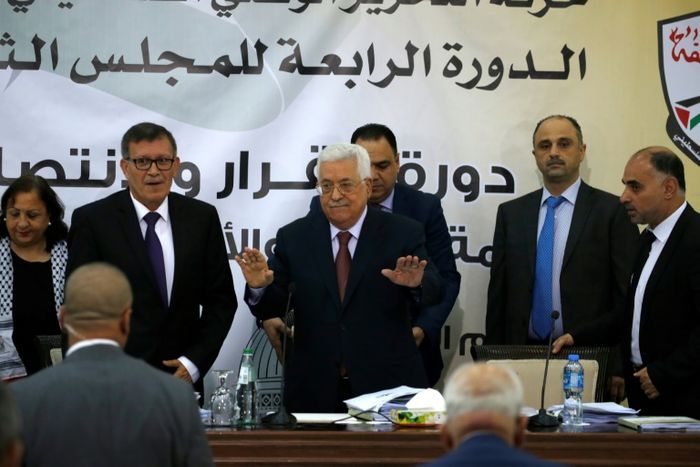 Multiple reconciliation attempts between the Palestinian factions have failed but Egypt thought it had made a breakthrough in late 2017 when the two sides agreed to eventually share power.
As part of that agreement Hamas withdrew from border crossings between Gaza and Egypt and Israel, allowing the Fatah-dominated Palestinian Authority to return and the Egyptian border to be reopened regularly.
The reconciliation agreement has since collapsed acrimoniously. Hamas and PA forces regularly arrest members of each others factions in Gaza and the West Bank, causing further tension between the two rivals.
On Sunday, the PA announced it would withdraw from the Egyptian border crossing, creating a dilemma for Cairo about whether to leave it open with Hamas in control.
Another point of friction between Fatah and Hamas is the latter's ceasefire deal with Israel in November, which Abbas has criticized widely.
Abbas argues that such a deal is invalid without the PA's acceptance.
You need to be logged in in order to post comments. Sign up or log in
January 13, 2019 11:07 PM