Islamic Jihad arrests for plot to attack Jewish worshipers at Joseph's Tomb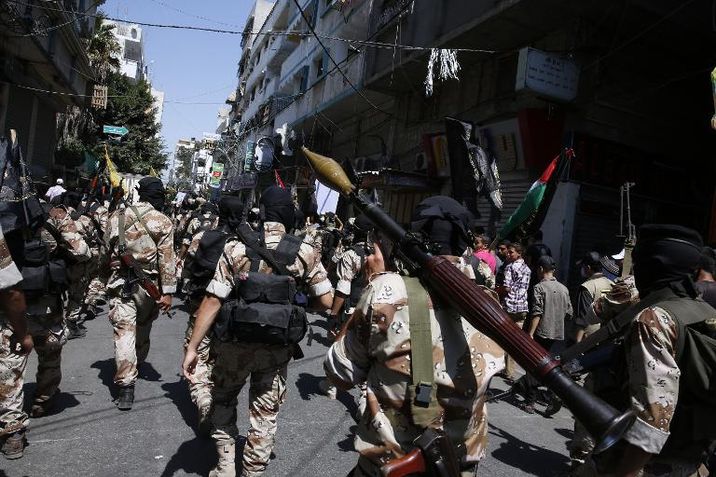 Palestinian Islamic Jihad militants parade down a street in downtown Gaza City on August 29, 2014
Roberto Schmidt (AFP)
West Bank operatives received help from Gaza wing of the militant group
The IDF and Shin Bet (Israel's internal security agency) announced that a terror cell had been arrested for plotting to carry out an attack at Joseph's Tomb. The group planned to plant explosive devices and open fire towards Jewish worshipers. The holy site is situated on the outskirts of the city of Nablus in the West Bank.
The cell was operating under the orders of Rafat Mohamed Darwish, an operative of Palestinian Islamic Jihad in the Gaza Strip who was responsible for cooperation with the militant group's operations in the West Bank.
The four cell members were named as Nisim Muhamad Ramdan Rashid Damiri, Muhamad Mufak Rafik Damiri, Yasir Gaudet Abed Zaruri, and Aduen Padel Hassan Nazel.
Muhamad Damiri previously worked as a policeman. Nisim Damiri was named as the individual who would execute the attack.
Aduen Nazel admitted that he was in contact with Darwish, and had asked him to supply the cell with weaponry for the operation.
The case has been transferred to military court.
You need to be logged in in order to post comments. Sign up or log in
I would appreciate an explanation of the subtitle, "West Bank operatives received help from Gaza wing of the militant group"
J GO. I think the term "operatives" means terrorists. But i24news would not find that using the word terrorists is PC..but it is ok to use the word terrorists when refering to jewish "settlers" as carrying out terrorist attacks, even though the i24news has no proof it was in fact jews..see arson attack which was initially blamed on jewish settlers as a terrorist attack, which in fact turned out to be an electrical fault possibly in the illegal use of electricity.