Saudi prince: 'I will support Israel in an intifada with the Palestinians'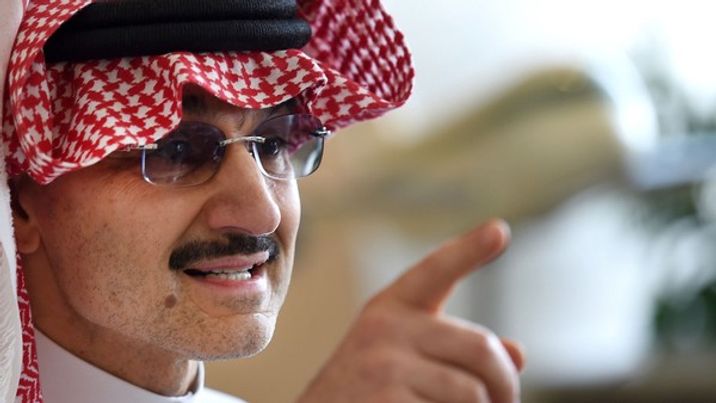 Saudi Prince Alwaleed will donate his entire $32 billion fortune to charity
AFP
Qatari Foreign Minister says Israel actions vis-a-vis Temple Mount offending 1.5 billion Muslims
According to the Kuwaiti daily Al Qabas, Saudi Prince al-Waleed bin Talal said on Tuesday that he would support Israel in an intifada and that Saudi Arabia must reconsider its regional commitments and devise a new strategy to combat Iran's increasing influence in the Gulf by forging a defense pact with the Jewish state.
"I will side with the Jewish nation and its democratic aspirations in case of outbreak of a Palestinian intifada and I shall exert all my influence to break any ominous Arab initiatives set to condemn Tel Aviv, because I deem the Arab-Israeli entente and future friendship necessary to impede the dangerous Iranian encroachment," Kuwaiti News Agency (KUNA) quoted Prince al-Waleed as saying.
"The whole Middle East dispute is tantamount to matter of life and death for the Kingdom of Saudi Arabia from my vantage point, and I know that Iranians seek to unseat the Saudi regime by playing the Palestinian card. Therefore to foil their plots, Saudi Arabia and Israel must bolster their relations and form a united front to stymie Tehran's ambitious agenda," Al Qabas quoted the Saudi media tycoon as saying during a regional tour to gain support for Saudi-backed rebels in Syria.
Qatari FM says Israel offending 1.5 billion Muslims
Qatari Foreign Minister Khalid bin Mohammed al-Attiyah told Al-Jazeera on Tuesday that Israeli "provocation" on the Temple Mount offends Muslims around the world, according to the Times of Israel.
"You are offending 1.5 billion Muslims when you are talking about the Masjid Al-Aqsa [the Al-Aqsa Mosque]… and we have raised the flag before," he told Al Jazeera English's current affairs show "UpFront".
The foreign minister said that the current wave of violence was a "third intifada" that could turn into "the worst intifada" thus far.
"The people who went to the street… [were] born after the Oslo Treaty and they saw there is no hope," he said.
You need to be logged in in order to post comments. Sign up or log in
A creative solution to the Al Aqsa Mosque would be to move it to Qatar, along with the foreign Arabs calling themselves Palestinians. Or Syria. or Iraq. Or Yemen. Or Turkey. Or anywhere outside of historic Jewish Palestine which includes Jordan.
February 3, 2016 12:46 PM
... or possibly to have the foreign Jews naming themselves Israelis move back to where they and their families have lived for millennia.... taking their WMDs with them.
Thank you iran.... you have accomplished wha could not be done for t 70 years and multiple wars and politicians couldn't. A detante.
"Qatari FM says Israel offending 1.5 billion Muslims" I find 1.5billian muslins offensive to humantiy.