Israeli runner Maru Teferi claims historic silver at World Athletics Championships
Ugandan Victor Kiplangat takes first place, 19 seconds ahead of Teferi, who brought Israel's first medal for the men's marathon at the World Championships
Israeli runner Maru Teferi made history in Israel on Sunday, winning the country's first medal in the men's marathon at the World Athletics Championships, and the fifth from the competition in total.
Ugandan Victor Kiplangat took first place at the Championships in Budapest, Hungary, winning with a total time of 2:08:53, about 17 seconds after Teferi, who himself was a mere 7 seconds ahead of the bronze medalist.
The marathon started at 6:15 am local time, with excellent conditions. The weather got warmer later, but it didn't seem to bother the 29-year-old Teferi, who overtook Ethiopia's Leul Gebresilase in the last meters of the race. First place champion, Kiplangat, had come into the competition as a champion from the Commonwealth Games marathon last year.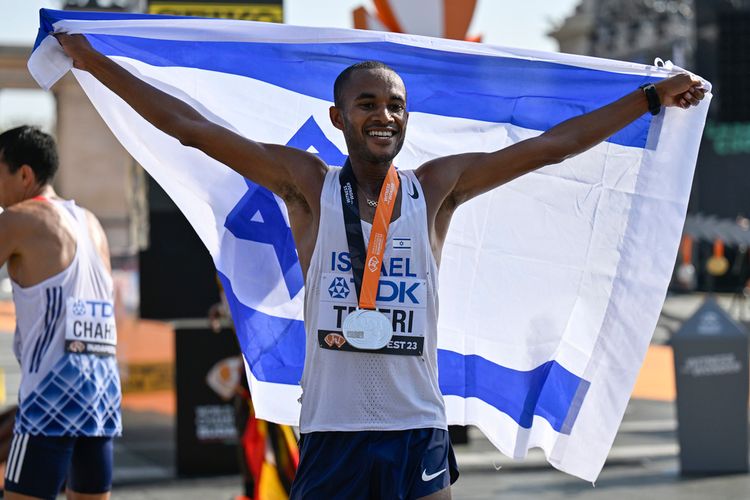 Teferi has been rising in the positions over time - he made a surprise finish at 13th in the 2020 Tokyo Olympics, and 11th last year in the United States, followed by another amazing silver medal at the European Athletics Championships in Germany. He did not participate four years ago in the last World Athletics Championships due to illness.
He stuck to the leading group throughout the race, though he was in 28th place after the first 30 minutes, slowly advancing to 26th after an hour. He crashed to the ground when drinking a glass of water near the end of the race, making it seem like he would not be able to continue, but recovered and just half an hour later he was crowned the second place champion.
The latest medal won by Teferi is just the fifth in the history of Israeli sports at the World Athletics Championships. Pole vaulter Aleksandr Averbukh won bronze in 1999, and silver two years later. Triple jumper Hanna Knyazyeva-Minenko won a silver medal in 2015. And women's marathon runner Lonah Chemtai Salpeter won a silver medal last year.
This article received 0 comments