Israel considers revoking press cards of outlets that give 'distorted headlines'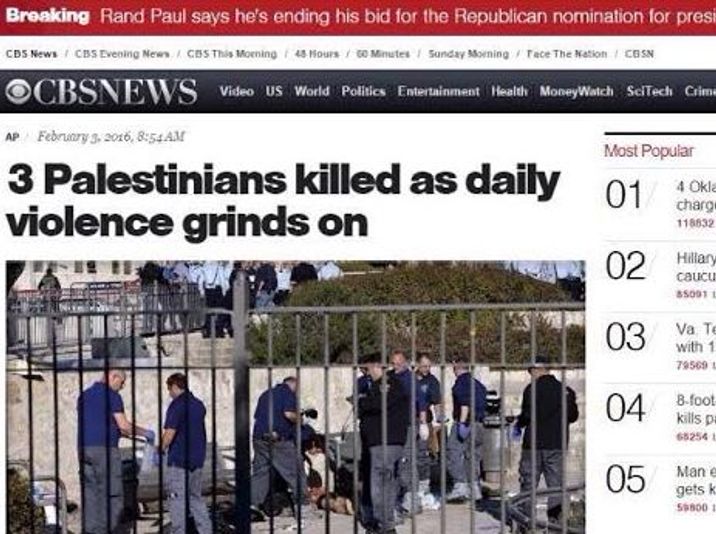 CBS News headline for Jerusalem attack
Screenshot
CBS changes 'outrageous, biased' headline from Jerusalem terror attack after Israeli government pressure
The head of Israel's Government Press Office (GPO), Nitzan Chen, said Wednesday that Israel will consider revoking GPO cards from international media outlets that give distorted headlines about attacks on Israelis.
Chen's comments came after US news network CBS News published a controversial headline about the combined shooting and stabbing attack at Jerusalem's Damascus gate entrance to the Old City that killed one female police officer and injured a second. All three attackers were shot dead by security forces. They have been identified as Palestinians from the areas of Jenin and Qabatiya in the West Bank.
In a Facebook post, Chen wrote that "earlier today [Wednesday] CBS gave headline to Jerusalem terror attack: '3 Palestinians killed as daily violence grinds on'."
"This time we won't sit in silence, we'll consider revoking press cards from journalists and editors who are neglectful in their jobs, and give headlines that are the opposite from the reality," he wrote.
The Israeli Foreign Ministry denounced the headline as "outrageous, biased and incorrect."
Following Foreign Ministry, PMO and GPO pressure, the headline was changed to "Israeli police kill 3 Palestinian attackers," and later to "Palestinians attack 2 Israeli officers before being killed."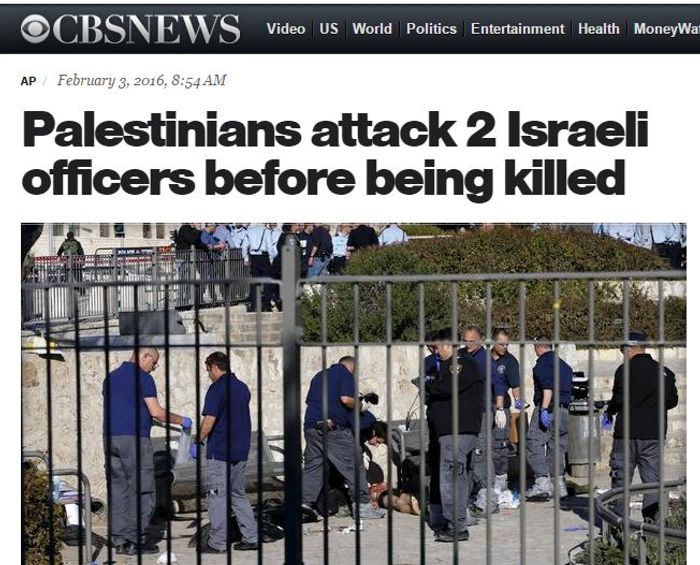 A wave of Palestinian knife, gun and car-ramming attacks erupted in October. Most of the attacks have been stabbings, although there have also been occasional shootings.
This is not the first time during the latest round of violence that Israel has criticized international media outlets for showing alleged bias with their headlines.
Chen issued a stern warning to the BBC in October following outrage over the station's online coverage of a deadly terrorist attack in Jerusalem in which two people were killed and three more, including a toddler, were injured.
The attacker - a 19-year-old law student and Islamic Jihad member, stabbed to death 21-year-old Aharon Benita and critically wounded his wife. The couples 2-year-old son was also hurt in the attack.
An additional man, Nehemia Lavi, who rushed to the family's help, was also killed.
The attacker then grabbed Lavi's gun and opened fire on nearby police, who shot him to death.
The BBC however, ran its initial story regarding the attack with a headline which read "Palestinian shot dead after Jerusalem attack kills two."
Following outrage over the inaccurate depiction of events on social media, the channel later changed its headline to "Jerusalem: Palestinian kills two Israelis in Old City."
GPO head Nitzan Hen harshly criticized the BBC for its biased reporting Sunday.
"There is a limit to the lack of objectivity in press coverage, and this time we are talking about an outrageous title, which reminds one of the headline given by the CNN TV station after the slaughter at the synagogue in Har Nof, which introduced the attack as 'an attack on an Israeli mosque,'" said Hen Saturday night.
"While the BBC corrected its title later this evening, tomorrow I intend to reprimand the head of their office in Israel and to warn him directly that we do not intend to let this pass unchallenged," he added.
Read More:
You need to be logged in in order to post comments. Sign up or log in
Israel "reprimands" and "considers" sanctions, but eventually does nothing. So the "outrageous, biased" headlines will continue. Just like they did after the previous reprimands and threats by the Israeli government. It is time to stop moaning and to start revoking the GPO cards from international media outlets that give distorted headlines about attacks on Israelis. Jewish lives do matter.
February 4, 2016 10:02 AM
Not content with holding internal enquiries into any allegations against itself for war-crimes Israel now seeks to suppress press reports. What a despicable state the Jewish homeland has become ....... a 'stain' not a 'light' upon the world.
February 4, 2016 11:17 AM
So you don't think the headline is misleading then? Well, obviously not... You obviously don't bother to research the many cases where IDF soldiers are put on trial and in some cases jailed. If Israel is guilty of war crimes, then so is every other country in the world.
Neil, the headline omits full information ... it doesn't mislead ... they are headlines, not there to inform ... they're there to entice you to the article. Ironic that Israel, who cry 'misleading', has created a history of its own for consumption by its citizens.
Neil, the headline omits full info., it doesn't mislead .... headlines are there to entice you to the article.
February 4, 2016 11:25 PM
Entice?? the science behind headlines is not to entice but to frame the article's content. many people read papers by headlines alone and such a misleading (yes, misleading) headline does not frame the events accurately and factually. I'm not entirely sure what you mean by "Ironic that Israel, who cry 'misleading', has created a history of its own for consumption by its citizens", but if you're implying that Israel also creates 'misleading' headlines, then I'm guessing you're referring to the Haaretz newspaper.
Michael Farmer: you appear to be incredibly naive and ill informed.