Israeli hiker finds 'identical twin brother' of extremely rare gold coin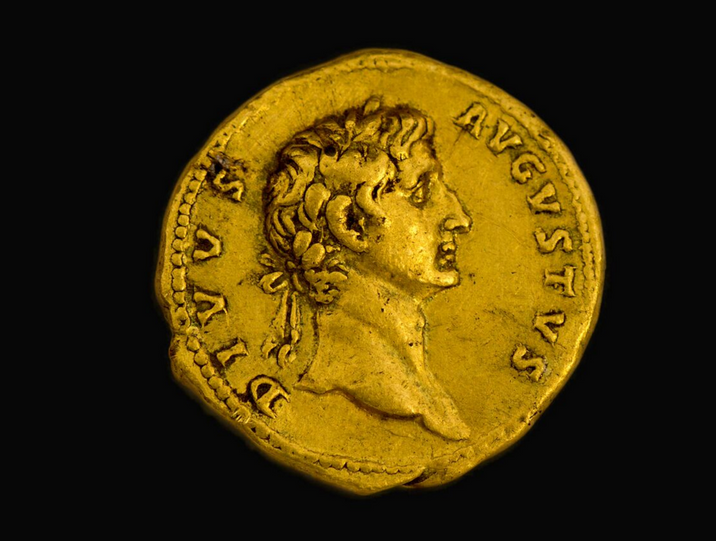 Portrait of the emperor "Deified Augustus"
Samuel Magal, courtesy of the Israel Antiquities Authority
Laurie Rimon recently found a 2,000-year-old coin with symbols of Roman legions next to name of ruler Trajan
When hiker Laurie Rimon recently went for a hike in the eastern Galilee region of northern Israel, she had no idea that she would stumble across the an extremely rare gold coin that is almost almost 2,000 years old.
Rimon, a member of Kibbutz Kefar Blum, was hiking with friends when she uncovered the "identical twin brother" of a rare gold coin housed in the British Museum.
The British Museum has on display an ancient gold coin that bears the image of Emperor Augustus that until now was apparently the only one of its kind known in the world. The coin, from 107 CE, was part of a series of nostalgic coins that Emperor Trajan minted and dedicated to the Roman emperors that ruled before him.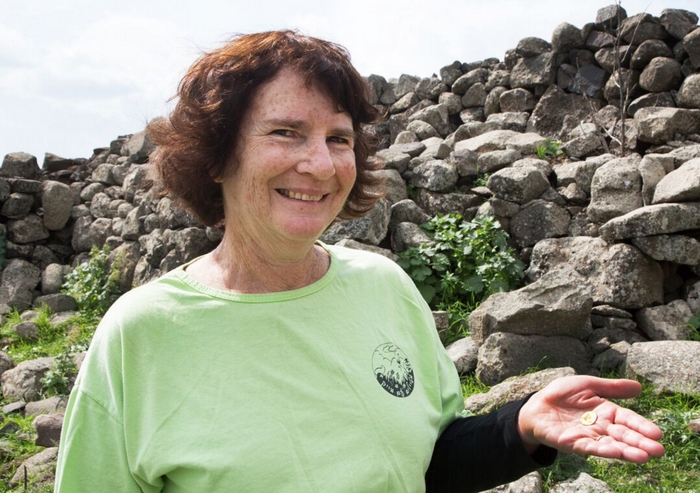 Rimon, along with a group of veteran hikers, visited an archaeological site recently and during their time there she discerned a shiny object in the grass and when she picked it up she realized it was an ancient gold coin.
Realizing that this could be an important find, the group's guide, Irit Zuk-Kovacsi contacted the Israel Antiquities Authority (IAA) and a representative arrived at the scene in order to inspect the coin.
"It was not easy parting with the coin," Rimon said after handing the coin over to the IAA representative. "After all, it is not every day one discovers such an amazing object, but I hope I will see it displayed in a museum in the near future."
According to Dr. Danny Syon, a senior numismatist at the Israel Antiquities Authority, "This coin, minted in Rome in 107 CE, is rare on a global level."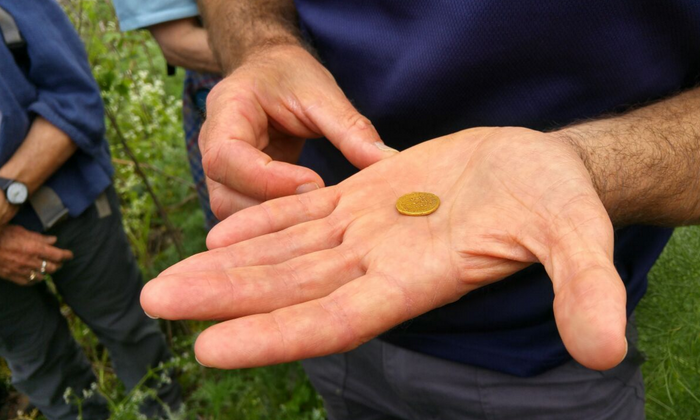 "On the reverse we have the symbols of the Roman legions next to the name of the ruler Trajan, and on the obverse – instead of an image of the emperor Trajan, as was usually the case, there is the portrait of the emperor "Augustus Deified."
Nir Distelfeld, an inspector with the IAA Unit for the Prevention of Antiquities Robbery, noted, "Laurie demonstrated exemplary civic behavior by handing this important coin over to the Antiquities Authority. It is by not, especially when it comes to a spectacular gold coin."
"This is an extraordinarily remarkable and surprising discovery," Distelfeld said. "I believe that soon, thanks to Laurie, the public will be able to enjoy this rare find. It is important to know that when you find an archaeological artifact it is advisable to call IAA representatives to the location spot in the field."