Israeli soldier filmed shooting Palestinian released to open arrest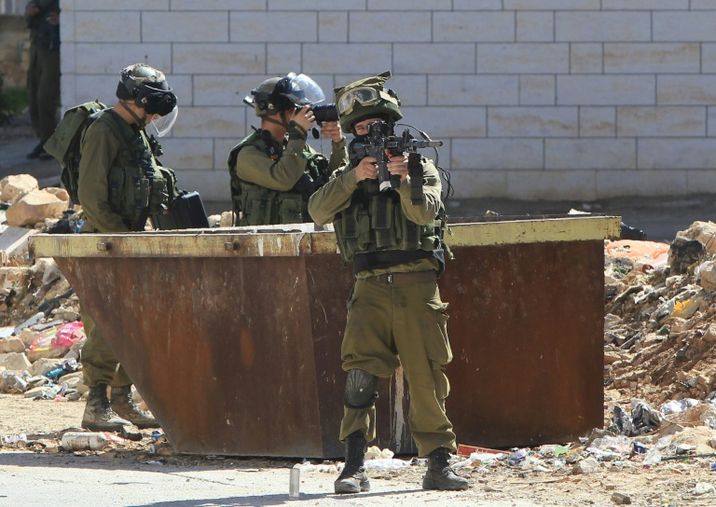 Israeli security forces in the Israeli occupied West Bank city of Hebron
Hazem Bader (AFP/File)
Decision to place soldier under arrest at base is seen as less serious than holding him in military prison
An Israeli soldier caught on video shooting and killing a wounded Palestinian assailant will be held under arrest on base until his next court appearance, a military court ruled Friday.
The military court issued the ruling after rejecting the prosecution's appeal filed early Friday morning, requesting that the soldier remain in military police custody for an additional seven days.
A new hearing of a military appeals court is scheduled for Tuesday, the army said in a statement.
The decision to place the soldier under arrest at his base is seen as less serious than holding him in a military prison.
It follows a favorable ruling on Thursday, when military prosecutors announced that the 19-year-old soldier would be investigated for manslaughter, rather than murder.
Under Israeli law, manslaughter signifies an intentional but not premeditated killing.
Video of the soldier, whose identity is under a gag order, shooting the Palestinian in the flashpoint West Bank city of Hebron on March 24 spread widely online.
Filmed by a Palestinian volunteer for Israeli rights group B'Tselem, it showed a 21-year-old Palestinian -- who along with another man had allegedly stabbed a soldier minutes earlier -- lying on the ground, apparently after being shot.
The soldier then shoots him in the head without any apparent provocation. The Palestinian, Abdul Fatah al-Sharif, was killed.
Top military and government officials have strongly condemned the soldier's behavior, but far-right politicians and protesters have reacted angrily to his arrest and demanded his release.
Israeli Prime Minister Benjamin Netanyahu, a former special forces officer, appeared on Thursday evening to walk a line between backing the military justice system and showing some empathy for the tough conditions soldiers face.
Staff with agencies
Read More:
Court extends remand of Israeli soldier who shot subdued Palestinian assailant
Netanyahu: 'Soldier's actions in Hebron do not represent values of Israeli army
You need to be logged in in order to post comments. Sign up or log in
James - "I would have given him the freedom of Jerusalem" Good idea, let him walk alone through East Jerusalem ... could result in manslaughter though.