Israel approves additional section of Jordan border fence: report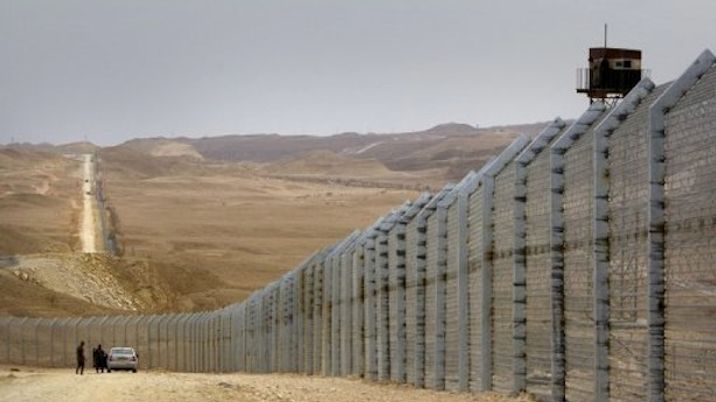 The border fence along Israel's border with Egypt near the Red Sea resort town of Eilat
AFP
The fence is intended to try and keep out infiltrators from Islamic State and other militant groups
The Israeli government has approved the construction of an additional section of fence along its border with Jordan, Haaretz reports.
The new part of the fence is set to run along the northern part of the Israel-Jordan border in the southern Golan Heights, close to where they join the Syrian border, in an attempt to keep out potential infiltrators from Islamic State and other militants.
Construction began on a separate length of border fence in the southern Negev in January this year, which when finished will be 30 kilometers (19 miles) long between the resort city of Eilat and the site of the Sands of Samar. When it was approved in June, Prime Minister Benjamin Netanyahu said it would be a continuation of the recently-built border fence along the Egyptian border.
According to Haaretz the plan for the new section of fence along the Jordanian border was initiated due to concern over potential cross-border terror attacks, such as "booby-trapped cars" or shootings.
Cooperation between Israel and Jordan has been growing as the Islamic State militant group continues to make additional gains in Iraq near the Jordan border, a senior source in the Jordanian Embassy in Israel said when the building of the fence was approved last year.
"There is a very good cooperation between us regarding the growing presence of the extremists in Iraq and Syria, but also on issues relating to other radical forces in the Middle East which have their sights set on Israel and Jordan," the diplomatic source said, without elaborating.
Israel's fence on its southern border with Egypt, also near Eilat, was erected in 2013 to keep out African migrants and asylum seekers.
Israel also has a border fence with the Gaza Strip and barriers on the frontiers with Syria and Lebanon, both countries it is technically at war with.
The huge steel fence that runs along the Syrian frontier through the Golan Heights was built after the Syrian civil war broke out, for fear of a spillover of fighting and an influx of refugees.
Israel also has a vast separation barrier that runs through the West Bank, which it began building during the second Palestinian intifada, or uprising, which lasted from 2000-2005.