American Supertanker, Egyptian helicopters land in Israel to battle raging fires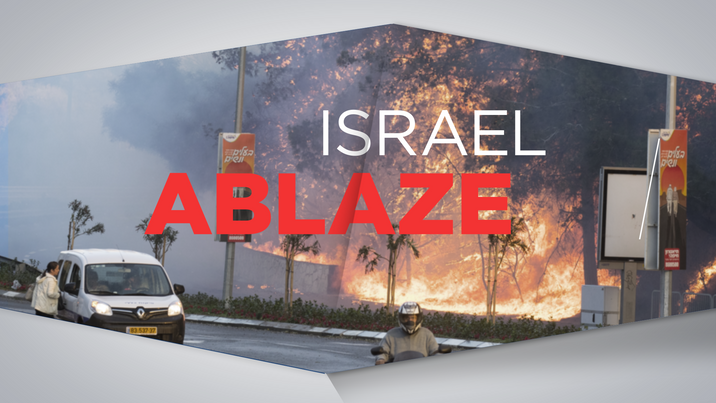 Israel Ablaze
i24news
Police say they have identified suspects in fire ignited near Nataf in Jerusalem Hills
The wave of wildfires raging across Israel carried on into a fourth day on Friday, with new blazes reported in Jerusalem area as firefighters battled against strong winds and dry conditions to extinguish flames.
While some 80,000 residents of Haifa returned to their homes after fires engulfed the city on Thursday, residents of Jerusalem hills communities including Beit Meir, Kibbutz Ma'ale Hachamisha, and Nataf were evacuated as a massive fire approached houses.
Investigators were examining suspicions that a blaze near Kibbutz Ma'ale Hachamisha and Nataf Friday afternoon was sparked by a Molotov cocktail.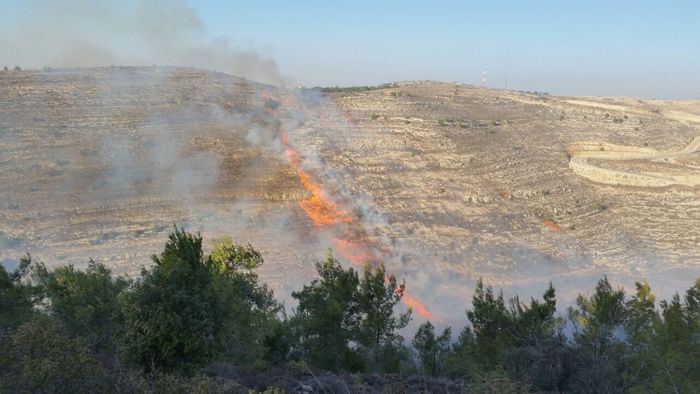 Israel's defense establishment has strengthened convictions that some of the hundreds of wildfires burning since Wednesday have been caused by systematic arson, that in some cases was "nationalistically motivated."
The Shin Bet security service confirmed that it was investigating the conflagrations that have forced tens of thousands to evacuate, but said it was too soon to reach any conclusions.
Public Security Minister Gilad Erdan and Police Chief Ronnie Alshich have moved to boost security as deterrence to potential arsonists, ordering hundreds of police officers and soldiers to open spaces near villages and towns along the West Bank green line.
Prime Minister Benjamin Netanyahu said that "every arson is a terror attack," as Erdan warned that Israel needs to prepare itself to face a new type of terror.
"Each fire which was caused as a result of arson... is terror" - @Netanyahu #Israelisburning pic.twitter.com/5tSaXhuQPw

— i24NEWS English (@i24NEWS_EN) November 24, 2016
Thousands of Israelis were forced from their homes as flames encroached on residential areas, major roadways, and vital infrastructure, including installations of the Israel Electric Company.
Egypt, Jordan, Turkey, the United States, France, the United Kingdom, Greece, Cyprus, Italy, Croatia, Russia, and the Palestinian Authority have sent planes, helicopters, trucks, and ground crews to assist the some 250 Israeli firefighters and soldiers who have been working for days to extinguish fires in areas surrounding Beit Shemesh, Modi'in, and Jerusalem, as well as in Haifa, Hadera, Zichron Yaakov, Umm al-Fachm, Lachish, Nesher, the Etzion settlement bloc, and outside the northern town of Kfar Vradim.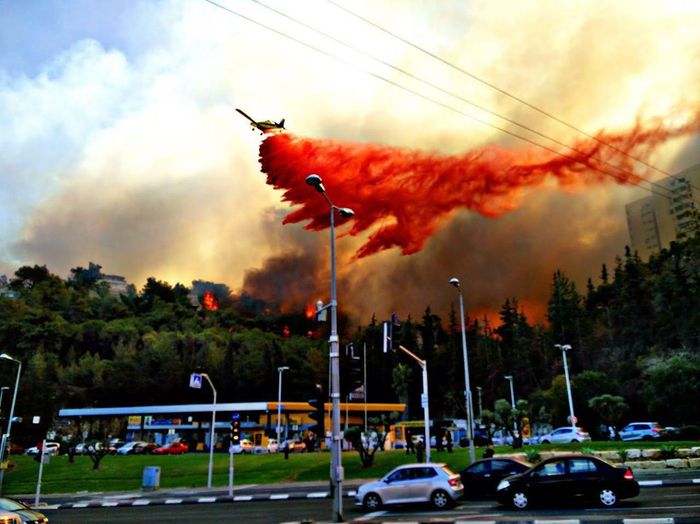 Read more:
- Arab nations, Palestinians join effort to fight Israel fires
- Dry winds threaten to intensify Israel wildfires burning into third day
- Israeli police suspect arson in fires
- Firefighters battling raging wild fires across Israel as people flee homes
Friday 25 November 2016
7:55 PM
234 families left homeless after Haifa fires with 110 buildings damaged
7:50 PM
Police say five homes and several vehicles damaged by fires near West bank settlement of Halamish, around 1,000 people evacuated
7:27 PM
Heavy air pollution is being record in many parts of the country
7:22 PM
Another fire breaks out near northern Israeli town of Ilut, next to Nazareth. Police say evacuations underway.
5:48 PM
Police Chief Ronnie Alshich says that authorities have identified who started the fire in Nataf.
"There have been a number of discoveries in the last few hours and we know who the criminals are," he said.
5:39 PM
American Supertanker used in 2010 Carmel fire lands in Israel
5:31 PM
Police spokesperson says fires in Nataf area have died down and fires crews are gaining control. Residents are still not permitted to return home.
5:07 PM
Small fire breaks out in Haifa's Hadar neighborhood. Fire crews say flames under control
4:18 PM
New fire erupts at Kibbutz Dvir in southern Israel, some 25 kilometers north of Beersheba
4:17 PM
New fires erupt near Mevo Horon, Beit Meir as firefighters struggle to control Jerusalem hills blazes
3:35 PM
Fire and rescue workers preparing to evacuate remaining Nataf residents by helicopter as fire continues to spread.
3:35 PM
Police have ordered all civilians, including journalists and photographers, in and around Nataf to evacuate due to a significant risk that the fire raging there will spread.
3:21 PM
New blaze erupts near Kibbutz Ein Hashofet, 30 KM from Haifa
3:04 PM
Egyptian firefighting helicopters arrive at Israel's Tel Nof airbase
2:58 PM
A massive fire in the Jerusalem hills has caused severe damage to at least one home and a restaurant in Nataf. So far, firefighters have struggled to gain control over the flames and additional crews have been dispatched to the scene.
2:23 PM
30 firefighters and 20 firefighting aircraft are responding to a fire advancing towards Kibbutz Ma'ale Hachamisha and Nataf in the Jerusalem hills. Residents of both communities have been evacuated and surrounding access roads closed to traffic. Firefighters are battling back flames that have reached the front yards of houses. Investigators are examining suspicions that the fire was caused by a Molotov cocktail.
1:41 PM
Israel's Channel 2 reports that police have found two suspicious vehicles near the West Bank settlement of Oranit, suspected of being used to set fires. One vehicle reportedly had fake license plates and fuel soaked rags were found inside.
12:33 PM
European Union diplomatic chief Federica Mogherini says that the EU stands with the people of Israel not only in word, but in action. Mogherini expressed satisfaction at the outpouring of international support from countries offering to aid Israel in battling the wildfires. She said that the EU will continue to be in touch with Israeli authorities to lend further assistance as required.
12:22 PM
Police have detained several people in Haifa attempting to loot evacuated homes
12:08 PM
Arab-Israeli lawmaker Basel Ghattas of the Balad party tells i24news Arabic that Prime Minister Benjamin Netanyahu is using the Arab population as a 'scapegoat' and 'inciting' against them rather than dealing with the fires on the ground.
11:58 AM
Firefighters have gained full control over a new fire that erupted in the central Israeli town of Binyamin. One resident was evacuated to hospital after suffering from smoke inhalation.
11:52 AM
Police detain three in relation to suspected arson in northern Israel
10:37 AM
Speaking from the Hatzor air base south of Tel Aviv, Prime Minister Benjamin Netanyahu promised severe punishment for arsonists."Anyone who tries to burn the State of Israel will be severely punished," he said. "There is a price for crime, a price for arson terror, and we will make sure to levy it."
9:55 AM
Public Security Minister Gilad Erdan says another arson suspect has been detained in relation to a Jerusalem-area fire. The number of suspects detained is now at least 14.
9:24 AM
Police permit 80,000 evacuees in city of Haifa to return to their homes. "The public is asked to continue to be alert and take personal responsibility and show an abundance of caution when dealing with anything related to using fire and fire safety," a police statement said.
9:06 AM
The majority of Haifa's 80,000 evacuated residents were allowed to return home, Israeli media reports.
7:43 AM
Prime Minister Benjamin Netanyahu has accepted offers from Jordan and Egypt for firefighting assistance. Egypt will send firefighting helicopters while Jordan will send fire trucks to join the international effort to battle ongoing blazes throughout the country.
7:34 AM
Haifa municipal officials estimate that some 700 homes throughout the city were damaged to such an extent that they are no longer habitable.
7:29 AM
Residents of Haifa's Denya neighborhood permitted to return home.
7:23 AM
Strong winds have re-ignited several fires in central Haifa. Fire teams are working on the ground to extinguish the blazes, supported by firefighting aircraft.
7:17 AM
Prime Minister Benjamin Netanyahu arrived to the Beit Meir village, much of which has be burned down.
6:22 AM
12 suspects have been arrested in connection with fires across the country, police spokesperson said
5:34 AM
Two new blazes reported in northern community of Harashim and in central Israel
4:44 AM
Son of a top official in Israel's Islamic Movement arrested after posting a Facebook message calling Arab youths to torch forests, Ynet reports.
4:28 AM
Another suspect held in connection with the Beit Meir blaze, which was "yet under control," police said
3:11 AM
Police arrest Palestinian man illegally residing in Israel in connection with the blaze in Beit Meir
2:03 AM
Suspected arsonists were sighted near Beit Meir, Ynet reports. Police mounted a manhunt as they fled the scene.
1:42 AM
Fresh blazes broke out Friday morning around Jerusalem, including in the predominantly ultra-Orthodox town of Beit Meir, whose residents were evacuated to the nearby town of Shoresh.
Thursday 24 November 2016
7:41 PM
A major forest fire has broken out between the town of Iksal and the city of Nazareth Illit in northern Israel.
6:58 PM
A fire has erupted in Dolev, an Israeli communal settlement in the West Bank.
6:05 PM
A new brush fire has erupted between the Arab villages of Sajur and Nehf near Carmiel in the lower Galilee.
5:30 PM
Fires have burned nearly 9,000 dunams (2,224 acres) in Israel
5:19 PM
The Palestinian Authority will be sending four fire trucks after Israel accepted its offer of help.
4:35 PM
Interior Minister Arye Deri says anyone found to be involved in international arson could have his or her status in Israel.
4:35 PM
Public Security Minister Gilad Erdan says the general situation is 'under control.' Erdan told Channel 10 that eight people have been arrested and that arson was suspected of being politically motivated.
3:54 PM
Azerbaijan and Ukraine have reportedly decided to send firefighting aircraft.
3:46 PM
The military has opened the 'soldiers' homes', which provide lodgings to soldiers with nowhere to go.
3:23 PM
Palestinian reports say fires have also started near Nablus and east Jerusalem's Shuafat.
3:14 PM
Justice Minister Ayelet Shaked says anti-terror law that went into force on November 1 is more relevant than ever. The law sets a 30-year to life prison sentence for arsonists who cause physical harm to a person and 25 years for any arson committed as an act of terrorism.
2:47 PM
France announces that it will send two firefighting aircraft on Friday.
2:45 PM
Foreign Ministry says deal reached with Evergreen company, Supertanker will arrive in 28 hours.
2:21 PM
The following countries have already sent aircraft to help fight the fires: Greece, Cyprus, Turkey, Croatia, Russia, and Italy. The Supertanker is being negotiated with the US, while options are are being explored with the UK, Spain, Portugal, and France.
2:09 PM
PM Netanyahu thanks Russia, Greece, Cyprus, and Turkey for assisting in firefighting efforts,.
He also says he has ordered the Supertanker firefighting aircraft, which will take 24 hours to arrive and will be used "in an extreme circumstance."
1:47 PM
Public Security Minister Gilad Erdan says that Israel must prepare itself for a new kind of terrorism.
1:46 PM
'Prison Six' military prison near Atlit will also be evacuated.
1:45 PM
The Palestinian Authority confirms that it has offered firefighting assistance to Israel.
1:40 PM
Mayor of southern, Bedouin-majority city of Rahat says town welcomes evacuees from Haifa who need shelter.
1:31 PM
PM Netanyahu has reportedly instructed the Foreign Ministry to contact the American company that operates the 747 Supertanker firefighting aircraft to discuss bringing it to Israel.
1:24 PM
Military spokesperson says soldiers in training and combat soldiers cannot go on leave in case they are needed to help fight fires.
1:21 PM
Haifa's Fliman Geriatric Hospital evacuating patients as fire encroaches on facilities- Hospital spokesperson tells i24news that fire is under control and evacuations are a precaution.
1:19 PM
Main conflagration of fires is in Haifa, second largest in Horshim forest near Nirit, third in Shaar Hagai near Jerusalem. Several other fires burning around the country
1:18 PM
Prison Service says Damon Prison in the Carmel forests area is to be evacuated.
1:18 PM
Police Spokesperson Micky Rosenfeld says a number of people are being questioned in connection with the fires.
1:05 PM
Prime Minister Benjamin Netanyahu has reportedly arrived in Haifa.
12:59 PM
Coastal District Commander major General Amos Jacob: "We are doing everything to save lives and prevent looting. Hundreds of police officers are working in the field to make sure that nobody stays in dangerous areas. "
12:58 PM
Ministry of Environment says air quality is expected to remain bad over coming days
12:54 PM
Facebook has activated its safety check-in feature for the huge fire in Haifa.
12:52 PM
Israeli Chief of Police Roni Alsheikh tells Haaretz that he believes fires were not started as part of an organized effort but is "a crime of opportunity."
12:43 PM
Firefighters say the blaze at Savyon Junction is now under control.
12:33 PM
Police spokesperson says law enforcement are searching house to house in areas of Haifa to make sure no residents remain behind. Residents have been evacuated to four centers -- three public shelters and the city's football stadium.
12:32 PM
Fire and Rescue Services chief says some 350 firefighters and soldiers with 115 fire engines are working throughout Haifa in dozens of different locations to douse the flames.
12:28 PM
Haifa's Carmel hospital receives 50 injured, bringing number of injured in Haifa over 130
12:23 PM
Rambam Hospital in Haifa says received 60 injured, including 5 children, released 30
12:11 PM
Arab lawmakers Jamal Zahalka and Taleb Abu Arar say they condemn incitement against Arabs and ask that politicians stop pointing the finger at the Arab population for the fires.
12:05 PM
31 injured people have arrived at Bnei Zion Medical Center in Haifa including 2 children and an infant
12:01 PM
Police say they are forming a task force to focus on preventing arson attacks.
12:01 PM
Israel Electric Corporation declares a nationwide state of emergency. Power has been cut off to several areas affected by fire.
11:57 AM
Haifa Mayor Yona Yahav tells Army Radio that the fires are a national disaster.
11:48 AM
The Shin Bet has confirmed that it is investigating the fires, but emphasizes that no conclusions can be drawn at this time.
11:46 AM
Haifa's airport has been closed except for emergency use.
11:43 AM
Yet another fire has begun in the Savyon Junction area in central Israel, just outside Or Yehuda.. The fire is reportedly close to a gas station and firefighters are trying to contain it.
11:27 AM
Israel police say 60,000 people across the country have been evacuated as a result of the fires, which have destroyed more than 2,500 acres of forest.
11:25 AM
Village of Nirit in central Israel ordered to evacuate due to spreading fire in Horshim forest
11:22 AM
Israel Electric Company (IEC) declares state of emergency as flames damage power lines and threaten installations across the country
11:21 AM
Police and fire crews are responding to new fire near the train station in city of Modi'in. Both train stations in the city have been closed. Meanwhile, rail service has been suspended between Binyamina and Hadera in Israel's north-central region due to spreading fires.
11:18 AM
A total of 30 people have been treated in Haifa's Carmel hospital, most suffering from smoke inhalation and anxiety. Four people have already been released, the hospital said.
11:16 AM
Israel police have opened a command center in Haifa to deal with fires spreading in the city and surrounding areas.
11:07 AM
Here are the updated numbers of international aid:
Greece 3 planes, 32 personnel. Cyprus 1 plane, 7 personnel. Turkey 2 planes, 8 personnel. Italy 2 planes, 13 personnel. Great Britain 1 helicopter, 5 personnel. Russia 2 planes, 19 personnel. Croatia 2 planes, 14 personnel.
10:58 AM
Firefighting and Rescue spokesperson Yoram Levy, tells i24news, "In total there are 2000 firefighters and only 800 on shift today. Israel doesn't have enough firefighters.

More assistance from home front command is coming. Tankers and supplies from the home front command are coming as well.
Haifa is the focus right now."
10:41 AM
Arabic-language fire services spokesman tells i24news Arabic that some fires have been set 'intentionally' and that they have identified some suspects.
10:19 AM
A new fire has ignited and is spreading towards homes near Kibbutz Barkai in the Wadi Ara region in north-central Israel.
10:12 AM
Firefighters responding to new fire in city of Rishon LeZion, south of Tel Aviv. Seven teams were sent to battle the blaze, which threatened to spread towards nearby warehouses and a gas station.
10:12 AM
Tens of thousands of Haifa residents have been ordered to evacuate immediately. Hundreds of elderly people have been evacuated from a care facility in the Romema neighborhood following other institutions such as the Technion University.
10:11 AM
Hundreds of reserve soldiers called up to help battle raging wildfires.
9:49 AM
Arab-Israeli lawmaker Ayman Odeh criticizes 'incitement' by Israeli lawmakers who have implied fires have been ignited intentionally by Palestinians and/or members of Israel's Arab community. Outspoken Jewish Home chairman and Education Minister Naftali Bennett on Wednesday tweeted that "only those whose land this does not belong to would be capable of setting fire to it," while Likud lawmaker Miri Regev called on authorities to catch the "terrorist who set the country on fire."
9:32 AM
Tens of thousands of Haifa residents have been ordered to evacuate immediately as fires spiral out of control.
9:20 AM
Heavy pollution reported in Haifa
9:18 AM
Multiple neighbourhoods evacuated in Haifa, Technion evacuated.
8:26 AM
Two fires have broken out in the village of Silver, south of Ashdod. Firefighters are on the scene.
8:02 AM
Nine people suffering from smoke inhalation in Haifa taken to hospital. Haifa University has been evacuated, along with several neighborhoods in the city. Israel's Fire Authority has urged Haifa residents to leave immediately as several fires burning in the center of the city threaten residential areas.
8:00 AM
Firefighters working to battle fires at three locations in Nazareth area
7:39 AM
Turkey has offered to send firefighting aircraft to assist Israel in battling wildfires. Prime Minister Benjamin Netanyahu has accepted the offer and thanked Turkey for its assistance. A total of 10 planes will arrive from Greece, Italy, Croatia, Russia, Cyprus, and Turkey. Four planes have already arrived in Israel, three from Greece and one from Cyprus.
6:49 AM
Four firefighting planes, three from Greece and one from Cyprus, arrived in Israel to help battle raging wildfires. Russia will also send two firefighting planes, following a formal request to Russian President Vladimir Putin by Prime Minister Benjamin Netanyahu. A total of eight planes are due to arrive in Israel from Greece, Cyprus, Italy, Croatia, and Russia.
6:45 AM
Residents in several neighborhoods in Haifa were evacuated after three new fires broke out in central areas of the norther coastal city. A fire in Haifa's Romema neighborhood forced residents from their homes, while a second fire in the Ramat Sapir neighborhood burning near the city's Sammy Ofer Stadium forced the evacuation of a kindergarten. Earlier this morning, another fire in an open area quickly engulfed nearby warehouses, fed by strong winds and dry brush.
6:43 AM
Firefighters battle flames after shifting winds reignite fire at Talmon settlement
6:41 AM
New fire erupts in open area in central Haifa threatening nearby buildings and vehicles. Firefighters working at the scene.