US firefighters arrive in Israel as new blazes sparked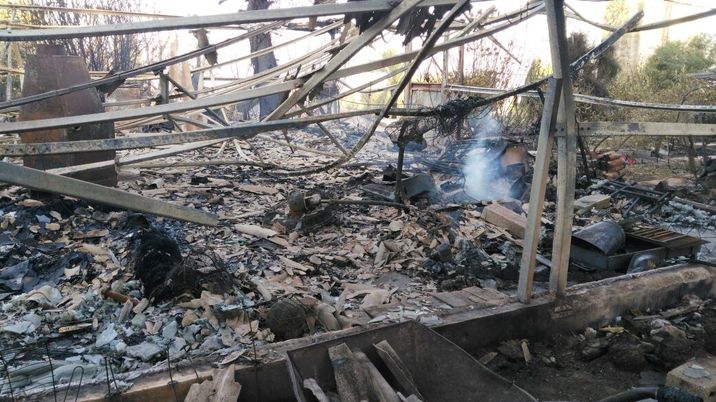 Fire damage in the community of Beit Meir, outside of Jerusalem
Naseeb Safadi/ i24news
As authorities begin surveying the damage, estimates have soared into the hundreds of millions of shekels
A crew of firefighters from the United States arrived at Ben Gurion airport Sunday morning as three news blazes erupted six days into a wave of fires burning throughout the country, half of which are suspected to have been ignited by arsonists in some cases with nationalistic motives.
Fire crews and planes responded to a large blaze that has erupted near the coastal city of Hadera, as new flare ups in the village of Nataf have drawn renewed focus. In the south another fire has started in the Haruvit forest near the community of Kiryat Malachai. Another fire broke out near the West Bank settlement of Oranit, but firefighters said they were able to get it under control.
The new fires sprung up shortly after fire and rescue service spokesman Yoram Levy said that all active fires had been extinguished.
Read i24news's previous live blog on the fires sweeping through Israel.
US firefighters arrive at Ben Gurion airport to assist with #IsraelFires. Video-@NewsHolyland pic.twitter.com/rHlRxNACkF

— i24NEWS English (@i24NEWS_EN) November 27, 2016
Police have detained at least 37 people suspected of arson. Israeli authorities suspect that some of the fires may have been of criminal origin and some linked to the Israeli-Palestinian conflict.
Prime Minister Benjamin Netanyahu said Friday there was "no doubt" some of the fires had been deliberate and vowed that those responsible would be brought to justice
"There is a price to pay for the crimes committed, there is a price to pay for arson terrorism," he said.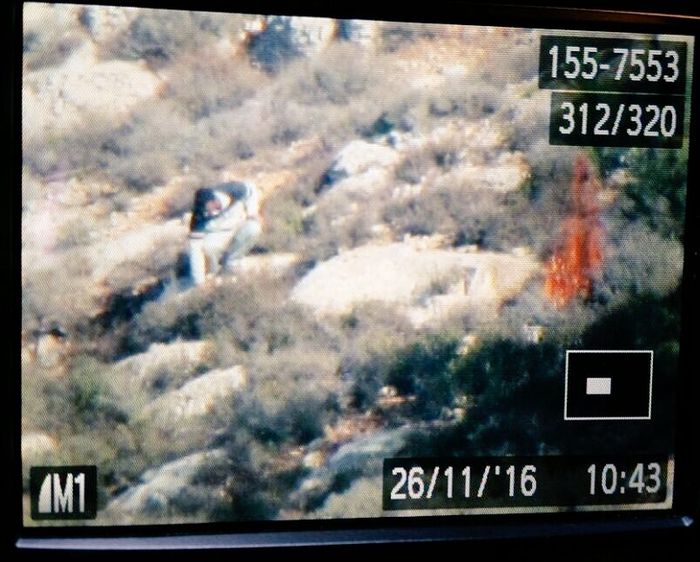 Public Security Minister Gilad Erdan told Israel's Channel 2 that anyone who sets a fire for politically motivated reasons will have their home demolished, as the State does with the homes of other terrorists.
If the State "can destroy the homes of terrorists who have shot or stabbed [Israelis], then we can demolish the homes of those who committed arson for nationalistic motives; there is no difference," he said.
Arab Israeli leaders have argued that their community, which makes up about 17.5 percent of the country's population, is as much affected by the fires as Jews.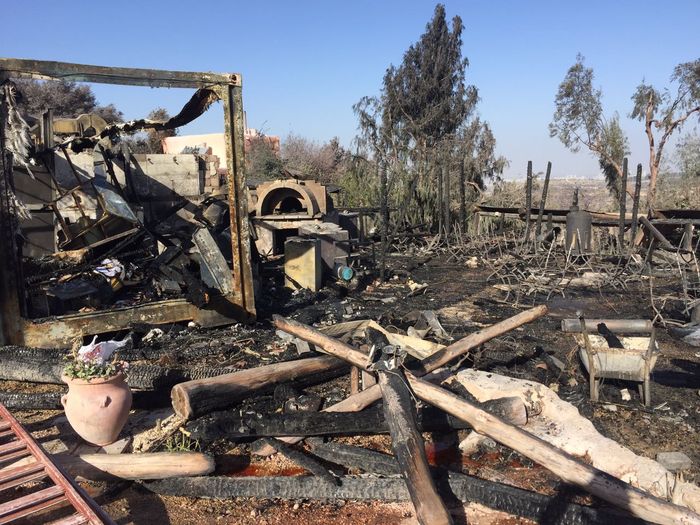 It is estimated the fires have caused hundreds of millions of shekels in damage. In Haifa alone, more than 1,600 people have been left homeless with 527 apartments and 77 buildings uninhabitable, according to a Ynet tally.
Finance Minister Moshe Kahlon has authorized grants of 2,500 NIS ($645) for each individual who is unable to return to their home due to fire damage.
The size of the areas burned could be as high as 130,000 dunams (32,000 acres), the Times of Israel reports, including 30,000 dunams (7,400 acres) of national parks and 28,000 dunams (6,900 acres) in Haifa.
President Reuvin Rivlin visited the Jerusalem Hills community of Nataf, which has been the scene of two severe fires over the past week, and spoke with firefighters from around the world who have joined efforts to control the fires.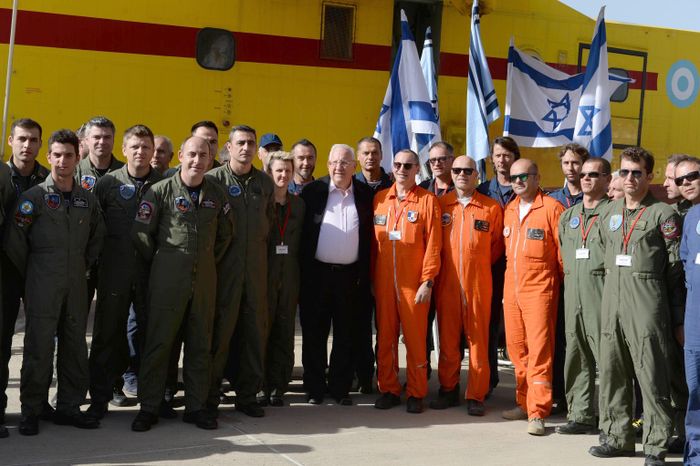 WATCH: World's largest firefighting aircraft comes to Israel's rescue
IN PHOTOS: Israelis and Palestinians break bread after battling infernos
Sunday 27 November 2016
4:44 PM
Israel's Magen David Adom emergency medical service says 125 people have been treated for smoke inhalation since the start of a wave of fires across the country. Of those treated, two were seriously injured, two moderately, and the rest lightly.
2:34 PM
Israeli President Reuven Rivlin has thanked Turkish President Recep Tayyip Erdogan to thank him for Ankara's assistance in fighting the fires.
1:20 PM
A brush fire has reportedly erupted next to the French Hill neighborhood in east Jerusalem.
1:05 PM
The blaze in Halamish in the West Bank continues to spread, Walla reports.
12:53 PM
Thirty-seven people have been arrested on suspicion of Arson in the past few days, including 18 Israeli Arabs, according to Israel's Army Radio. A number of suspects confessed and said their motivation was nationalistic, according to the report.
11:18 AM
Police arrest Jewish Israeli for using social media to call for revenge arson attacks against Arabs
11:11 AM
During visit to Nataf, President Rivlin surveys damage and meets with first responders. He thanked the fire crews, civil defense and police who worked to battle the blazes, on behalf of all the people of Israel.

"Terrorism is terrorism wherever it is and will be treated extent of the law," he added.
10:24 AM
Several cars caught fire at a junction in Ashkelon. Police investigating the incident.
10:04 AM
Netanyahu says that the fires have become "much more difficult and complex" than the 2010 Carmel disaster
9:39 AM
Jewish National Fund chairman Danny Atar says it could take years to assess full extent of the damage from the fires
9:04 AM
Train lines passing Zichron Yaakov shut down due to smoke from fire at shopping complex warehouse
8:52 AM
At weekly cabinet meeting Prime Minister Benjamin Netanyahu says "We are working on all fronts. Anyone who ignites fires, willfully or negligently - will act against them with all our might."
8:46 AM
Meretz chair Zehava Gal-On says Israeli Ministers are "competing to see who can incite the biggest racial fire."

"Proposals for house demolitions and denial of citizenship are both hostile and inciting," she says adding that such proposals "de-legitimize the public sector and are just as inciteful as the calls inspiring the arsonists.
8:26 AM
Fire reported at warehouse in Zichron Yaakov
7:49 AM
Defense Minister Liberman's office releases a statement saying that of 110 fires started in Israel, 17 must be arson
7:09 AM
President Rivlin arrives in town of Nataf to survey damage
6:16 AM
Another fire erupts in southern Israel's Haruvit forest near the community of Kiryat Malachai
6:16 AM
US firefighters arrive at Ben Gurion airport
5:53 AM
New fire breaks out near West Bank settlement of Oranit. Firefighters say fire is under control.
5:28 AM
Firefighters extinguished blazes ravaging Israel and West Bank settlements that forced tens of thousands to flee their homes and saw dozens arrested, authorities said Sunday.

"There are no active sites left," fire and rescue service spokesman Yoram Levy told AFP. "Since last night it's pretty calm, we have no new activity."
3:57 AM
Public Security Minister Gilad Erdan tells Army Radio that those who set fires will have their homes demolished just like the homes of others who carry out acts of terror.

"Those who want to burn houses or entire communities must take into account that his home would be destroyed before he makes the decision."
3:38 AM
Fire in West Bank settlement of Halamish destroys 18 homes and damages 40 more
3:36 AM
Level of damaged caused by fires reaches hundreds of millions of shekels
3:32 AM
Weather forecast says sunny skies and mild temperatures expected throughout the country. Weather remains unusually dry and high winds are expected in the north.
3:30 AM
Finance Minister Moshe Kahlon authorizes grants of 2,500 NIS to every unable to return to their homes because of the fires
3:29 AM
Government to hold weekly cabinet meeting in Haifa
Saturday 26 November 2016
3:36 PM
Netanyahu says he appreciates the fact that both Jews and Arabs opened their homes to those affected by the fire
3:22 PM
Prime Minister Benjamin Netanyahu called Palestinian Authority President Mahmoud Abbas Saturday and thanked him for sending fire trucks and firemen to assist with efforts to control fires
3:21 PM
1,100 hectares of forest have burned down in recent days in 58 fires, according to JNF estimates. The area with the most trees burned down is in the Jerusalem Hills (750 hectares).
3:13 PM
Damage to hundreds of apartments in Haifa due to fires estimated at 500 million shekels (130 million dollars)
2:24 PM
Police say 30 people have been arrested for suspected arson and incitement since wave of wildfires began
12:47 PM
Residents of Nataf allowed to return home after being evacuated Friday due to wildfires in the area
11:32 AM
A large brush fire has been reported in the Druze town of Daliyat al-Karmel in northern Israel, according to Ynet. Six firefighting teams have reportedly been sent to the scene.
10:45 AM
The Supertanker is going on its first mission near Highway 1, requiring the highway to be partly closed for half an hour this afternoon.
10:37 AM
The Nature and Parks Authority says the area of natural woodland burned stands at some 130 acres --30 percent larger than the forest burned in the 2010 Carmel fires.
9:52 AM
Among the ten arrestees were three suspects stopped in a car near Ramallah, the Ynet news site reports. Authorities said they found bottles full of fuel, gloves, and matches in the car.
9:51 AM
The Israeli military confirms that it has, together with the Shin Bet, arrested ten Palestinians from the West Bank on suspicion of arson over the past several days.
9:20 AM
Fires have started again in three spots in the settlement of Halamish, where 15 houses burned down overnight. Four firefighting planes are working to extinguish the flames.
8:24 AM
An individual has been detained after allegedly being caught starting a fire in the Judean Mountains.
8:22 AM
Member of Knesset Amir Ohana of Likud says "the fire that is burning in the hills of Carmel and Judea is the fire that is burning in Brussels, Paris, and London" and that "the time has come for profound soul-searching in the Islamic world."
8:04 AM
The fire in Maale Adumim was caused by an electrical short circuit, say Fire and Rescue services.
6:52 AM
Dry weather and strong winds are expected for several more days, Israel's Channel 2 reports.
6:46 AM
Palestinian firefighters say they've been working for three days straight in Haifa and Nataf without resting. They added that they were being fed by Nataf residents.
5:24 AM
The two Palestinians who were arrested on suspicion of involvement in the Halamish fire have been released from custody.
4:56 AM
Two Palestinians have been arrested in connection with the fire at the West Bank settlement of Halamish, where around a dozen homes have collapsed so far, according to Israeli media.
3:53 AM
Sixty-nine Cypriot firefighters have landed in Israel to help combat the fires.
3:14 AM
A brush fire has been reported in the El-Fakhura neighborhood of Nazareth, prompting evacuation of some residents.