Hackers take over Israel's main newscasts with threats of divine retribution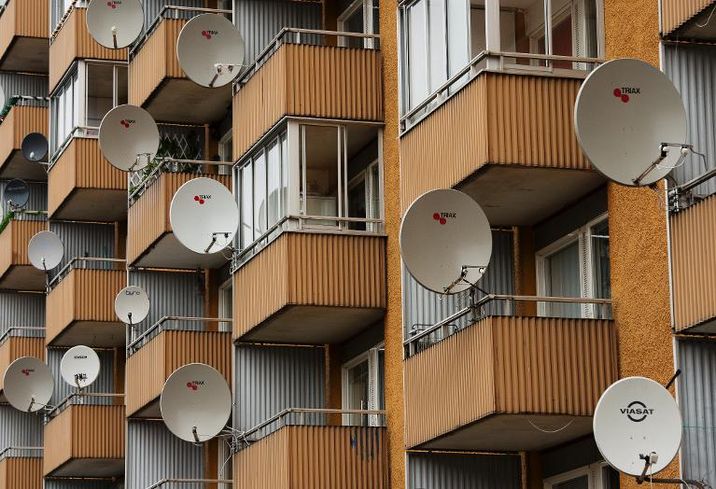 Satellite dishes are seen on balconies at the Hovsjoe district in south-western Soedertaelje, on November 20, 2013
Jonathan Nackstrand (AFP/File)
Report says hackers motivated by anger over 'muezzin bill' and appear to be from Saudi Arabia
Two of Israel's main news broadcasts were on Tuesday evening hacked to air title cards featuring quotes in Hebrew from the Koran as the sound of a muezzin calling Muslims to prayer was heard.
 The interruption on Channels 2 and 10 lasted for about 30 seconds and promised "punishment from God" alongside images of recent wildfires, some of which are being investigated as possible cases of eco-terrorism.
The hack affected satellite broadcasts in northern Israel, according to Channel 2.
האקרים השתלטו על שידורי מהדורת חדשות 2, ובמקום - שידרו קריאת מואזין pic.twitter.com/lCmDajZXh4

— חדשות 2 (@Channel2News) November 29, 2016
The Jerusalem Post reported that the hackers "appeared to be from Saudi Arabia" and were allegedly motivated by anger over the Cabinet-approved "muezzin bill," which would ban the use of loudspeakers to amplify the call to prayers at mosques.
The intrusion was hardly the first to target Israeli television.
In March, one of Israel's most popular programs was interrupted for those using private satellite dishes by clips of terror attacks on Israelis accompanied by text threatening a wave of violence.  
During the summer 2014 conflict in Gaza, Hamas took over Channel 10 for several minutes and aired graphic images of people wounded from Israeli strikes and threatened civilians with further rocket attacks.
You need to be logged in in order to post comments. Sign up or log in
November 30, 2016 9:33 AM
One would think a nation of innovators would do better to prevent hacking.