Israel holds ceremony to remember Jewish refugees from Arab countries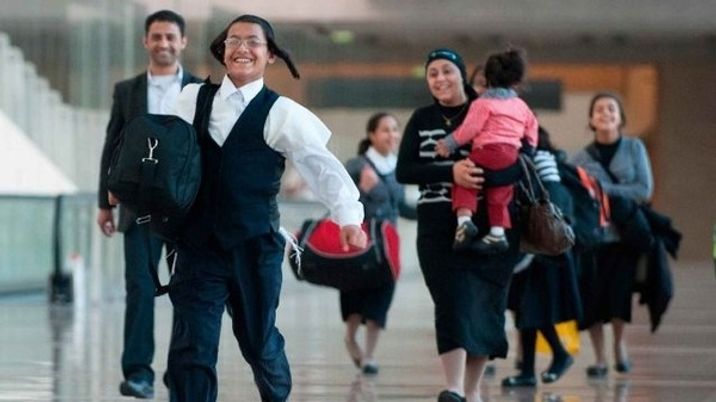 Yemeni Jews reunited with family members at Ben Gurion International Airport, August 14, 2013
Haaretz
Marks third annual commemoration of expulsion of some 850,000 Jews from Arab and Muslim countries
On Wednesday evening Israel will hold the third annual commemoration of the expulsion of some 850,000 Jews from Arab and Muslim countries during the course of the 20th century.
The event, being hosted by the Social Equality Ministry, will feature special musical performance and will be attended by some of those who were forced to leave the Arab countries and they will give the testimonies of their journeys to Israel.
"For 68 years, the chapter of Mizrahi Jews has been omitted from the annals of the Jewish people," Social Equality Minister Minister Gila Gamliel (Likud) said ahead of the event, according to Israel Hayom.
"The time has come to amend this, and we will. This is the essence of the day to mark the exit and deportation of Jews from Arab lands and Iran. This is not just in the interest of Mizrahim; it is a national, Jewish and Zionist interest. It is the right of the Jewish nation to know its heritage, and historically this is also its obligation."
A law was passed by the Knesset in 2014, after years of efforts and negotiations, designating November 30 as the official date of the annual commemoration of the expulsion of Jews from Islamic lands. Its implementing decree was signed on June 23 and will be marked on Monday for the second time.
Jews had lived in Arab countries for millennia. A number of Jewish communities resided there even before the arrival of Islam. But in the 20th century, with the rise of Arab nationalism and due to the conflict that shook Palestine (then under the British mandate), Jews were aggressed and their rights were violated on a massive scale.
The date of 30 November has special significance since on November 29 1947 the UN General Assembly approved the partition of Palestine and the creation of a Jewish state, which was immediately and unanimously rejected by Arab nations. Thus, the expulsion of Jews from Arab countries was at first presented as a kind of revenge for that decision.
In the immediate aftermath of the adoption of the partition plan, pogroms were perpetrated against Jews – on direct orders of the Arab League – in Aden, which had 8,700 Jews in 1948 (there were 45,000 in total in Yemen) and Syria's Aleppo, which boasted a 20,000-strong Jewish community before the creation of Israel.
Later, after Israel's victory over Arab armies in the 1948 war, etched in the Palestinian collective memory as the Nakba (the Arabic for "catastrophe"), the expulsion was reframed as an act of retaliation for Israel's military victory.
In Morocco, the number of Jews shrank from 286,000 in 1948 to 50,000 in 1968. In early 2015, there were no more than 2,500. In Algeria, the number went from 130.000 in 1948 to 1,500 in 1968, whereas in Egypt from 75,000 to less than 1,000 in the same period.
You need to be logged in in order to post comments. Sign up or log in
November 30, 2016 4:41 PM