Police investigating whether fresh Haifa fire caused by arson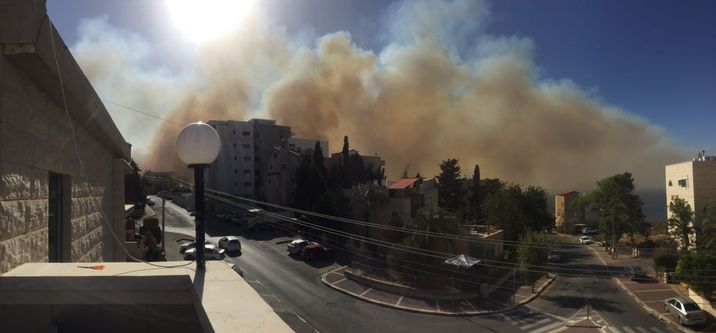 Smoke from the Haifa fires as seen from the Kababir neighborhood
Courtesy of Haifanet.co.il
After Israel battled devastating fires, country braces for heavy rain and strong winds
Israel Police were investigated whether a fire that broke out between two buildings early Thursday morning in the northern city of Haifa was caused by arson.
Firefighters were able to control the fire and no injuries were reported, but authorities were taking the incident seriously after the city suffered devastating damage last week from a number of wildfires that teared through the area, many of which were believed to have been started deliberately. 
Israel's tax authority announced on Tuesday that it would recognize a number of the wildfires as "nationalistically motivated" arson, making people whose property was damaged eligible for compensation from the government.
The announcement mentioned nine specific locations where arson was strongly believed to have caused the blazes, including Zikhron Ya'akov and Haifa, Israel's third-largest city where tens of thousands evacuated last week and hundreds have been left homeless.
Over the past week, hundreds of fires raged from the south near the Dead Sea through the north of country, scorching almost 5,000 acres of land.
Repairs for Haifa alone are already projected to total as high as half a billion shekels.
With the fires now over, Israel is bracing for possible floods as storms and rains were expected for the first time this winter in the coastal regions and in the Haifa area
According to local forecasts, temperatures will drop below the seasonal average and snow is expected to fall on Mount Hermon in the Golan Heights.
Haze and sand storms are expected in the south and the sea will be turbulent and windy.
The rain and heavy winds are expected to continue through Friday and till taper out throughout the day with Saturday expected to be calm and dry.