Journalist suspected of BDS activism may have to leave Israel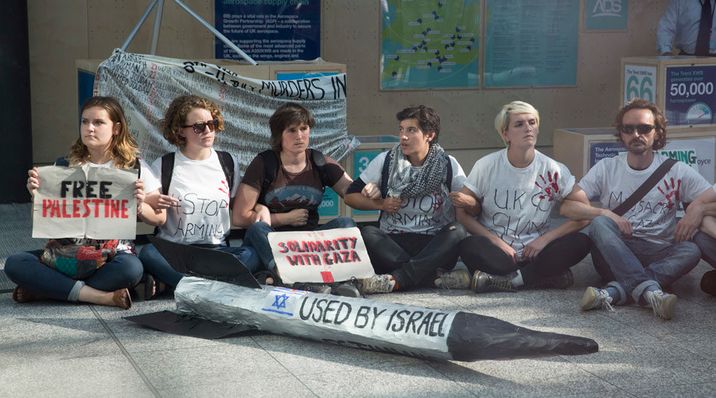 BDS protestors
Neil Hall/Reuters
Australian reporter, Anthony Lowenstein, might not get his press card renewed by Government Press Office
Australian reporter Anthony Lowenstein might not be able to continue working from Israel due to alleged Boycott, Divestment, Sanctions movement BDS activity, the Government Press Office told The Jerusalem Post on Sunday.
Lowenstein, a freelance reporter based in Jerusalem, who writes for The Guardian and other publications, drew attention at an Foreign Press Association (FPA) event last Monday, when directing what seemed to be a hostile question toward Yair Lapid, leader of the Yesh Atid party.
Lowenstein asked "Is there not a deluded idea here that many Israeli politicians, including yourself, continue to believe that one can talk to the world about democracy, freedom and human rights while denying that to millions of Palestinians, and will there not come a time soon, in a year, five years, 10 years, when you and other politicians will be treated like South African politicians during Apartheid?"
According to The Jerusalem Post, after an article about the event was published on the Post, Honest Reporting managing editor Simon Plosker investigated Loewenstein's alleged activities and support of the BDS. Plosker looked into Loewenstein's open remarks on his support for BDS in a personal blog he publishes. In the blog Lowenstein's wrote the following statements after attending a BDS rally in Sydney in 2014:
"BDS is growing and I'm proud to be part of a global movement that's led by the Palestinians most directly affected."
Government Press Office director Nitzan Chen, according to The Jerusalem Post, said he was leaning against renewing the press card of Loewenstein this coming March. If his press card is not renewed he will have to leave the country. Chen also mentioned that "We are checking the incident because unfortunately, the journalist did not give enough information to our staff. We will learn to check better so there won't be such incidents in the future."
According to The Jerusalem Post, in response Loewenstein said that he had given GPO all the information they needed.
i24News received a written response from Loewenstein, that reads as follows: "As an independent journalist with over a decade of experience in countries and regions around the world, including Afghanistan, South Sudan, Honduras, Israel, Palestine, the Middle East and beyond, I deeply understand the concept of free speech and states that respect it. Real democracies don't just tolerate dissent, they encourage it. If Israel is a democracy, it should welcome a robust exchange of ideas on issues around Palestine, Israel and its decades-long occupation of the West Bank and Gaza."
The Guardian Jerusalem correspondent, Peter Beaumont, said he knew nothing about Loewenstein, and its head of international news, Jamie Wilson, said he was contracted to write comment pieces for Guardian Australia and remains an occasional comment contributor but he "is not a news correspondent for The Guardian in Israel." as cited by The Jerusalem Post.
In response to the reporter's alleged BDS activism, according to The Jerusalem Post, Yesh Atid leader Lapid said: "Freedom of speech and freedom of the media are key in a democracy likes ours, but that doesn't extend to BDS activists pretending to be journalists."
"It harms Israel and it harms the media. This is another example of the lies of the BDS movement. We have a duty to protect ourselves from people who seek to demonize and delegitimize the State of Israel," added Lapid.