Israeli police raid Defense Ministry in German submarine probe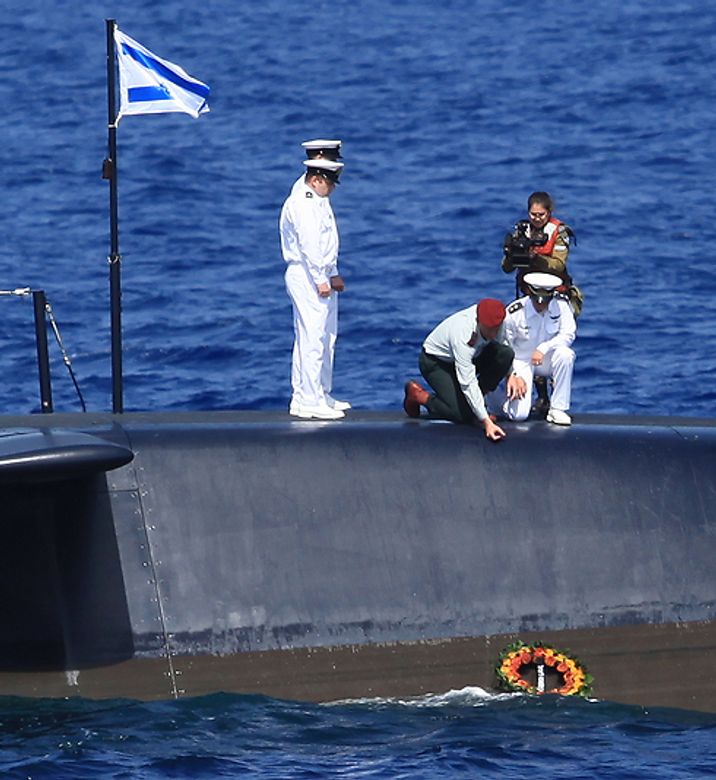 Haifa ceremony for new German submarine
Roee Idan/Ynet
Computers taken from Defense Ministry offices as part of probe into submarine deal
Israel police on Sunday gathered information from the Defense Ministry regarding a ship-building contract with Germany that has been shrouded in controversy since it emerged that Prime Minister Benjamin Netanyahu's personal lawyer, David Shimron, had secondary interests in the deal. 
According to Israel's Channel 10 News, officers from the Lahav 433 police anti-corruption unit removed information from computers of the office of legal adviser Ahaz Ben-Ari at the Defense Ministry building in Tel Aviv. 
ThyssenKrupp has dominated headlines in Israeli media over recent months following reports of a possible conflict of interest on the part of Netanyahu in a deal to purchase an additional three submarines from the German shipbuilding conglomerate.
Israel's Attorney General Avichai Mandelblit ordered police to launch a preliminary inquiry into reports that Netanyahu's personal attorney Shimron, who represents the company in Israel, used his close relationship with the premier to push the deal worth billions of dollars.
Netanyahu has defended the deal as necessary for Israel's national security.
The security of Israel requires the acquisition of submarines and the renewal of the submarine fleet. These are strategic weapons systems that ensure the future, and I tell you, the very existence of the State of Israel for decades to come," Netanyahu said.
The Prime Minister reportedly pressed for the deal in the face of opposition from the Israeli military, including former defense minister Moshe Ya'alon, who was replaced by Liberman in June after he was fired by Netanyahu.
Israeli Defense Minister Avigdor Liberman earlier this month downplayed reports that the German shipbuilding company supplying submarines and warships to the Israeli Navy is partially owned by an Iranian governmental investment firm.
A report revealed that the state-owned Iran Foreign Investments Company (IFIC) holds 4.5 percent of ThyssenKrupp's stock and has earned nearly $100 million in dividends off of its shares over the past decade.
ThyssenKrupp was contracted by the Israeli Defense Ministry in 2014 to build four "Saar-6" class warships to protect Israel's off-shore natural gas reserves. 
In a meeting of Israel's parliamentary finance committee, Liberman said that "the matter of Iranian involvement in the submarine manufacturer was known" prior to the signing of the 430 million euro ($480 million) deal.