Police 'likely to recommend' indictment of Netanyahu on corruption charges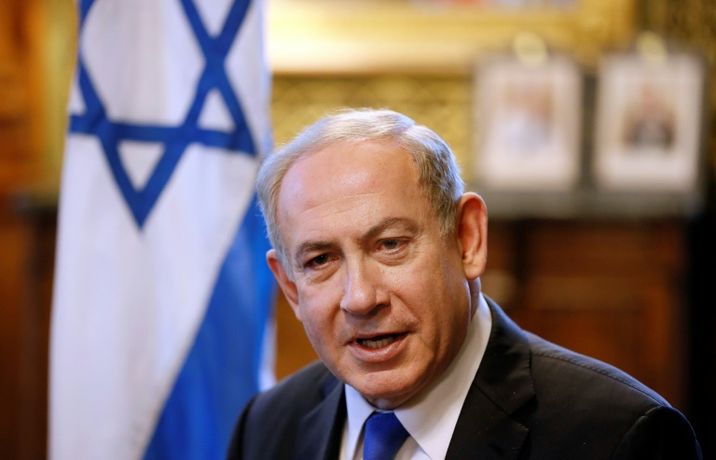 Israeli Prime Minister Benjamin Netanyahu was visiting London for talks with leading British officials on February 6, 2017
Kirsty Wigglesworth (POOL/AFP)
Decision by Attorney General Avichai Mandelblit to follow police recommendation not expected before September
Israeli police are likely to recommend that Israeli Prime Minister Benjamin Netanyahu will be indicted following an investigation into bribery allegations, national broadcaster Channel 2 has reported.
According to the report, officials are currently weighing whether to accuse Netanyahu of breach of trust only, or add the more serious charge of accepting a bribe.
The Israeli leader is accused of having accepted tens of thousands of dollars in gifts from wealthy businessmen, including suits, champagne, and expensive cigars.
He has vigorously denied any wrongdoing.
Police have opened multiple investigations into Netanyahu, but will likely seperate Case 1000 – which involves the receipt of illegal gifts – from the other cases.
According to Channel 2, Case 1000 is expected to be closed with a recommendation to indict the Israeli leader in the next six weeks.
Netanyahu was so far questioned under police caution three times as part of the inquiry and will be called for a fourth round of questioning before the probe closes.
On Wednesday Channel 2 reported that investigators were trying to establish Milchan's motivation behind supplying the prime minister and his wife with a steady supply of gifts.
According to the report, the probe is looking at how the National Broadcast Authority dealt with Channel 10 television station, in which Milchan has a 9.8-percent stake.
Meanwhile, Channel 10 on Friday published details on Sara Netanyahu's questioning by police over the affair.
The prime minister's wife reportedly told investigators that her husband had no knowledge of the gifts of champagne allegedly worth many thousands of shekels that the couple received from Milchan over the years — repeating a claim made by Netanyahu himself earlier.
"He's a very busy prime minister," she told investigators, according to Channel 10. "He'd come home to see wine on the table and he didn't ask where it came from. It wasn't something he thought of at all."
She also said the champagne was worth far less than reports had claimed. "I don't drink expensive champagnes," she said.
Netanyahu also reiterated her close friendship with Milchan, saying he would regularly call her "sister."
On Wednesday Haaretz reported that the premier's wife allegedly asked Milchan to buy her a necklace worth over NIS 10,000 ($2,670)as a birthday gift last year.
According to Channel 10 Netanyahu refuted the claimed price, saying "it was a $200-$300 necklace, certainly not the sums you're talking about."
Last month Channel 2 said Milchan told investigators that cigars, champagne and other luxury items he gave to the Netanyahus started as occasional gifts, but turned into a steady supply at the couple's demand.
The prime minister and his wife would make specific demands, and even send him reminders to send supplies, the TV report quoted Milchan as saying.
According to Haaretz, Attorney General Avichai Mandelblit is only expected to give a decision in September on whether to indict Netanyahu.
Investigators are also reportedly looking into allegations that Netanyahu accepted $1.06 million from Arnaud Mimran, a French businessman currently serving eight years in prison for committing a large-scale carbon-tax fraud.
During his trial, Mimran claimed to have donated the money to Netanyahu during the 2009 Israeli election campaign, a claim the Israeli Prime Minister has consistently denied.
Netanyahu and his family have been plagued by corruption allegations throughout his time in office and in June of last year it was reported that Attorney General Mandelblit, was planning to close three cases of fraud against Sara Netanyahu against the recommendation of police.
Investigators had recommended that Netanyahu's wife be charged with three incidents of fraud after allegedly using public money for personal use.
She is accused of spending state funds on patio furniture for the couple's private home in Caesarea and gourmet dinners made by private chefs.