Audio casts doubt on Israel police claims about killing of 'terrorist'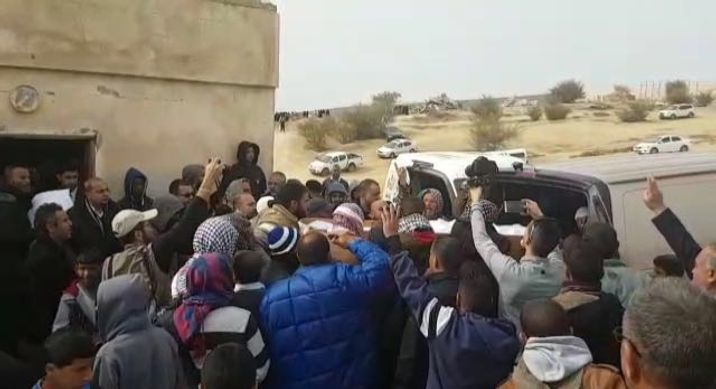 The body of Yacoub Abu al-Qiyan arrives in Umm al-Hiran for his funeral on January 24, 2017
Ayman Sikseck/ i24NEWS
Audio suggests police fired shots before car began accelerating, contradicting law enforcement's claims
A newly released recording of a deadly incident during demolition of homes in Israel's Bedouin village of Umm al-Hiran has added credence to accusations that police shot at the driver of a car before the vehicle plowed into a group of police officers, the Times of Israel reported on Sunday.
Israeli police said after the death of teacher Yacoub Abu al-Qiyan last month that he had deliberately rammed his car into the crowd, killing officer Erez Levy. Police identified al-Qiyan, who was shot dead as "a terrorist from the Islamic movement," citing old newspapers found in his home that detailed attacks claimed by the Islamic State group.
Village residents on the scene refuted the police assessment that the vehicle was purposefully driven into the group of officers, saying the driver was a school vice principal who had been heading to the scene to talk with authorities when he was shot at by police and lost control of the vehicle.
An audio recording of the incident that has been synced with drone footage of the incident includes the sound of gunshots before the vehicle begins to accelerate, however, apparently contradicting the police claim that the shooting began after al-Qiyan began attempting a car-ramming attack.
Footage recently released by Al-Jazeera showed that the vehicle's lights were on, contradicting what police said, the Times of Israel noted.
Al-Qiyan's autopsy last month revealed that his knee on the leg that had been on the gas pedal, was shattered by a bullet, suggesting that he may have been unable to take his foot off the gas pedal. Another bullet hit him in the chest, causing him to bleed out for nearly half an hour, the autopsy reportedly said.
An internal police investigation is expected to release its findings within weeks.
The deadly incident occurred during clashes as police conducted an operation to evict 750-1,000 Bedouin residents with the Abu al-Qiyan tribe from the village of Umm al-Hiran to enable the construction of a Jewish town.
You need to be logged in in order to post comments. Sign up or log in
February 13, 2017 3:37 AM
If you actually want comments. Then get a real comment system like DISQUS. Secondly, it's nice channel 24 is finally covering some actual news. The fact is, almost every piece of "news" coming out of the state of Israel is suspect. It's time for all journalists to start doing their jobs, stop worrying about cocktail parties, and get all this behind us in the rearview mirror.