Protesters, troops face off as Ofra settlers evicted ahead of home demolitions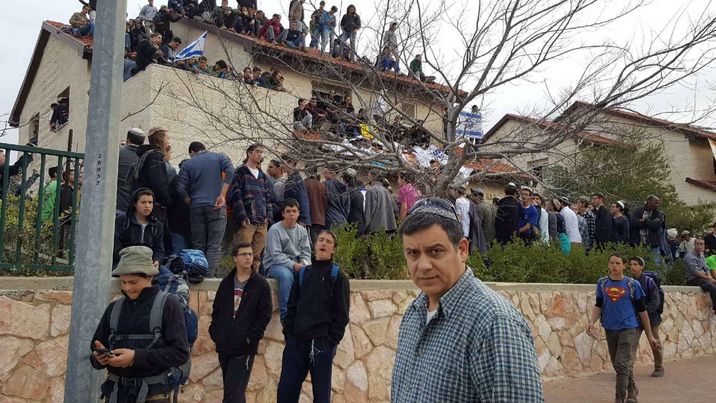 Protesters gather in Ofra, where nine settler homes are slated for demolition February 28, 2017
i24NEWS
Amona residents announce hunger strike starting Wednesday until promise of new settlement fulfilled
Israeli border police on Tuesday began evicting hundreds of settlers and protesters gathered at the West Bank settlement of Ofra on Tuesday, where nine illegally built homes are slated for demolition.
Israeli troops entered the settlement at around 09:00 a.m. local time (0600 GMT) Tuesday commencing operations to evict residents and clear protesters ahead of demolitions.
"The evacuation of the nine homes has begun, on accordance with the High Court order. At the same time, negotiations are continuing with the settlers and local leadership, to allow the operation to go forward without violence," police said in a statement.
By noon, three of the nine houses had been cleared, police said, with only a handful of minor scuffles between police and protesters reported.
Five police officers were lightly injured during clashes, two of whom were bitten, while three others sustained light injuries to the head, chest, and wrist. Two youths were arrested for disturbing public order and assaulting officers.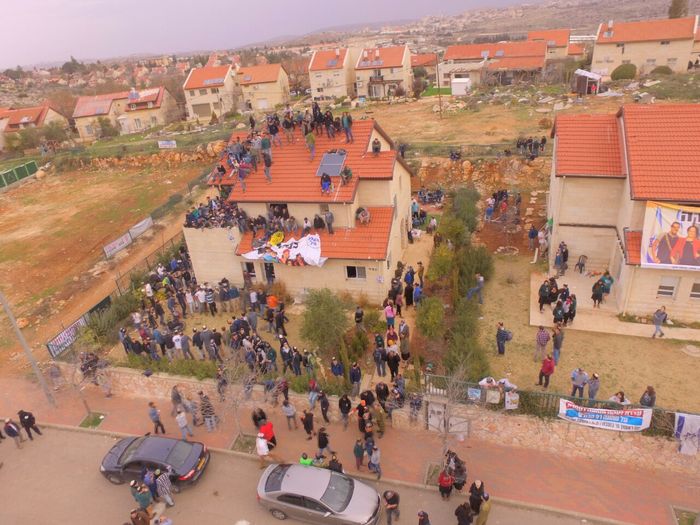 Nearby, dozens of protesters burned tires and blocked the entrance to Jerusalem in a show of solidarity with the residents of Ofra.
Hundreds of right-wing activists had barricaded themselves inside the homes, while others positioned themselves on roofs or in front of entrances, chanting slogans and holding posters of evicted families.
A number of preventative arrests were carried out prior to the operation, in an attempt to avoid violent clashes such as those that took place during the eviction of the nearby Amona outpost three weeks ago, where youths barricaded themselves in the synagogue and wounded Israeli forces with stones and acid.
The Ofra leadership have said residents are not seeking a confrontation, with many having already packed their belongings or left the settlement of their own volition ahead of the operation.
"We will not use crowbars and we will not barricade ourselves," residents said in a statement.
Amona residents, meanwhile, announced they would begin a hunger strike on Wednesday until the government kept its commitment to build them a new settlement.
Israel's supreme court ordered the demolition of the homes by March 5 after ruling them to have been illegally built on private Palestinian land.
The nine homes in Ofra were first ordered razed in 2015, but the demolition was pushed back following a number of appeals. The court on Monday rejected last minute petitions to delay the demolition or have the buildings sealed instead.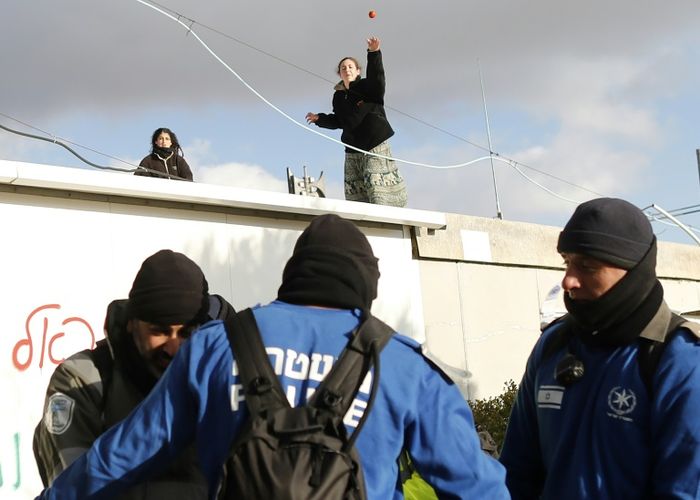 Israel distinguishes between those settlements it has authorized and those built without official permission, deeming them 'outposts'. Most of the international community considers settlements an obstacle to peace between Israel and the Palestinians.
Following the eviction of Amona, Israel passed a controversial bill allowing the retroactive legalization of some 4,000 other settler homes built on private Palestinian lands.
The so-called "Regularization Bill" allows Israel to expropriate privately owned Palestinian land on which settlement outposts have been illegally built. Palestinian owners would be compensated financially or with other land.
Opponents of the law both in Israel and the international community have condemned the bill, saying that it effectively legalizes the "theft" of more than 800 hectares of land that even Israeli law has accepted as Palestinian.
Its defenders argue the bill will allow settlers to live without fear of being driven from their homes -- many of which they have lived in for years.
(Staff with AFP)