Former Israeli Defense Minister to start new political party, run for PM position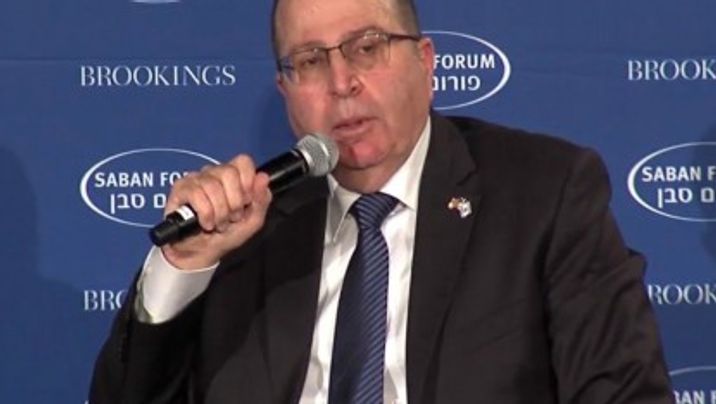 Le ministre israélien de la Défense Moshe Ya'alon au forum Saban le 4 décembre 2015
Centre Brookings (site)
Ya'alon says he will run for national leadership because he cares 'about the country, [and] our children'
Former Israeli Defense Minister and Military Chief of Staff Moshe Ya'alon is planning to form a new political party and run for position of Prime Minister during the next elections, Israeli media reported on Saturday.
Ya'alon announced his plans at a cultural event at Habima Theater in Tel Aviv earlier in the day.
"When I reached that point where I decided to resign, I decided that I care about the country, our children and our grandchildren," Ya'alon said. 
"So I made the decision to found a party, a political force, to run for national leadership," he added.
Ya'alon also responded to charges against him in a recently released comptroller's report, which criticized the decision making of the Security Cabinet during Operation Protective Edge in 2014.
Ya'alon was the minister of defense as well as part of the cabinet during this time.
Ya'alon defended the Security Cabinet's actions while at the same time hitting out against unnamed individuals in the Cabinet.
"There were people in the cabinet looking to hurt the prime minister and defense minister," Ya'alon claimed, adding that "we reached our aim without Hamas achieving anything. If we would have gone for slogans, we would have had many more casualties, and they would have fired more rockets."
"This is why we strove for a ceasefire under our conditions without any achievement for the Hamas," he said.
The former defense minister harshly criticized members of the Security Cabinet who "said one thing in the confines of closed rooms and something else once outside," adding that "unfortunately, the (comptroller's—ed) report has become the blow horn for those who acted this way, and not those who acted with discretion and responsibility, preventing something much more catastrophic."
"And look at the results," Ya'alon charged, "two and a half years of unprecedented quiet. It's a good thing that our enemies appreciate the IDF much more than we do."
"When I am required to kill, I understand the weight of that responsibility," he said.
"Any attempts, particularly on Facebook, to rack up likes for taking out the Hamas or giving Ismail Haniyeh a 48-hour ultimatum—that's not where I'm at," he added in a thinly veiled swipe at current Defense Minister Avigdor Liberman, who, prior to taking office, said he would take out Hamas leader Islamil Haniyeh within 48 hours of becoming defense minister.
Ya'alon also responded to claims in the comptroller's report that he knew about the threat from Hamas tunnels into Israel but misrepresented the severity of the threat as well as the IDF's lack of intelligence relating to the tunnels to the cabinet.
"The issue of tunnels has concerned the IDF since back when I was still in uniform," said Ya'alon. "The Americans deal with it along the border with Mexico, and they don't have a solution for it."
"Our operational readiness surrounding Gaza assumed that we could have terrorists coming out of the ground, and when that happened we were there. We were given 400 solution options, and they were all looked into. There are things for which you cannot find an absolute solution."
"After an operation like Protective Edge, I need to be able to look at myself in the mirror, look into the eyes of the soldiers under my command, into the eyes of bereaved family members and into those who we managed to spare the fate of bereavement," said Ya'alon.
"I'm at peace with myself."