Israel: 13 arrested in probe of 'systematic' corruption in aerospace industry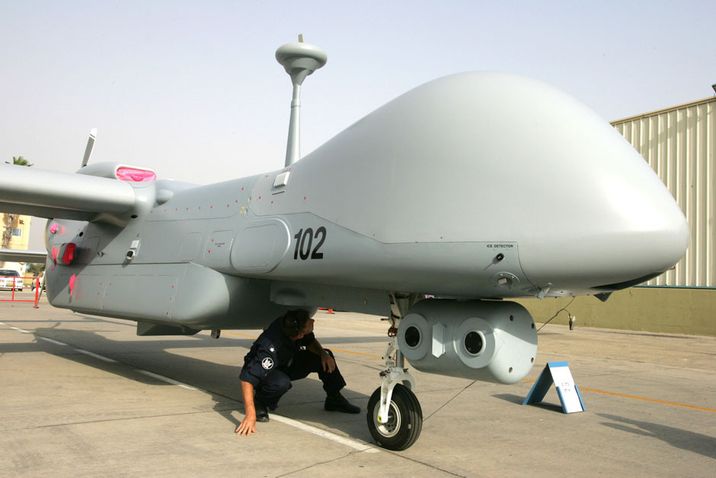 An Israeli Air Force Heron TP surveillance drone, known as the IAI Eitan, a long-range unmanned aerial vehicle.
JACK GUEZ/AFP/Getty Image
A retired high-ranking IDF officer among those arrested under 'suspicion of deep corruption '
Israeli police on Wednesday arrested 13 people, including a retired senior Israel Defense Forces officer, in a widespread investigation into corruption within Israel Aerospace Industries (IAI) and its service providers.
The high-ranking IDF officer was not named, however, the police said that they were "well known in the defense establishment."
The other 12 people detained held a variety of positions within the companies under scrutiny, ranging from executives and board members to junior staff."
According to a statement from the police, those arrested are suspected of a number of offenses, among them fraud, breach of trust, and money laundering.
"This is an extensive investigation, with a wide scope, which includes a number of sub-scandals, and raises suspicions of a range of charges — corruption, aggravated fraud, money laundering, theft by public officials, illegal business practices, fraud and breach of trust," the police said.
Police also conducted a search of the offices at Israel Aerospace Industries, as well as the homes and offices of other private companies which either provided services for, or received services from IAI.
The police and the Israel Tax Authority have been working together for several months in an undercover operation to expose the corruption.
"The undercover investigation has so far revealed systematic criminal activity, and suspicion of deep corruption apparently prevailing in the aerospace industry," said the police statement.
IAI specializes in the "production of systems for the defense and commercial markets," such as drones, air defense and radar systems, and satellites -including the $200 million Israeli Amos 6 satellite destroyed in the SpaceX launch pad explosion last September.
A statement from IAI said that "CEO Joseph Weiss has instructed all relevant parties to fully cooperate, as necessary and without restrictions with the Israeli police and adhere to the guidelines, in order to conclude the investigation and prosecute anyone who has committed an offense."
"IAI will continue to be a major building block in Israel's security and economy," it added.
The suspects will appear in court in the central Israeli city of Rishon LeZion on Wednesday.