President of Israel's Bar-Ilan University awarded Hungarian Order of Merit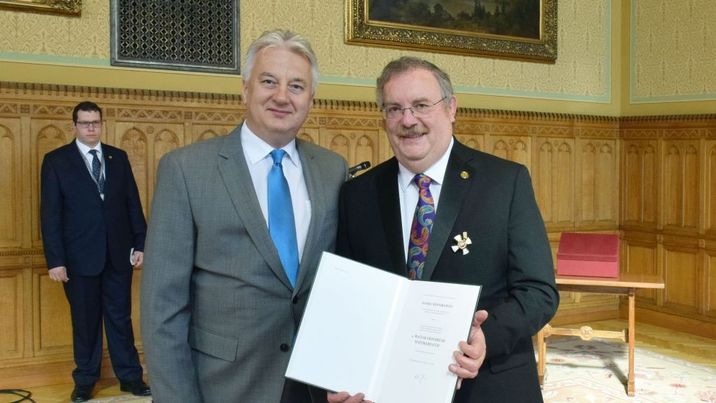 Bar-Ilan University President Rabbi Prof. Daniel Hershkowitz (R) with Deputy Prime Minister of Hungary Zsolt Semjén, March 28, 2017.
Miklós Váli
Of Hungarian decent, Prof. Hershkowitz was recommended for the honor by Hungarian Prime Minister Viktor Orbán
Hungary has recognized Bar-Ilan University President Rabbi Professor Daniel Hershkowitz with the Hungarian Order of Merit for his "manifold and committed activities to strengthen Hungarian-Israeli academic and social relations."
Prof. Hershkowitz, who previously served as Israel's Minister of Science and Technology and is the honorary president of the Hungarian-Israeli Scientific Society, was bestowed the Hungarian Order of Merit, Officer's Cross by the President of the Republic János Áder upon a recommendation for the honor from Hungarian Prime Minister Viktor Orbán.
He received the award from Deputy Prime Minister Zsolt Semjén in a ceremony on Monday at Parliament.
In a statement commemorating the event, the Prime Minister's office said that "as President of Bar-Ilan University, Professor Hershkowitz works for the establishment of high-level social and scientific relations between the fatherland of his parents and grandparents and Israel."
"In order to promote these, he played an active role in the establishment of the Hungarian-Israeli Scientific Society, which seeks to create a professional and cultural forum for Israeli researchers of Hungarian decent," the statement continued, adding that "As the Honorary President of the Society, his activities are characterized by an ongoing desire for, and support of, the development of bilateral social relations."
Upon accepting the award, Prof. Hershowitz reflected on his family history and their journey to Israel.
"I am here today in the Hungarian Parliament in one of the most moving events of my life. I am the son of two survivors of the Holocaust," he explained. "My mother grew up in Budapest, and my father in the Hungarian part of Transylvania, near Deesz. Seventy-two years ago they were expelled from here. My father was in Auschwitz and Buchenwald, my mother in Bergen-Belsen. From there they made their way to Palestine, to our ancient homeland, and took part in building the Jewish state of Israel. And here I am today, receiving from Hungary this extraordinary decoration."
Prof. Hershowitz went on to say that the cooperation between Israel and Hungary is working towards "the benefit of a better world."
"Can one build a joint future, after such a past?" he mused. "I strongly believe that Hungary and Israel are doing it today, in stepping together and cooperating in developing science and technology for the benefit of a better world. I see the honor bestowed upon me today as a token of appreciation for my humble part in advancing this cooperation."
Professor Hershkowitz concluded by thanking members of Parliament and the Hungarian government, as well as Hungary's Ambassador to Israel, Andor Nagy.