Israel's Security Cabinet approves new W. Bank settlement, the first in decades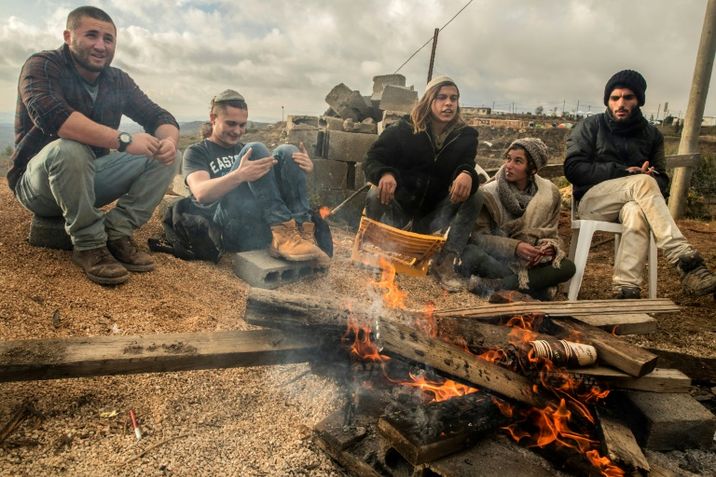 Israeli settlers gather around a fire in the settlement outpost of Amona on December 18, 2016
Jack Guez (AFP)
Israel's Security Cabinet on Thursday unanimously approved the construction of a new settlement for Jewish residents evicted from an evacuated illegal outpost.
If the plan is carried out, the new settlement would be the first established by Israel in more than 20 years.
It would also appear to flout a direct request made by U.S. President Trump in February for Israel to "hold back" on settlements until their two governments had reached an understanding, a request Netanyahu had indicated he would oblige.
Though disagreements with the Trump administration on settlements are said to remain, an Israeli television report said Thursday that Netanyahu would nonetheless ask the cabinet to approve construction of a new settlement for former residents of Amona, having come under significant pressure to uphold his commitment to do so by the end of March.
Amona, home to about 40 families, was built on lands privately owned by Palestinians, who successfully petitioned Israeli courts for the outpost's removal.
The agreement to resettle residents on nearby parcels of land considered to be abandoned was overturned by the Supreme Court in February, after a Palestinian appeal was accepted.
Netanyahu earlier this month held two rounds of talks with Trump's Special Envoy for International Negotiations Jason Greenblatt on settlement construction and contacts on the matter have continued since then, primarily by telephone.
Netanyahu's office last week rejected a report by Israel's Channel 2 of an expected agreement on Israel's part to not build outside of settlement blocs in the West Bank in exchange for the Trump administration's approval of a new settlement for the evacuees of the former Amona outpost.