Palestinian prisoners in Israel announce start of mass hunger strike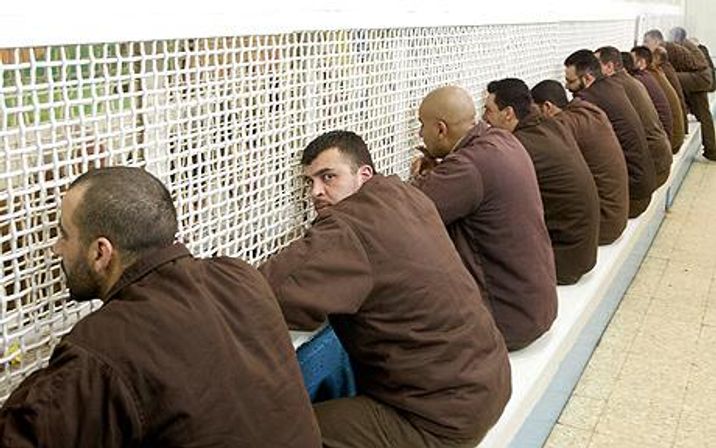 Palestinian prisoners
Erdan believes the motive to be internally political rather than a complaint on prison conditions
Nearly 1,000 prisoners held in Israeli prisons announced the start of a mass hunger strike to take place indefinitely on Sunday night.
According to Ynet News 700 of the prisoners belong to Palestinian political factions including the Palestinian Authority's ruling party, Fatah, the Popular Front for the Liberation of Palestine, and a fraction of members of the Islamist group, Hamas.
Israeli officials say that more prisoners are expected to join the strike in later stages.
Imprisoned Fatah leader Marwan Bargouthi is said to be leading the strike in what is being called the "Freedom and Dignity" strike, according to the Palestinian People's Party (PPP) leader and member of the PPP's central committee Bassem Khandaqii, reported Ma'an News Agency.
"After consultations with prisoners of various factions, PPP-affiliated prisoners decided to join the battle for freedom and dignity on April 17, which coincides with Palestinian Prisoner's Day," said Khandaqii in a statement.
Among the list of demands, prisoners are requesting public telephones be installed in the wards, as well as to be moved to facilities in the Palestinian territories to allow friends and family to visit more easily, reported Wafa.
Israel's Public Security Minister Gilad Erdan, however, believes the motive to be internally political among the Palestinians rather than a complaint on prison conditions.
"The strike led by Barghouthi is motivated by internal Palestinian politics and therefore includes unreasonable demands concerning the conditions in the prisons," Erdan said in a statement from his office on Sunday.
"I have instructed the prison service to act in any way to contain the strike within the walls of the prisons and the Israel Police to prepare and provide any help needed to the prison service for any scenario that is likely to develop."
Erdan held a conference with security officials from Israel Prison Service (IPS), the IDF, the Shin Bet internal security service and the Health Ministry, said the statement.
The Public Security Ministry stated that the IPS would not conduct negotiations with the prisoners in accordance with prison policy, and that all prisoners participating in a hunger strike will receive immediate disciplinary measures.