Terror attack near Tel Aviv beachfront wounds four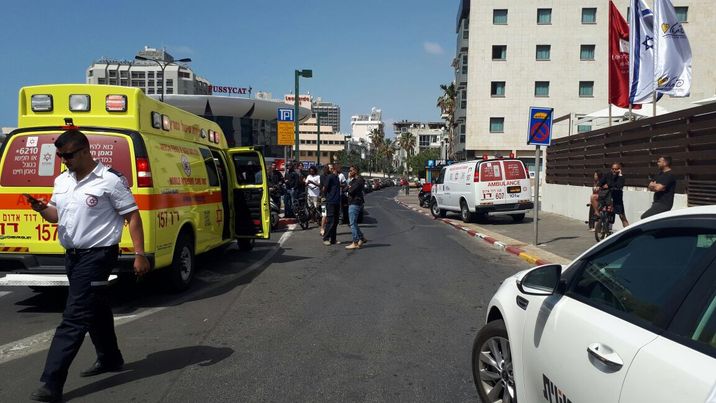 Attaque à l'arme blanche dans le centre de Tel Aviv, le dimanche 23 avril 2017
Deputy foreign minister says Mahmoud Abbas 'directly responsible' for knife attack
Four people were lightly injured by an 18-year-old Palestinian who carried out a stabbing at two different beach hotels on Tel Aviv's waterfront Sunday, reported Israel's emergency medical services Magen David Adom.
Police at the scene confirmed that the attack was terror-related.
The victims were taken to Ichilov hospital in Tel Aviv for treatment.
The assailant, believed to be from the West Bank, was apprehended by police and is currently in the custody of Shin Bet.
According to an initial police assessment, the attacker first approached a hotel and used work tools to attack passersby, then entered an adjacent hotel and continued his attack.
A member of the Israeli Knesset, Oren Haz, wrote on Twitter that the attacker had entered the country through a permit issued Sunday at the request of Natural Peace Tours, a tourism service for Palestinians. 
Israeli Deputy Foreign Minister Tzipi Hotovely said Palestinian Authority President Mahmoud Abbas was "directly responsible" for the attack by giving payments to terrorists' families.
Israeli prime minister Benjamin Netanyahu said in an interview with Fox News on Friday that the Palestinian Authority was giving hundreds of millions of dollars annually to terrorists and the families of terrorists responsible for murdering Israelis and Americans.