Calls for criminal probe into counter-protest at Israeli-Arab memorial ceremony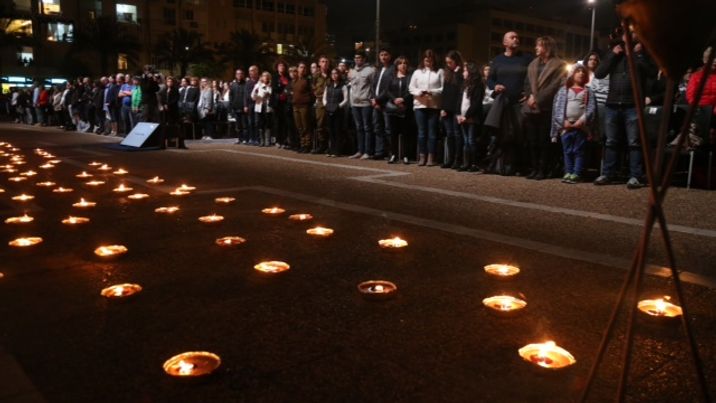 Memorial Day ceremony in Tel Aviv, 2015
Ynet/Moti Kimchi
The scene was described as 'a group of violent thugs' by Knesset members witness to the demonstration
Opposition members of Israel's Knesset on Monday called for an investigation into the right-wing demonstration that took place outside the Israel-Palestinian Memorial Day Ceremony in Tel Aviv on the grounds of incitement against the bereaved families, reported Israeli media.
Knesset member Erel Margalit of Israel's center-left Zionist Union party also urged citizens to join a petition to be filed with the police demanding a criminal investigation into the demonstration.
"What happened yesterday is a national disgrace and a great disgrace to the Jewish people," Margalit stated in the letter, according to Israeli publication Walla, calling the demonstrators, "leaders of incitement."
While bereaved families mourned and honored the memory of their relatives, demonstrators, which included right-wing activists and politicians, were outside spitting, pushing and yelling, reported Walla.
"These people are inciting murder, and these people will cause someone to die in the end," Margalit gravely warned.
The scene was also described by (left-wing) Meretz chairwoman Zahava Gal-On as a "group of violent thugs," throwing sticks, cursing and attacking several other Knesset members.
"This protest is legitimate, but what happened yesterday was not a legitimate protest - it was violence and bullying," said Gal-On adding that "it could have ended much worse."
"No one has the right to decide for human beings how to mark their bereavement," said Amar Bar-Lev a fellow Zionist Union MK who also condemned the act.
Monday marked a somber day of remembrance in Israel for those killed in war and terrorism.
A larger event, which Prime Minister Benjamin Netanyahu attended, honored its 27,672 soldiers and civilians who were killed with the annual lighting of a memorial flame that followed the traditional minute-long siren marking the beginning of the country's Memorial Day.
The alternative event, a joint Israeli-Palestinian memorial ceremony, organized by the Parents Circle Families Forum, an Israeli-Palestinian organization for those who have lost family members to the conflict, has been held every year for the past twelve years.