Governors of all 50 US states sign anti-BDS statement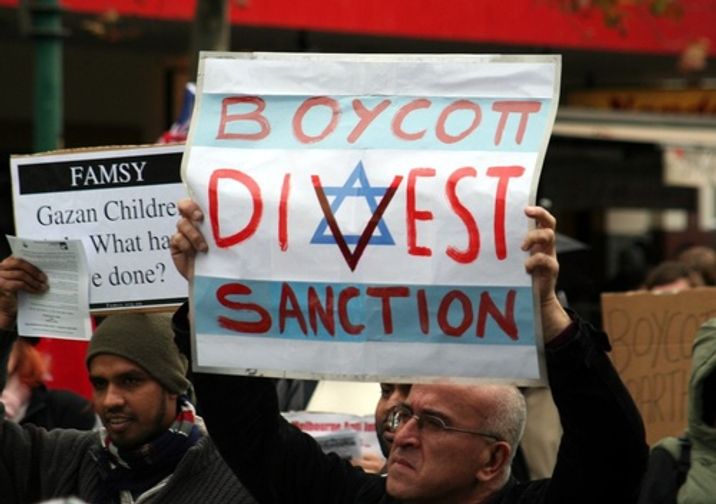 A Boycott, Divestment and Sanctions (BDS) protest against Israel in Melbourne, Australia, on June 5, 2010
Mohamed Ouda via Wikimedia Commons
The governors reaffirmed their commitment to 'the principle of two states for two peoples'
The governors of all 50 states, along with the mayor of the District of Columbia, signed an initiative to reject the BDS (boycott, divest and sanctions) movement, the American Jewish Congress (AJC) announced on Wednesday.
"Governors across our country know very well the enormous value of the US-Israel partnership in every sphere imaginable, and many have been central to nurturing their own state's beneficial ties to Israel," said AJC CEO David Harris.
"At the same time, our nation's 50 governors, as well as the District of Columbia mayor, recognize the pernicious goals of the BDS movement, which singles out Israel from among all the nations of the world for relentless and undue criticism, and whose efforts undermine the prospects for advancing Israeli-Palestinian peace."
The "Governors United Against BDS" statement declares that "the goals of the BDS movement are antithetical to our values and the values of our respective states, our support for Israel as a vital US ally, important economic partner and champion of freedom."
The governors reaffirmed their commitment to "the principle of two states for two peoples, existing side by side in peace, security and mutual recognition, and achieved through direct, bilateral negotiations," and add that the BDS movement "undermines peacemaking by suggesting that economic and political pressure on Israel can replace real negotiation."
You need to be logged in in order to post comments. Sign up or log in
Smart way for BDS to subtly push their agenda. The concept of 2 States for 2 Peoples nullifies G-d's Covenant with the Nation of Israel. It is a deceptive ploy to push for a Palestinian State which by it's very charter calls for the destruction of Israel. U.S. PHILANTHROPIST OFFERS ISRAELI MINISTER $200,000 TO FIND CHANGE IN PALESTINIAN CHARTER http://www.algemeiner.com/2014/05/05/u-s-philanthropist-offers-israeli-minister-200000-to-find-change-in-palestinian-charter/#comments