Israel map in White House video for Trump trip excludes Golan Heights, West Bank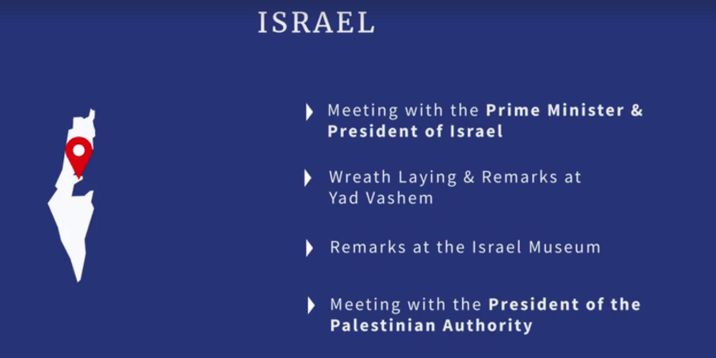 Screenshot from White House video
whitehouse.gov
Map shows pre-1967 Israel, potentially ruffling political feathers
A White House video promoting US President Donald Trump's first foreign trip shows a map of Israel that excludes the West Bank and the Golan Heights.
The video was posted on the White House's Facebook page late Thursday.
Text accompanying the video, however, mentions Trump's planned visit to the West Bank city of Bethlehem in the section on Israel, without implying that it is not part of Israel.
"President Trump will meet the President of the Palestinian Authority, Mahmoud Abbas, in Bethlehem and will urge Palestinian leaders to take productive steps toward peace," reads the text that appears under the header "Israel".
Israeli Justice Minister Ayelet Shaked said of the map: "I hope this is a matter of ignorance and not policy." 
The Golan Heights and West Bank were among the areas captured by Israel in the 1967 Six Day War.
Trump is expected to arrive in Israel on May 22 as part of his first foreign tour since taking office.
The date coincides with the 50th anniversary of the reunification of Jerusalem following the 1967 Six Day War, which will be commemorated in Israel beginning the evening of May 23 and the day of May 24.
US-Israel relations hit a bump this week when a senior member of a US delegation preparing for the president's upcoming visit reportedly snapped that the Western Wall is "not your territory" and is "part of the West Bank" while discussing details of the president's visit to the Jerusalem holy site with Israeli counterparts.
The remark came in response to an Israeli delegation's requests that Trump be joined by Israeli Prime Minister Benjamin Netanyahu on his visit to the site.
However, Trump told the Israel Hayom newspaper that his plans "could still change" and suggested Netanyahu could still join him.
No sitting US president has ever visited the Western Wall, the holiest site in Judaism.