Heathrow Airport calls out El Al as least eco-friendly airline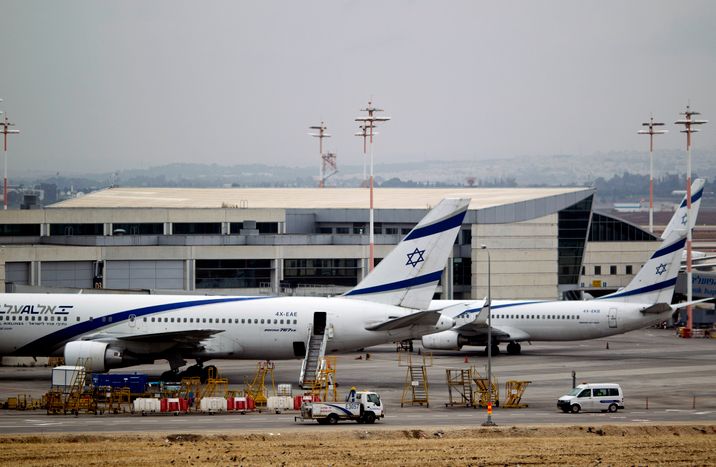 Israeli airliner El Al planes parked at Ben Gurion airport near Tel Aviv, Israel, Sunday, April 21, 2013.
AP Photo/Ariel Schalit
El Al said in response that it will be upgrading its fleet of aircrafts, having acquired a new 787 Dreamliner
Out of fifty airlines worldwide, Israel's national carrier El Al was rated the worst airliner for noise, efficiency, and eco-friendliness, according to a list compiled by London's Heathrow Airport.
The Fly Quiet and Clean League released the table in an effort to call on lower-scoring airlines to use cleaner and more energy efficient planes flying into Heathrow.
The airlines were rated on seven categories, of which El Al failed in five, including noise pollution, nitrogen oxide emissions, efficient landing approaches and arrival times.
Israel has consistently scored low on pollution levels, alarmingly named the 40th most polluted country in the world according to a World Health Organization (WHO) report last year.  
El Al was last after Kuwait Airways, Middle East Airlines, Pakistan International Airlines, Omar Air, and Jet Airways, while the top performers according to the league's criteria was British Airways at number one, followed by Aer Lingus, Etihad Airways, Scandinavian Airlines System, Finnair and American Airlines.
El Al said in response that it will be upgrading its fleet of air crafts, having acquired a new 787 Dreamliner this week. The Dreamliners are less noisy and more environmentally friendly.
"These aircraft, which will gradually enter service until 2020, will replace by early 2019 the 747-400 fleet. The Dreamliner aircraft will join the new 737-900 aircraft the company has purchased, which are already operating on European routes, making the El Al plane fleet younger and less polluting," said the airline in a statement.
You need to be logged in in order to post comments. Sign up or log in
The most safe airline is El-Al it used by lots of eagle never mind jealous airlines keep up the excellent EELL El EL