BBC admits to 'misleading' in Jerusalem stabbing attack headline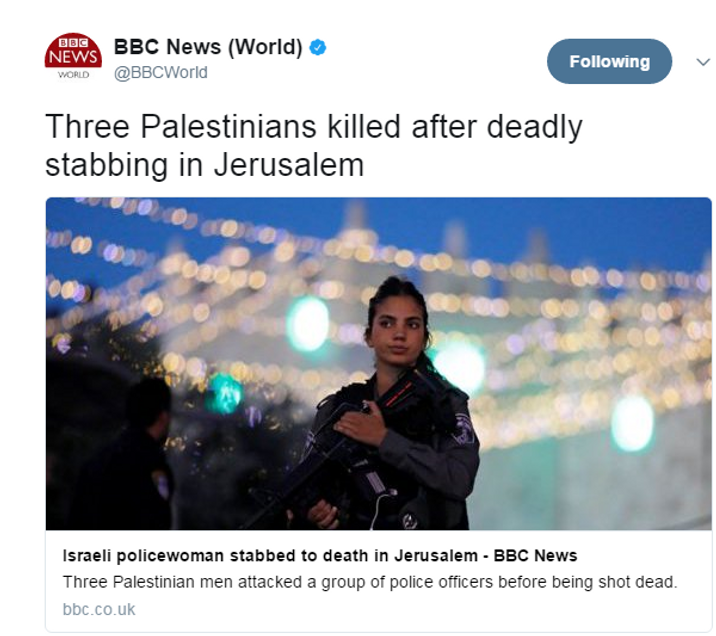 In an apparent win, the BBC changed the headline to 'Israeli policewoman stabbed to death in Jerusalem'
In a victory against alleged anti-Israel bias in the media, the BBC issued an apology after being called out for a headline that misrepresented a sequence of events in a coordinated stabbing and shooting attack that killed an Israeli policewoman.
The article's headline, "Three Palestinians killed after deadly stabbing in Jerusalem," was called to attention by US President Donald Trump's son Donald Trump Jr. in a tweet on Saturday.
He lambasted the outlet on Twitter for failing to describe how the Palestinian assailants were killed as they attacked civilians and Israeli soldiers.
"You mean after they stabbed a female Israeli police officer to death... right? This is as close to being misleading as possible," he wrote.
"Need a new term for this nonsense. Sort of the opposite of victim blaming. How about Culprit Coddling? Maybe Criminal Cozying? Thoughts???"
You mean after they stabbed a female Israeli police officer to death... right? This is as close to being misleading as possible. https://t.co/EWZPHiRemU

— Donald Trump Jr. (@DonaldJTrumpJr) June 17, 2017
In an apparent win, the BBC changed the headline to "Israeli policewoman stabbed to death in Jerusalem" and removed a link to the original article on Twitter.
Following a request for an apology from Britain's Israeli embassy and a complaint from its Ministry of Foreign Affairs, the British broadcaster issued a statement on Sunday admitting the headline was "misleading" and to clarify that there was no "intention to deceive readers."
"The headline did not adequately reflect the events of the attack," read the apparent apology statement. "We apologize for the damage."
Unbelievable. Can you imagine the revolt had headline be "3 men killed after deadly stabbing in Borough Market"? pic.twitter.com/2K7XgDx9oR

— Julie Lenarz (@MsJulieLenarz) June 17, 2017
The BBC has previously been accused of anti-Israel bias. In response to critics, the British broadcaster compiled an internal report in 2004 over its coverage of the Israeli-Palestinian conflict.
After terror attacks, pro-Israel groups may criticize wire services for misleading headlines that focus on Palestinian casualties. Some of the headlines emphasize the assailant's death, without contextualizing it as occurring during an attack.
On the other hand, Palestinian advocates sometimes claim that Western media favors Israel, given that many foreign correspondents live in Israel and that some of their children enlist in the Israel Defense Forces.
Malka had been on patrol outside Jerusalem's Damascus Gate when she was critically injured in a stabbing and shooting attack on Israeli security forces.
According to police, two Palestinian perpetrators opened fire at a group of police officers who returned fire, and a third stabbed Malka, who fought her attacker for several seconds while trying to draw her weapon.
You need to be logged in in order to post comments. Sign up or log in
The BBC is more like a grocery store rag than real journalism