Israel reduces electricity supply to Gaza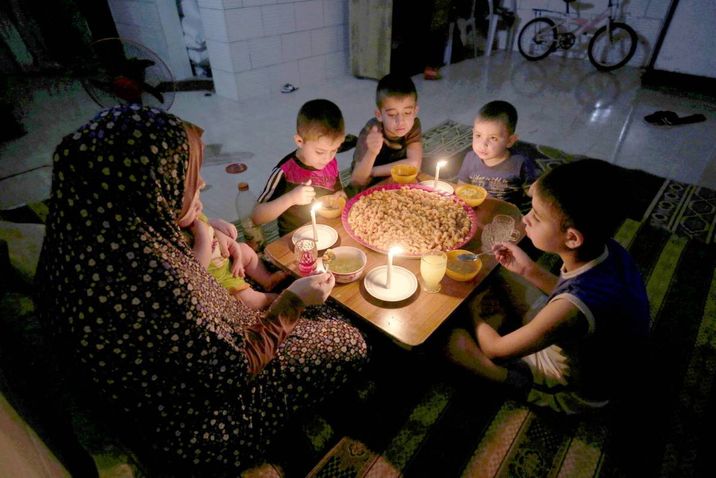 Une famille palestinienne dînant à la bougie dans le camp de réfugiés de Rafah, à Gaza.
Said KHATIB/AFP
The move comes a week after Israel's security cabinet said it would reduce supply after a request from the PA
Gaza's electricity company said on Monday that Israel had begun to reduce the supply of power to the Hamas-ruled coastal enclave.
Spokesman for the company, Muhammad Thabet, said that as a result, power could only be supplied for two or three hours per day. Instead of supplying 120 megawatts, Israel is reportedly now sending only 112 megawatts per day.
The move comes after Israel's security cabinet said it would reduce its supply of electricity to Gaza, in response to a request made by the Palestinian Authority.
Israeli officials told the Haaretz newspaper that the Israeli government has aligned with Palestinian Authority President Mahmoud Abbas' decision to decrease the amount of money he will be supplying to Israel in order to supply electricity to Gaza.
In April, the Palestinian Authority informed Israel that it will immediately cease paying for electricity supplies to the Gaza Strip. Israel supplies the coastal enclave with about 30% of its electricity at a cost of around 40 million shekels per month (around US$10 million), which it deducts from the taxes of the Palestinian Authority.
In the absence of funding from the Palestinian Authority, money will need to come from the international community or private donors.
Gaza's sole electricity plant frequently runs out of fuel for its generators and rations power supplies. Human rights organizations have warned that constant fuel shortages and insufficient infrastructure have brought about a humanitarian crisis for Palestinians in the Hamas-ruled territory.
Globes website reported on Thursday that the Israeli army had warned that a reduction in the electricity supply during Ramadan was "liable to aggravate the security situation in the Gaza Strip."
The Islamist Hamas movement seized power in Gaza in 2007.
You need to be logged in in order to post comments. Sign up or log in
this is an internal Pali issue. there is no reason for Israel to provide free electricity, especially to a terrorist enclave.