Construction begins at first new West Bank settlement in 25 years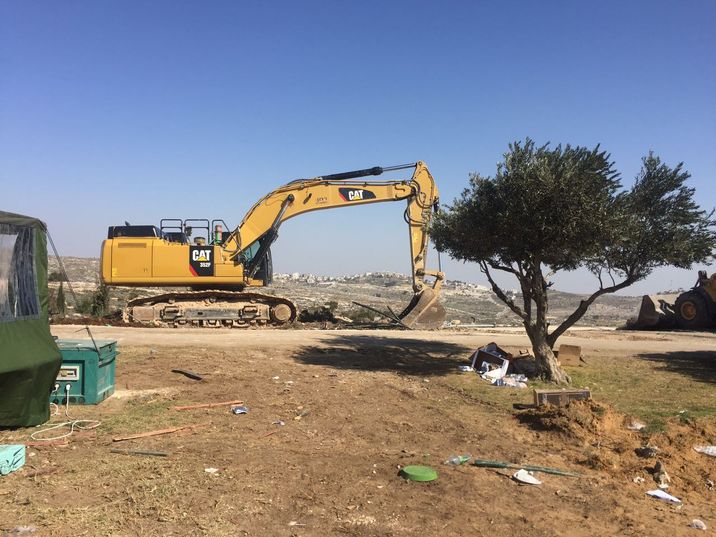 Amona
Oren Rosenfeld
Netanyahu said it was a 'privilege' to build the new community for Amona evacuees
Israeli Prime Minister Benjamin Netanyahu announced on Tuesday that construction had begun on the new West Bank settlement of Amichai, which is to house the settlers who were removed from the Amona outpost in February.
Ground was broken for the new community in the Shiloh Valley, north of Ramallah, and is the first new settlement to be built with government approval since 1992, prior to the Oslo Accords.
In a Hebrew tweet, Netanyahu said "after decades I have the privilege to be the prime minister who builds a new settlement in Judea and Samaria," using the biblical name for the area known as the West Bank.
היום החלו העבודות בשטח, כפי שהבטחתי, להקמת היישוב החדש למתיישבי עמונה. אחרי עשרות שנים, יש לי הזכות להיות רה״מ שבונה יישוב חדש ביו״ש pic.twitter.com/sNDKlDzaCu

— Benjamin Netanyahu (@netanyahu) June 20, 2017
Amona, originally home to about 40 families, was built on lands privately owned by Palestinians who successfully petitioned Israeli courts for the outpost's removal. The settlement was forcibly evacuated by Israel in February after residents and activists barricaded themselves in their homes. Law enforcement officials said that over 60 police officers were wounded during the eviction operation.
In March, Prime Minister Benjamin Netanyahu's office rejected a report by Israel's Channel 2 of an expected agreement on Israel's part to not build outside of settlement blocs in the West Bank in exchange for the Trump administration's approval of the Amichai settlement.
Tuesday's announcement came as Netanyahu was due to meet with US President Donald Trump's special envoy to the Middle East, Jason Greenblatt, as the administration looks to draft an American statement of principles for negotiating the peace talks between the Israelis and Palestinians.
All settlements are considered illegal under international law, but Israel differentiates between those it has approved and those it has not. Settlements such as Amona are called outposts -- those that Israel has not approved.
Read more:
Last settlers removed from Amona synagogue after putting up 'strong resistance'