Shalom Salam Namaste: Yoga in the spotlight in Israel and the Arab world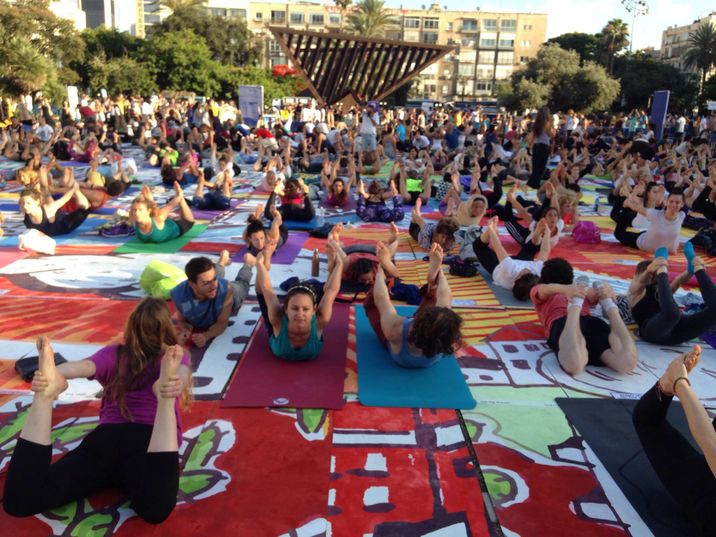 international Yoga Day
i24NEWS
Many Israelis discover Indian discipline directly in its country of origin after the army
Vinyasa, yoga Sivananda, Ashtanga yoga, Iyengar yoga and the smells of incense. On Wednesday June 21, for International Yoga Day, more than 2,000 people gathered in Tel Aviv's Rabin Square for a one-of-a-kind event. Like each year for the past three years, people of all walks of life came to celebrate, discover, or rediscover this traditional Indian discipline promoting peace and harmony.
Collective yoga classes as well as dances, lectures, and shows were organized by teachers both from Israel and India. This year's special event was marked by the 25th anniversary of diplomatic relations between the two countries, a unique opportunity to bring together the Israeli enthusiasts of this discipline, which has become popular worldwide.
"In the western countries including Israel, yoga is mainly treated as a physical exercise. But yoga is much much more than that: it is a way of life, the union of body, mind and soul so that you can live an holistic life deeply connected inside and at the same time doing your duty like going to work and being more productive and more peaceful", Dr. Anju Kumar, deputy ambassador of the Embassy of India in Israel tells i24NEWS.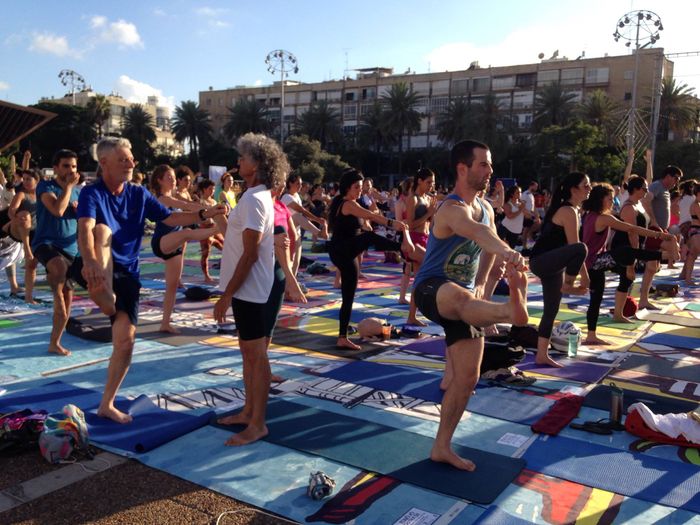 There are about 80,000 Jews of Indian origin who are fully assimilated into Israeli society. Yet the relationship between India and Israel is undeniably linked to the interest of Israeli youth in travelling to India after the army. Each year, thousands of young women and men leave for the continent after two to three years of military service.
"Israel is a very complex place with a very high level of stress. At a very young age Israelis go to serve the country in the army and afterwards they have lots of tension in their lives and many of them are choosing India as a place to go and disengage from all the stress they stored in their systems," explains Maya Gross from Ashtanga Yoga Tel Aviv.
According to her, a consistent practice of Ashtanga Yoga brings many physical, mental, emotional and spiritual values. "I found the Ashtanga Yoga Guru in Mysore in 2005 and after receiving this knowledge, it transformed me on so many levels that I didn't find anywhere else," she told i24NEWS.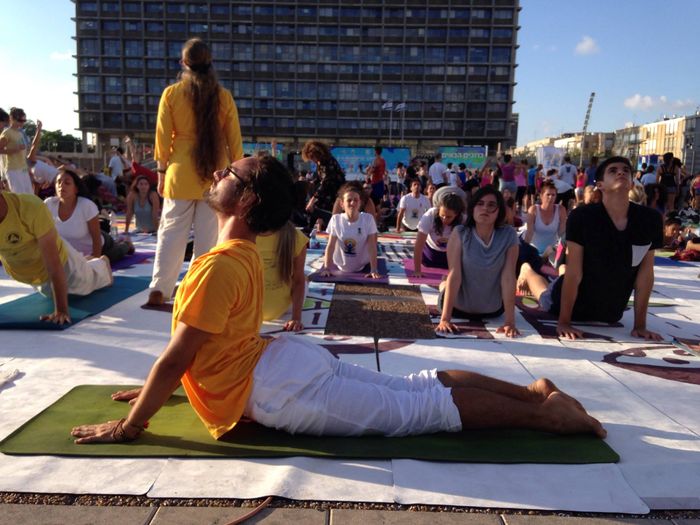 Many Israelis therefore discover the discipline directly in its country of origin. This is the case of Yossi, who began to take an interest in yoga in Varanasi, a sacred city on the left bank of the Ganges, when he saw someone practicing it while he had no knowledge of it.
Curious, he simply asked at that time: "Why do they do this? What is it?" And it was explained to him that "it is Surya namaskara (sun salutation)", the basis of yoga. From that moment, he began to seek to increase his knowledge until he went to a Sivananda yoga teacher training in India.
When asked about the relationship between Judaism and yoga, he states that "I do not know if it is connected, but for me all religions are all the same. It is just different ways to reach the same goal."
"In Hinduism and in Judaism, we both believe that this body is like a 'cloak'. It is not real. What is real is the soul what is inside. When you go on the mat and start practicing asanas (postures) and pranayama (breathing techniques), then you start to realize the real soul," he said.
Indeed, yoga is not culturally limited. The Hindu spiritual teacher Shivananda said of the practice that it is "purely spiritual and universal" and that it can be practiced either by a Christian or a Buddhist, a Muslim, a Sufi, or an atheist.
Shalom Salam Namaste
Not so far from Tel Aviv, in Arab countries the practice of yoga has also developed. Many studios have emerged in Dubai, Jordan, the West Bank, Lebanon and Egypt. Various studios like Ashtanga Yoga Cairo, Beit Mysore in Ramallah, or Yoga Souk Beirut offer courses following the pure Indian tradition.
Faithful to the legacy of its founder Sri K. Pattabhi Jois, Olivier David has been studying and teaching the practice of Ashtanga yoga for more than 10 years. He traveled to many countries including several Arab countries. After coming to teach in Israel a few years ago, his last journey brought him to Beirut.
"Everybody thinks of Lebanon as an Arab country but compared to other Arab countries I've been to I don't recognize it as an Arab country. Beirut is very liberal. It's very rare to see a hijab or a burka there for example. The women dress as liberally as in Tel Aviv," he says.
"A lot of Lebanese here are offended if they are called Arab, they consider themselves of Phoenician decent. In all honesty Beirut is a lot like Tel Aviv and the Lebanese are a lot like Israelis," Olivier adds.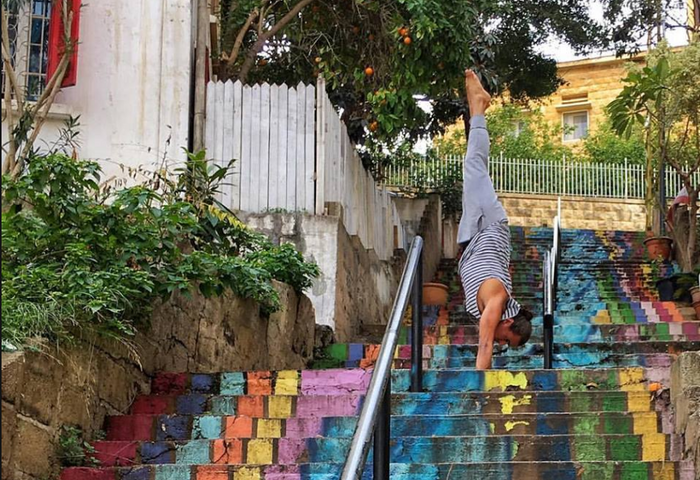 As far as the practice of yoga is concerned, there is no difference in the Shala (the yoga room), no matter where you are in the world.
"The main thing we have in common is the amount of stress and stimuli we're all exposed to and that's why we come to practice yoga. It really brings everyone together and everyone gets stripped down and exposed, emotionally and mentally. We get broken down and built back up," he stresses.
Contrary to popular belief, yoga is therefore above all a spiritual discipline. In the Ashtanga system, for example, the Yamas and Niyamas (moral rules) are according to the Yoga Sūtra of Patañjali -- which codified this practice -- the first two members of yoga. Among the Yamas you can find non-violence, a principle that transcends all animosities.
"Yoga is for self-knowledge, not just to feel good. Self-knowledge is about confronting all our qualities, not just the ones we find pleasant. Nonviolence, ahimsa, includes towards the self and therefore others, and in my opinion this is political and needs to be part of the discussion," the owner of the Ashtanga yoga Cairo studio in Egypt explains to i24NEWS.
"I do not see India or the US as more enlightened or less violent as the Arab countries. The only similarity we can talk about is that we are all human and need to practice humanity. We need to be aware of and reject divisive discourse in describing self and 'other'."
The origin of this celebration, which takes place every year throughout the world from Paris to Times Square, comes from the initiative of India's Hindu Prime Minister Narendra Modi. In 2015, he asked that June 21 be declared International Yoga Day because of its "universal message for all."
One hundred and seventy-seven countries have co-sponsored the resolution submitted to a UNESCO vote.
"Yoga has a universal message for everyone. It is our ancient heritage from India but we are happy to share it with everyone because it is useful for everyone," Dr. Anju Kumar, India's deputy ambassador to Israel says with a smile.
Nathalie Boehler is a journalist and web editor for i24NEWS.