IDF to permit soldiers to be buried in secular funeral ceremonies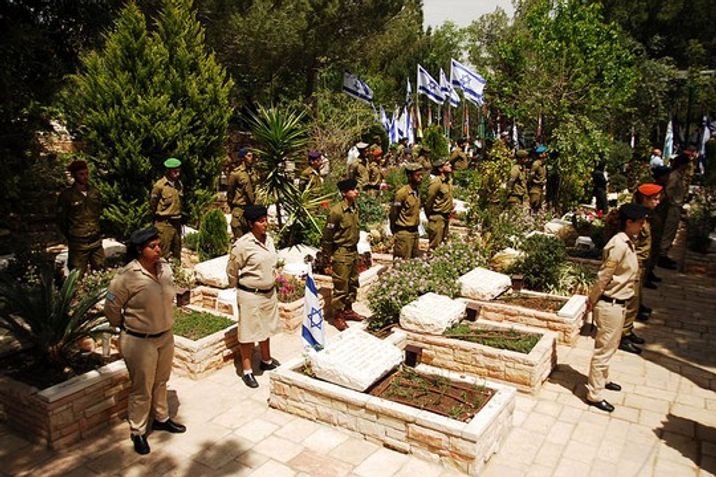 Hommage aux soldats israéliens tombés au champ d'honneur, cimetière militaire du Mont Herzl à Jérusalem
Porte-parole de Tsahal
The Israel Defense Forces (IDF) will now permit secular funeral ceremonies, at the discretion of soldiers' families, in both military and civilian cemeteries.
The IDF amended its directive with regards to military funeral ceremonies following a High Court petition filed by the 'Hidush Religious Freedom and Equality' association.
Until the order was changed, bereaved families who wanted to hold a secular burial were not permitted to do so in military cemeteries, where only religious ceremonies (Orthodox Jewish or according to the faith of the soldier) were allowed.
The new ordinance states that "during the funeral procession, immediate family is permitted to choose whether it wishes to maintain the religious characteristics of the funeral ceremony," such as the reading of verses, psalms, and prayers, and the "request for forgiveness by a rabbi and a military cantor."
Secular burials will not not include any ceremonial military honors, including bearing the coffin, ceremonial wreaths, honor guards, and official eulogies. But the military will assist the family in making all logistical preparations for the ceremony, such as as transportation to the cemetery, hanging mourning notices and digging the grave.
The 'Hidush Religious Freedom and Equality' organization welcomed the change as "progress towards religious freedom in the IDF."
"As we argued before the IDF and the Defense Ministry, in the Jewish and democratic State of Israel, there is no justification for halting the principle of religious freedom at the gates of army camps and military cemeteries," said Uri Regev, an attorney and director of the organization.