On three-year anniversary of Gaza war, Netanyahu vows to return Israeli captives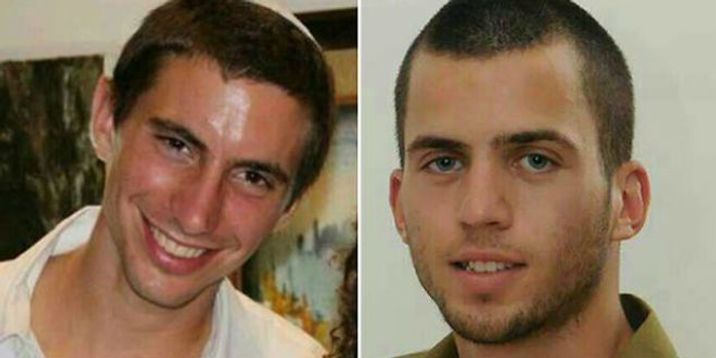 Oron Shaul (L) and Hadar Goldin (R)
Rivlin laments humanitarian situation in Gaza, says 'murderous and cruel' Hamas preventing rehabilitation
At a ceremony marking three-years since Israel's 2014 conflict in the Gaza Strip on Thursday, Israeli Prime Minister Benjamin Netanyahu vowed to continue efforts to bring home the bodies of two fallen IDF soldiers and two Israeli civilians held captive by the Hamas terrorist group.
Netanyahu also warned that Israel would deliver a "determined and powerful response" to "anyone who raises a hand against us."
"We do not accept any violation of our sovereignty - not in the south, not in the north, not anywhere," Netanyahu said, at a ceremony for the fallen soldiers of 2014's Operation Protective Edge. "Quiet will be answered with quiet, but anyone who raises a hand against us will find a determined and powerful response. Our enemies know this. Our enemies in Gaza know this ten-fold."
Paying tribute at Jerusalem's Mount Herzl national cemetery to the 68 IDF soldiers and six citizens who lost their lives in the 2014 summer conflict, Netanyahu said that Israel would not let go of it's "sacred mission...to bring home our fighters Oron Shaul and Hadar Goldin."
"Our commitment to return home Hadar Goldin and Oron Shaul is still firm. We have not let up from this sacred mission, in particular in recent days. The same applies to Avraham Abera Mengistu and Hisham al-Sayed, Israeli citizens who are held in the Gaza Strip by a brutal enemy," Netanyahu said.
The bodies of Israeli soldiers Hadar Goldin and Oren Shaul who were killed in 2014's Operation Protective Edge, are believed to be in the hands of Hamas, along with two more Israeli citizens, Mengistu and Al-Sayeed, who both crossed into the Strip while in poor mental health.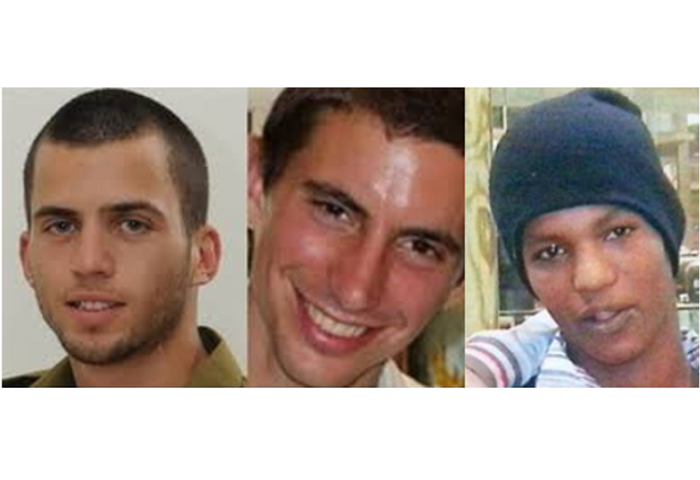 Israel's Defense Minister Avigdor Lieberman on Sunday pushed back against reports that the government is engaged in "intensive" negotiations with Hamas in order to secure the release of the captives.
"We don't negotiate with terror organizations," Lieberman said, calling reports in Arabic media that the parties are "very close" to the first stage of a deal "psychological warfare" by Hamas.
The 50-day conflict between Israel and Palestinian terror groups in the Gaza Strip three years ago led to deaths of 74 Israelis and 2,251 Palestinians. The Gaza Strip has struggled to recover from the destruction it sustained during the conflict.
Speaking at Thursday's ceremony, Israeli President Reuven Rivlin lamented the dire humanitarian situation that has befallen the Strip, but said that Gaza's rehabilitation would not be possible so long as the "murderous and cruel" Hamas are in charge.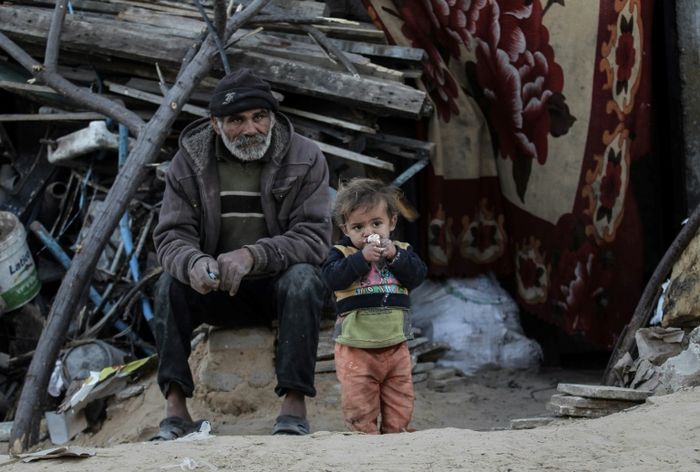 "The rehabilitation of Gaza is an Israeli interest, and I have no doubt that the public in Gaza yearns for it, but the rehabilitation of Gaza requires the return of our sons and the cessation of all hostilities against Israel," Rivlin said.
"Gaza will not be rehabilitated as long as it is run by Hamas; a terrorist organization that works to destroy Israel, which does not respect human life, does not respect human rights, a murderous and cruel organization," he added.
"We are not complacent. We know that Operation Protective Edge will probably not be the last confrontation. We are fighting a terrorist organization, a brutal, extreme, and murderous terrorist organization, and we are prepared and ready to respond to every scenario and every threat," he warned.
Gazans were left in total darkness late Wednesday after the Palestinian enclave's only active power plant shut down due to a severe fuel shortage and dispute with the Palestinian Authority over the payment for the utility.
Hamas and Fatah have been at loggerheads since a brief civil war in 2006 following elections in which Hamas gained the upper hand, and several sputtering reconciliation attempts over the years have failed.
The United Nations envoy for the Israeli-Palestinian process warned last month that the deteriorating situation could soon spark yet another conflict between Israel and Hamas.
See also:
'Don't negotiate with Hamas to free my son', says father of Gaza-held Israeli